AMS Slingshot XT Wins 2018 Chaparral Motorsports' 25 Inch ATV Tire Shootout
Chaparral Motorsports
|
January 15, 2018
[caption id="attachment_66201" align="alignright" width="300"][mageProductLink sku="p1252-651" title=""]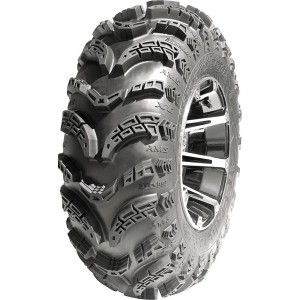 [/mageProductLink] AMS Slingshot XT was the best overall performer in a series of challenges, beating out the nearest competitor by eight points[/caption]

January 15, 2018 (San Bernardino, CA)-After weeks of slinging dirt, charging through mud, and hauling thousands of pounds, Chaparral Motorsports is proud to crown the [mageProductLink sku="p1252-651" title=""]AMS Slingshot XT[/mageProductLink] the winner of its inaugural 25-inch ATV Tire Shootout. On Monday, Jimmy White, AMS Brand Manager, was on site at Chaparral Motorsports to accept the award on behalf of Parts Unlimited.

Up against 20 of the most popular 25-inch ATV tires on the market, the [mageProductLink sku="p1252-651" title=""]AMS Slingshot XT[/mageProductLink] was the best overall performer in a series of challenges, beating out the nearest competitor by eight points. AMS is the house ATV tire brand for Parts Unlimited. With its distinct arrow-like tread pattern consisting of tall, thick lugs with large spacing in between that aid in cleanout as well as grip, the Slingshot XT represents an outstanding ATV tire that has proven it can tackle a variety of terrain and tasks. "Every tire is different, but to be in the top five for nearly every test is pretty unreal," stated Jimmy. "When you design a tire you design it for a couple types of terrain, this award goes to show the overall performance of the Slingshot XT. And it shows what Chaparral is able to do with a true, honest, five category test going across the board."

The 2018 Chaparral Motorsports 25-inch ATV Tire Shootout took place over several weeks at two different locations in the San Bernardino area with a 2017 Yamaha Kodiak 700 used as the test vehicle. There were five challenges total: sled pull, hill climb, downhill braking, top speed braking, and a mud traction test. The challenges were designed to mimic real world situations an ATV rider might experience in order to see how each tire would fare. Each tire was run through all five tests and was scored based on a mix of timing and distance. A 1 through 21 point system was used, with the top performer in each test receiving 1 point and lowest performer receiving 21 points. The tire with the lowest total score was determined the overall winner. The Slingshot XT performed superbly, scoring in the top five for all of the tests except one and ending with at total score of 25 points. Not too far behind in overall points (33pts) was an all-new brand and tire to the ATV market, the Ocelot P375, which is Chaparral Motorsports house brand. The highly popular Kenda Bearclaw HTR finished right on the tail of the P375 with 35 total points to round out the top three.

Besides identifying the best all-around tire, the ATV Tire Shootout helped reveal detailed information about each tire, which can better suit the Chaparral Motorsports team when it comes to helping their customers select an ATV tire. As avid offroad enthusiasts who assist customers by providing their own personal experiences, with the wealth of knowledge gained from the various tests the Chaparral team now has data that can help them point consumers to specific ATV tires based on the customers preferred type of riding and conditions."With hundreds of tread patterns to choose from our goal is to provide real world, rubber on the ground input to help customers choose the right tires for their riding conditions," stated Dave Damron, owner of Chaparral Motorsports.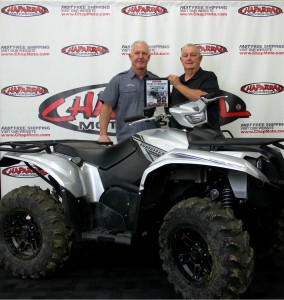 The Chaparral team is still in the process of producing comprehensive videos and articles to supplement the overall results as well as breakdowns for each tire. Once all the content has been created it will be uploaded to Chaparral's blog (https://www.chapmoto.com/wp/) and YouTube channel (http://www.youtube.com/user/chaparralmotorsports) as well as shared via Instagram and Facebook.

About Chaparral Motorsports
Chaparral Motorsports started as a family motorcycle parts business in 1980 and now encompasses a 160,000 square foot footprint in San Bernardino, California. Recognized as one of the largest motorcycle dealerships in the country, Chaparral Motorsports offers a great selection of motorcycle parts, accessories, motorcycle gear, and motorcycle tires. Over its 37 years in business, Chaparral Motorsports has developed into a multi-line motorcycle and ATV superstore, offering Honda, Yamaha, Kawasaki, KTM, Suzuki, Can-Am, Polaris, and Kymco ATV's, motorcycles, side-by-sides and utility vehicles. For more information on Chaparral Motorsports, visit www.chaparral-racing.com.