ChapMoto 2018 Supercross Race Recap Week 1
Chaparral Motorsports
|
January 11, 2018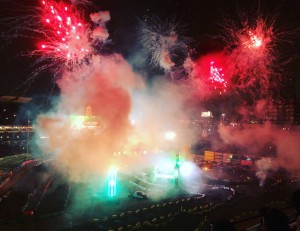 Last year we started a new series called the ChapMoto Supercross Race Recap, where several Chaparral Motorsports employees gave their thoughts on the past weekend's Supercross event. That series was so fun and popular that we decided to keep it going. It's a pretty simple concept; we pose about 8-10 questions to the group regarding the evening's activities, highlights, and lowlights and they reply with their thoughts. This is meant to be a casual, fun, and lighthearted series.

The Chaparral Motorsports staff (and one outsider) consist of:

Dave Damron (DD): Chaparral Motorsports founder. Racer, team owner, manufacturer, retailer. Dave has seen it all and done it all on two wheels.

Travis Snyder (TS): Chaparral Motorsports Offroad Products and Apparel Manager. Travis is one of our in-house moto racers. A Honda guy, Travis is either at one of the local tracks or prepping his bike for his next event.

Mike Medina (MM): Chaparral Motorsports Technical Advisor/Communications Specialist. When Mike's not at the office he's in the pits spinning wrenches for the Enticknap brothers, #722 Adam (The Seven Deuce Deuce) and #723 Tyler.

The Outsider (TO): N/A. The outsider is not a Chaparral employee but he is an industry veteran with a good perspective on the inside.

Kyle Bradshaw (KB): Chaparral Motorsports Marketing Department. The newest team member, Kyle is a highly experienced offroad/ADV/dual sport rider who splits his seat time between his stable of KTMs and his custom Honda VTX1300.

Eric Ellis (EE): Chaparral Motorsports Marketing Department/Social Media. Eric is just a Harley guy who likes to watch Supercross.

Who had the best the night?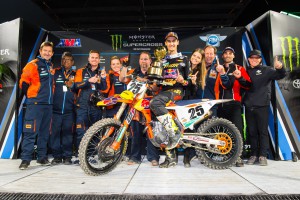 DD
: McElrath and Musquin had the best night by the shear fact that they won but I think that the title really belongs to Barcia and Roczen. It as great to see Barcia lead and ride the race at a pace he could do for 20-plus minutes. I had expected him to start fading by lap 10 but he just kept his pace and didn't over ride and road a very consistent race to finish 3rd. Roczen didn't get the start but he put his head down and rode a very strong race and left no doubt that he's back.

TS: I think Shane Mcelrath had the best night. He took the holeshot in the 250 main event and checked out for the Win!

TO: KTM. KTM wins both classes. Ten years ago if you said KTM would win both classes at A1 people would have laughed at you. Now KTM is on top of the World!

MM: The best night has to go to the #25 KTM Red Bull rider Marvin Musquin. Marv is keeping the freight train going with his off season wins and starting his 2018 campaign with maximum points earned.

KB: Shane McElrath 28 had the best night as far as mains are concerned. He launched out of the gate, set his cruise control... 15 minutes plus 1 lap and launched over the finish line. Pretty effortless so it appeared.

EE: First question of the season and it seems to be the toughest. I can't decide between Shane McElrath, Justin Barcia, or ken Roczen. For the 25o guys McElrath looked incredible. He nailed everything Saturday night. He led his entire heat race and qualified first for the main. Then he hit the holeshot in the main and was gone, comfortably leading the entire field for all 18 laps. Very impressive start for the KTM/TLD/Red Bull rider. Justin Barcia surprised everyone Saturday night-even himself I bet. He was probably on Craig's List looking up Sprinter vans a few weeks ago and now look at him! A couple more races like Saturday night's and he'll turn is his six-race factory ride into a full season. As for Ken Roczen, he amazed a lot of people just by lining up; and then to go out and nearly podium in the main, that dude is a beast!!!

Who had the toughest night?


DD
: The toughest night must go to Dean Wilson coming up short in his heat race and smacking his shoulder which has been a problem in the past. I hope it's nothing that will sideline him.

TS: The last time Kawasaki won the opening round in Anaheim was in 2012 (RV2). I'd say Factory Kawasaki had a tough night, considering Eli Tomac grabbed the holeshot and lead 7 laps until he wanted to make-out with dirt and take his pants off.

TO: Tomac's pants. If Eli loses the championship because of a wardrobe malfunction, that will be Sad.

MM: The toughest night had to go to #15 Rockstar Husqvarna's Dean Wilson. Deano had a gnarly crash going over the handlebars while up front in his heat race which ended his evening. It's a shame after getting through a full season last year injury free, which is a miracle considering his track record.

KB: Tomac for sure. Wiped out, rung his bell, hurt his shoulder and then the wardrobe malfunction mid-race... Stopping quickly to fix the fly and presto, there it is on the Jumbo Tron.... you struggling to get your junk zipped up and put away. No fun! And a DNF? Not being able to finish the race, even in LAST was a bummer.

EE: Hands down (or should I say nearly pants down) Eli Tomac. Dude had it in the bag! Now he has to dig himself out of a huge hole. Not where I expected him to be after week one, but if anyone can pull off a comeback I think he can as long as he can maintain his composure.

Did anyone surprise you?


DD
: Again the big surprise was Barcia

TS: -Just after Tomac took his pants off, Justin Barcia took the lead! Wait..What? Who? Yup- Justin 'BamBam' Barcia is back! He definitely surprised me m/

TO: Barcia. Barcia has had a tough few years. For him to podium at A1 was impressive.

MM: The surprise of the night has to be #51 Justin Barcia of the Factory Yamaha effort. He had won his heat race to start his evening and I do not think anyone on earth had him coming close to landing on the podium for 3rd best on the night. He showed excellent speed throughout the day and was racing with more grit and conviction than we have seen in a long while. Could this be the triumphant return of "Bam Bam"?

KB: I was really rooting for the old man underdog CR22. I really like Reed and was hoping to see him do better than he did. 56 seconds was his best lap time and the top seven riders were 52/53 seconds. I was surprised he didn't finish a little higher. Come on Reed, pick it up man!

EE: Barcia. I was just talking to someone a few days before the race and was telling them how I didn't even consider him for contention of a championship. He just might make me eat my words and I'd be fine with that. It'd be a Cinderella story for sure-and that is in no way meant as reference to his golden locks.

Who had the worst spill?
DD
: See my answer to question #2 and you can throw in Tomac as well.

TS: Deano. #[mageProductLink sku="260-20758-097-s" title=""]FOXV3MVRS[/mageProductLink]

TO: Tomac. He's now having to play catch up again this year.

MM: Dean Wilson with Eli Tomac getting honorable mention.

KB: Dean Wilson... went down in the heat races and did not return for the LCQ. Hope he is alright.

EE: Deano. That digger looked pretty serious, but apparently it was just a lot of bruising and soreness. Hope to see him back soon.

What did you think of Ken Roczen's night?


DD
: Roczen had a great night he charged the whole main event and ended up 4th.

TS: I'm impressed! That was a gnarly crash/injury to overcome from last year. Eleven surgeries!! It's unusual for him to get bad starts, but he definitely worked his way through the pack to a 4th place finish.

TO: I was very happy for Roczen. to go thru what he went thru this last year and get top 5. Very Impressive!

MM: I felt K-Roc had an excellent round 1. He laid down the fastest qualifying lap of the day much to the delight of the sold out Anaheim crowd. This was a breath of fresh air to the fans who were not quite sure if he would come back the same way prior to his season ending crash last year.

KB: I think he is lucky to have made it into the top

EE: Awesome! Other than that boggle he had early on where he almost went over the bars he looked really good (I'm sure his skivvies showed otherwise). He rode calm and collected and wasn't too eager to prove anything. It was a great first race back. It would have been incredible if he would have won but I don't think the stadium would have been able to handle that. He's only going to get faster, more confident and probably more aggressive.

Pass of the night, who you got?
DD
: Didn't see any that I would say were great.

TS: I can't pinpoint one specific pass for this answer. The night had so many good passes between both classes (250/450).

TO: Anderson on Barcia for 2nd.

MM: The Seven Deuce Deuce Adam Enticknap had the best pass or passes of the night in the 450 main event. He went into the first turn in last place and by the first triple jump, had passed eight riders. Yes, I am biased for my guy.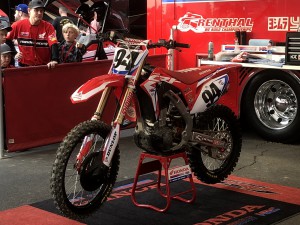 KB: When Roczen's boot comes off and he gets passed by two people in the same section of the track that took Dean Wilson out of the running.

EE: Roczen when he passed Webb in their heat race. It wasn't that it was a spectacular pass, it was what led up to it that I liked. At the end of lap three (I think) Webb whips right in front of Roczen's face and gives him a big lookback on the last triple, and then in the first turn after the long straight away he went wide to put a block on Roczen. No big deal, I like the aggressive riding and grittiness of Webb, but you better be able to hold it together, which Webb wasn't able to as he went down for a split second with one minute to go and Roczen cruised by.

Best battle?
DD
: I wouldn't call it the best battle I would almost say the opposite in the heat race between Roczen and Webb. Roczen was headed forward and Webb was head backwards and Roczen made the pass but then messed up on the section along 3rd base and Webb jumped past but then Webb did a big unnecessary whip at Roczen. Roczen took the high road and didn't respond and just moved forward to finish 3rd and Webb decided to try for a dirt sample (on his own) and finished 6th.

TS: 450 main with Anderson vs. Barcia was a good battle. The 250 main with Justin Hill vs. Mitchell Oldenburg went back and forth and they duked it out for quite a few laps.

TO: Anderson/Barcia MM: The best battle of the night was between Factory Honda's #14 Cole Seely and Rockstar Husqvarna's #21 Jason "El Hombre" Anderson. They traded spots a few times in their heat race with some cut down turns and strong block passes like the old times in their heated 250 days.

KB: Barcia & Musquin... Barcia had the lead after Tomac bowed out... but he took it and kept it.

EE: Barcia and Anderson. It wasn't a big back and forth but watching Anderson hunt down Barcia was entertaining.

After fly-gate, do you think Eli will be wearing a belt or suspenders the rest of the season?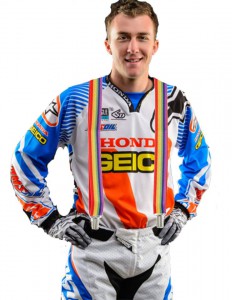 DD
: I haven't heard what caused the pant failure for Tomac whether the latch broke or it wasn't secured before race? When McGrath rode for us he once had a pant failure on his No Fear pants, the ratchet latch broke and his pants came down in the heat race. He had new pants for the main, which we all checked the ratchet to make sure it was good but we also had duct tape out and ready just in case.

TS: I think a Master Lock might work.

TO: Eli almost signed with another gear brand this last summer. I almost wonder if he wishes he did now?

MM: Who stops in the middle of a race to fix their pants?

KB: Thor pants made #1 on the podium Sat. Maybe a brand change with a better fastener is in order... If not, Klim makes a great suspender ;)

EE: Seriously! If Alpinestars doesn't make a pair of branded suspenders or at least print suspenders on his jersey for Houston their missing a huge opportunity. It was definitely hard to watch him go from holeshot and leading with a huge gap to fumbling with his pants on the side of the track.

Thoughts on the new format without the semi races?


DD
: I can't say I'm a fan of the new format. If you're not one of the top guys and you're actually trying to get noticed and help out the people who sponsor you by getting in front of the camera the new format has removed one of your opportunities you had in the prior format. In the old format you would have a chance to shine in the Semi but as the odds changed you would have a greater chance to shine in the LCQ and get some of your 15 minutes of fame and give your sponsors exposure.

TS: I like it! Take the top nine and get straight to the point. Another race (The Semi's) means another monster girl holding the sign, another blast of fire, another sketchy start, then more fire- you get where I'm going with this... I'm more excited about the Triple Crown rounds, with NO heats/LCQs. The riders hope to qualify, then race three main events.

TO: I like the new format. Cut to the mains which is why everyone is in the stands.

MM: I like the format without the semi races. I think it creates more battles within spots 5-9 to transfer to the main event. Plus, if you transfer from the heat race, you have about an hour and a half to rest and regroup before the main event. Having to go through the heat race, semi race, and LCQ race if you do not transfer to the main early, can get tiring with little to no time to rest. You are spent by the time the main event comes if you make it there.

KB: I am undecided on the new format.

EE: I liked having the semis part of the event. I think it made for more and better battles, still not sure how I feel about the new format. I do know that for the audience in the stands the organizers need to do a better job of keeping them engaged in between races. I think it was between the 250 and 450 main that one of the announcers (can't remember who it was-Lurch or Spud, or whatever their names are) sat there and had everyone doing the wave for like ten minutes. What happened to the KTM minis? Speaking of the announcers...uggghhhhh!!! They try waaaaay to hard and their references are so weak.

Overall, what did you think of the opening round for 2018?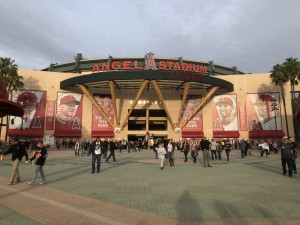 DD
: I liked the first round, the race pace was very FAST and anyone wanting to run up front must be able to ride 100% the whole race. It also looked like more riders prepared and trained over the off season.

TS: I thought it was very entertaining, it was exciting. No one got seriously hurt. The stadium was SOLD OUT. Overall, this is good for the sport!

TO: A success. Great for our sport and our industry.

MM: With Eli crashing out, the promising ride of Justin Barcia, and an almost 100% Ken Roczen, this season is shaping up to be as interesting and unpredictable as the previous one. I was happy all the seats were filled to the roof which has not happened in a couple years.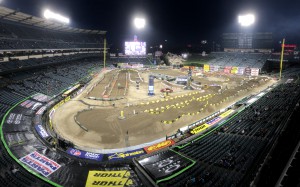 KB: It was exciting. I always like the A1 kickoff and this year is no different. In past years, there was "the guy to beat" but this year I feel we have a pretty even playing field at the top. They are all great riders. The top five riders fastest lap times were within 5 tenths of a second of each-other, pretty close. It will come down to endurance and technical skill.

EE: It was fun. I'm stoked that the series is back. We had some good drama with Eli but I wish there would have been someone there to give Musquin a harder time, hopefully next week.