Chap Champs: Our Favorites From 2017
Chaparral Motorsports
|
January 10, 2018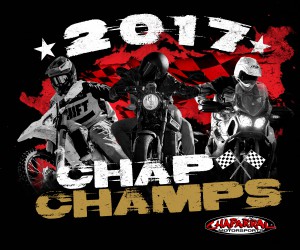 With the first week of 2018 in the books, we decided to ask some of our employees to reflect back on 2017 and tell us about some of their favorite things from this past year. We posed several discussion points and let them take it from there. These aren't necessarily all brand new products or vehicles; these are things we just really liked in 2017. To get a nice mix of responses we included employees from different departments with different preferences when it comes to what type of riding they do.

Noah Perry (dirt bike guy) works in our street and offroad accessories department.
Kyle Bradshaw (ADV/Street guy) works in our marketing department.
Travis Snyder (dirt bike guy) is our Offroad Apparel Manager.
Eric Ellis (street guy) works in our marketing department.

Our Favorites From 2017
Dirt Bike
Noah
: 2017 KTM 250SX-This bike is the first major revision on a two stroke motocross platform in the last decade or so. New engine counter balancer virtually eliminates vibration. Chassis and suspension is updated to keep our two stroke fans competitive on the track.

Kyle: KTM 500 EXC-F--Performs like a 450 with the power of a lager bike. Super fun to ride.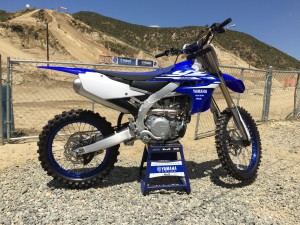 Travis: 2018 YAMAHA YZ450F - What I like; Electric start, direct air intake, very simple oil & air filter maintenance, Wi-Fi connection with a smartphone Power Tuner App, strong consistent motor, along with great suspension right out of the box!

Eric: The KTM 250 XC-W TPI. It's a fuel injected two-stroke, need I say more? Ok I'll say more. The torque and sound of two-stroke without the fuss of jetting.

Street or sport Bike
Noah
: 2017 YAMAHA YFZ-R6-The R6 received some high tech updates as well as some updated body work. Rider comfort is increased with revised gas tank shape, and reshaped seat. There is a new toggle switch located near the throttle to allow on the fly switching between three throttle response maps. There is a switch on the left side handlebar that allows switching between six levels of traction control sensitivity. The new 600 also has some of the brake components and suspension from its big brother, the R1.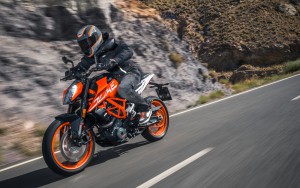 Kyle: KTM 390 Duke--Love these little bikes with big personalities. Light weight. Fun to ride. Exceptional fuel mileage. Looks like its big brothers.

Travis: Honda Grom125 - Lets be real... these are way too much fun!! It's basically a legal "pit bike" which allows you to zip around town. Stay off the Freeways though! I can hardly get mine to 64mph ha!

Eric: The Yamaha XSR900. It's like a naked sport bike/street bike but with its own style. Most naked bikes are essentially stripped down versions of their dressed siblings, but while the XSR bares it all for everyone to see, it sports a couple retro styling elements to make it stand apart and still look sporty and aggressive.

Cruiser
Noah
: Harley-Davidson

Kyle: Was there anything new here this year?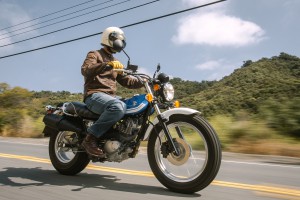 Eric: As a Harley fan I'm probably supposed to respond with the new Softails or the M8s right? Instead I'm going with the Suzuki VanVan 200. I know it doesn't really belong in the cruiser category (Suzuki has it in their Standard category) but since we don't have anywhere else for it to go in this article I'm dropping it in here. We'll call it a retro cruiser. It's not the lightest, it's not the fastest, it doesn't have the most power and it's by far not the most technically advanced. But what it is, is funky, looks like a blast to ride, and can go anywhere -except maybe the fast lane on a southern California freeway or up a really steep hill. The VanVan 200 also has a ton of customization potential and is a total sleeper in that respect.

ADV or Dual Sport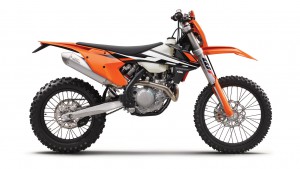 Noah
: 2017 KTM 500 EXC-We have the new generation introduced in 2017. Ten years from the introduction of KTM's 2007 450 and 525 street legal EXC models. It would be a much shorter list to tell you what is the same from the 2012-2016 generation. KTM kept the Wheels and axles the same. From the engine to chassis you will find updates from much changed ergos, to weight savings in every possible component. To say the dual sport market is excited for this new model is an understatement.

Kyle: KTM 1290 Super Adventure R -Go big or go home. Who says you don't need or can't use 100hp in the dirt...

Travis: The KTM 500 EXC is going to be a hard one to beat... It's completely street legal and built to handle the trails without a problem.

Eric: Honda CRF 250L Rally-The bike looks bad ass! The bike is sporty looking with slick body work and some good ground clearance. It's got the heart and soul of Honda so you know it can take a beating and keep on beating. I just wish they made it in a 650 version and it didn't have that wonky front headlight setup.

UTV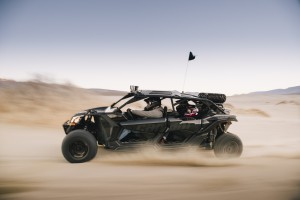 Noah
: 2017 CAN AM X3 & X3 MAX--The iPhone X of the UTV world.

Kyle: Ocelot P375 ATV Tires-Super high performing tires at a value price point. These won second place in our 25" ATV Tire Shootout.

Eric: Can-Am X3 MAX X rs TURBO R--Ok, the name designation has more letters in it than a chain letter from your grandma, but Cam-Am really put Polaris on their heels with this machine. This is one UTV that looks awesome right off the showroom floor and is loaded with great features: a super aggressive stance, huge horsepower, and excellent handling characteristics.

MX Gear Set
Kyle
: Answer Trinity Gear Set -Great fit, increased ventilation, light weight.

Travis: Fasthouse - I love the simplicity about this brand. You can buy one pair of pants with three jerseys and have three outfits! I love getting creative with my Fasthouse combos!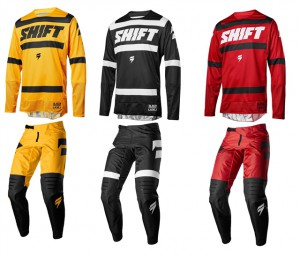 Eric: I really dig what Shift Racing was put out this past year especially with their Black Label gear. I particularly liked the [mageProductLink sku="613-19311-005-s" title=""]Strike gear[/mageProductLink] set, it's clean and simple with technical fabrics. The basic red, yellow, and black color schemes are awesome; they're subtle yet stand out without being garish with a ton of graphics.

Helmet
Noah
: BELL MOTO 9-This helmet is sold in several different price points. Depending on which fit or which safety features you prefer you will find a quality helmet from Bell. I enjoy the shape of this helmet, inside and out. The magnetic cheek pad retention safety system is awesome and makes cleaning the helmet easy. The strap has a magnet on it instead of the traditional button to tie the strap up, which is convenient. The Bell will keep you looking fresh on the track or trail, and it'll keep your noggin protected.

Kyle: LS2 Helmets offer premium features at a value price point. Modular. Quick Release Chin Strap. Drop Down Sun Visor.

Travis: [mageProductLink sku="tl-102002201" title=""]Troy Lee Designs Carbon SE4[/mageProductLink] with MIP -This helmet breathes extremely well! The forehead intake vents channel air directly to your goggle foam, keeping your eyes sweat-free. No modification needed to mount a helmet camera. The interior is plush and comfortable, it's also comforting to know the helmet has MIPS.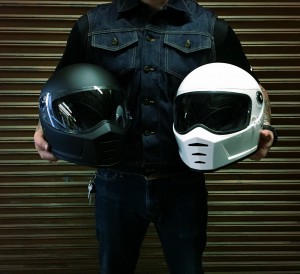 Eric: Biltwell Lane Splitter all the way. With is striking appearance and distinct chin, the Lane Splitter has really intimidating lines which helps it stand apart form a sea of boring full face helmets. It looks like it would be the helmet of choice for those on the Dark Side. I also like the fact that it's only offered in solid colors. This helmet doesn't need to get dressed up with funky graphics or overloaded with played out skulls to make it looks tough. I'm a huge fan of the matte titanium and bronze versions.

Gadget/Accessory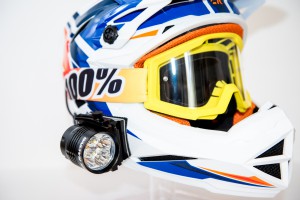 Noah
: [mageProductLink sku="056-30-600" title=""]Task racing off-road helmet light[/mageProductLink].(056-30-600) This light has an affordable retail price point of $169.95. It uses a helmet camera style mount and is nice and compact. It runs off a rechargeable lithium battery back that includes a carry pouch. This light is 4800 lumens with a 4+ hour battery life. Adjustable angle on the fly makes for user friendly experience while night riding. Even if you run a high output light on your motorcycle, it is a great idea to run a helmet mounted light so you can see where you are looking. If your front wheel is up or turned, your motorcycle's headlight will be also.

Kyle: RokStraps-My #1 favorite item for securing things to my bikes. Secure girth hitch attachment. Non-scratch attachments and hardware. Super strong elastic strap section. Durable. Works better than any bungee or nylon web strap.
Ram X-Grip for Cell Phone Mounting-The easiest and most adjustable way to get a smart phone or thinner GPS unit onto your handlebars.
Ocelot Rear Taillight Kit for the KTM EXC bikes

Travis: Warp 9 spoke torque wrench - there's no more guessing whether my spokes are tight or loose. With this tool, I can now keep my wheels true and tight to the correct spec.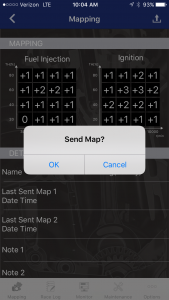 Eric: Yamaha's new Power Tuner App for the YZ450F. The ability for a rider to dive deep into the performance of their dirt bike straight from the factory and set it up for their specific riding style or track conditions is huge. It's really cool that riders can share their setups and favorite fuel maps with their friends. There is a ton of stuff you can do with the app or you can just simply use it to manage your maintenance schedule and keep tabs on the performance of your bike. I can see more manufactures following in Yamaha's footsteps and creating software and bike management apps for users to use without having to look to the aftermarket or adding additional accessories to their motorcycles.

Parts
Travis
: Pro Taper 1/3 waffle grips - Super comfortable with a tacky feel. Minimal amount of waffle for just your fingertips.
STI Tech 2 Pro tires - Brand new to the market in 2017 these tire are awesome! Does anyone remember the Dunlop 756 tread pattern from the early 2000's? The STI Tech 2 Pros have the same tread pattern as the old 756! Considering these are about half the cost of a new Dunlop Geomax, I'm all about these tires.

Accessory:
Travis
: Leatt Knee brace pants - It's uncomfortable and annoying when my knee braces start to drop during a moto. Rather than using knee brace socks, these Leatt Knee brace pants eliminate your knee braces from sliding down your legs while riding. There's also added leather material to help prevent your braces from tearing the pants. It's hard to ride without them.

Goggles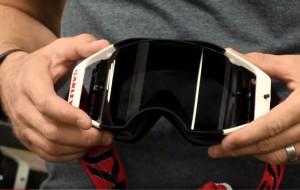 Kyle
: Oakley Airbrake Prism Goggles-Because Travis says they are the best and his video sold me on them...

Headset
Kyle
: [mageProductLink sku="690-20s-01" title=""]Sena 20S[/mageProductLink]--For yet another year this headset provides the best sound and the most user friendly user interface via the Sena App. I have three helmets with three different headsets mounted on them... I dread days I ride in the helmets not equipped with the Sena 20S. Ease of use, run time, audio quality and audio volume are the features which make it better than the competitors. (Scala Rider G9 & Scala Rider PackTalk are the other two)