2018 Brings More Fees For California Vehicle Owners
Chaparral Motorsports
|
December 28, 2017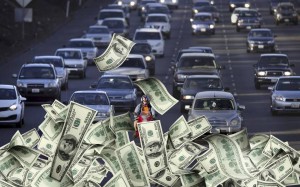 It's going to get a little more expensive to own a vehicle in California come the start of 2018. Already hit with a gas tax hike a couple months back, starting January 1st there will be an additional vehicle registration fee that could cost vehicle owners up to an extra $175.

Back in April, with the aim of improving California's roads, highways, bridges, and mass transit system the state Legislature approved a transportation package: Senate Bill 1, the Road Repair and Accountability Act of 2017, that would raise $5.2 billion a year with a goal of more than $50 billion over the next ten years. The first part of the transportation package kicked in on November 1st in the form of a gas excise tax with drivers/motorcycle riders having to pay 12 cents more per gallon, raising the gas tax to 41.7 cents per gallon. Diesel fuel was also hit with an increased excise tax of 5.75 cents. Both these taxes will be annually adjusted for inflation starting on July 1st 2020.

The next part of the funds for the transportation package will come in the form of a Transportation Improvement Fee which will kick in on January 1st. The Transportation Improvement Fee will hit vehicle owners when they go to register a new vehicle or renew the registration on their current vehicle(s). A value based fee, the Transportation Improvement Fee will charge vehicle owners anywhere from $25 to $175 based on the value of their vehicle. Like the gas excise tax, the transportation improvement fee will be annually adjusted for inflation starting on July 1 2020 as well. Here are the fees you will be paying based on the value of your vehicle (found California DMV website)

Vehicles with Market Value Range Transportation Improvement Fee

Between $0 and $4,999 $25

Between $5,000 and $24,999 $50

Between $25,000 and $34,999 $100

Between $35,000 and $59,999 $150

$60,000 and higher $175

On a positive note for motorcycle fans, the new year will make it even easier for new riders to get their motorcycle endorsement. The DMV will begin accepting a certificate of completion from any California Highway Patrol approved motorcycle training program to allow riders seeking licensure to skip the required DMV skills test. Those under the age of 21 will still be required to complete a rider's training program, but upon completion of a CHP approved course they won't have to take the riders skills test at the DMV.