2018 Supercross Preview
Chaparral Motorsports
|
December 27, 2017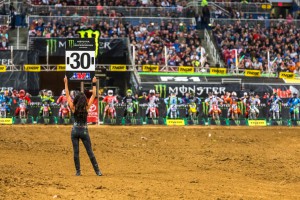 We are just under two weeks away from the kickoff to what could be one of the most entertaining Supercross seasons in quite some time. What makes this upcoming season so exciting? There are several factors:






Ken Roczen


The return of Ken Roczen after what was nearly a career ending injury sustained in the third race of the season last year is an amazing feat in and of itself. Kenny was already a fan favorite before the injury and was on a mad charge for his first Supercross title, so it's safe to say the stadium is going to go nuts when his name is announced at the start of the opening ceremony at A1. Roczen has made an amazing recovery. Well, actually, with the amount of work he's put in, the positive attitude he's maintained, and the determination he's shown to return to the start gate since the injury occurred, you'd have to be a real hater to expect anything less from The Roc. Sure Ken would probably like a shot at taking down Dungey for his first SX title, but the way Eli Tomac and Marvin Musquin have been riding Ken will have plenty to contend with keeping No.3 and No.25 at bay.




Eli Tomac


Speaking of Eli, he's been a tear since Roczen went down. Eli's [mageProductLink sku="020-3410-1083"]Alpinestars Tech 10s[/mageProductLink] wore in the top spot of the podium with his nine wins (he had a five race win streak); and he came within his closest chance yet of winning his first Supercross title by finishing the season a mere four points behind reigning champion Ryan Dungey. But you definitely can't say Tomac didn't go out without a fight. He wrapped up the season with one of the most exciting Las Vegas finals in years. Seriously, how awesome was that final race between Dungey, Tomac, and Jason Anderson? Not one to dwell on near misses, Eli picked up right where he left off over on the Motocross side of things winning a handful of races and the 2017 Lucas Oil Pro Motocross title.




Marvin Musquin


[caption id="attachment_62648" align="alignright" width="300"] Photo: GuyB, Vital MX[/caption]

2017 was a break out year for Marvin Musquin in the premier class. He won his first 450 Supercross podium six races in at Arlington, then followed it up with another win eight races later in Seattle. In fact, throughout the entire 2017 Supercross season Musquin was on his teammate Ryan Dungey's tail or within striking distance of Tomac, making for some very exciting racing. Musquin followed up his best overall finish in the the Supercross series with a bunch of podiums in the Pro Motocross series and gave Eli a run for his money for the Outdoors title. Coming up short in the Outdoors, Musquin made up for it by ripping the competition and sweeping the Monster Energy Cup to become only the second rider ever to win the $1 Million prize. He then rode through the Straight Rhythm without losing a single race to capture his second Straight Rhythm title (back to back). Next, he went on to win the Paris Supercross and then most recently won the Geneva Supercross. So where other riders may have been in training camp prepping for the upcoming Supercross season, Musquin was putting on a winning clinic in race camp.




Jason Anderson and Husqvarna


I think El Hombre has just as much of a chance at the title as those other

[caption id="attachment_66035" align="alignright" width="300"] Image: Husqvarna[/caption]

three riders, but Anderson winning aboard a brand that doesn't have a championship under its belt would be huge and help Husqvarna gain mad respect. Anderson already astonished the crowd at the 2016 season opener when he rode the 450 Husky to the top spot on the podium. He made personal history that night by not only winning his first Supercross race but piloting Husqvarna to it's first Supercross win as well. El Hombre finished third overall in points for the 2016 season and while his only win last season came at the final race, it was by far the most intense 450 race of the season. With all eyes on the minuscule nine point gap between Dungey and Tomac, Anderson stalked the points leaders all race and then busted up everyone's expectations by slipping past both Dungey and Tomac at the tail end of the very last lap to snatch the win as well as a lot of clout for Husqvarna. Anderson is absolutely a contender for the 2018 championship title.




New Scoring System and the Addition of Three Triple Crown Events


For years people have been complaining about the the Supercross format and for good reason. With multiple past championships being clinched several races before the end of the season, it's easy for fans to lose interest and makes for a rather boring end of the season if their is no one battling for a title in the last two/three races. Last year organizers changed things up by moving from a set lap format to a timed format. The goal was to keep the riders on the track longer to give the fans more opportunity to see their favorite racers on the track. Now organizers are trying to keep the points tighter with the introduction of a new point system that will ensure that the race to the championship will be much more competitive throughout the entire season. In addition there will be three events billed as Triple Crown events. Spread across the country, the three Triple Crowns will pit the racers in three main events, similar to the Monster Energy Cup, and they will compete in 8-, 12- and 15-minute main events. An Olympic-style scoring method will be giving the rider with the lowest combined score the overall win.




The Veterans


When the flag drops on January 6th there wont be a reigning champion at the gate. In fact, there will only be one, possibly two veteran riders lined up who have ever won a 450 Supercross Championship--Chad Reed and James Stewart. Stewart has been extremely quiet about his intentions but there are rumors that he'll be competing in couple races at the start of the season, so it's relatively unknown what he will do. Chad on the other hand is set to line up. Chad might be the oldest rider at the gate but he didn't get the nickname Speedy Reedy for being a slouch--when he lines up at A1 Reed will have more wins than the entire 450 field combined. Reed put in another top ten season last year with a podium win and while many people want to count him out, you can't deny Reed's determination and will to win. He'll have just as much chance and much more experience for a shot at the title as anyone else.




A First Time Champion?


If Reed and Stewart (if he shows) don't perform well or worse, get injured, the door will be wide open for the first new Supercross Champion since Ryan Villopoto won in 2011. Not only will it be the first new champion in several years, but one rider will be winning their first ever Supercross title. Besides Tomac, Roczen, Musquin, and Anderson the field is thick with highly competitive riders who could make a solid run for the championship; guys like Davi Millsaps, Cole Seely, Blake Baggett, Josh Grant, Dean Wilson, Cooper Webb, Broc Tickle, and Justin Barcia.




First Non American Champion in A Decade


Between the likes of Roczen and Musquin there is a high possibility that we could see the first non-American Supercross Champion since Reed won in 2008. That may not seem like such a big deal but when you look back at the premiere class of Supercross there have only been three non-American riders to clinch a title since 1974: Chad Reed-Australia ('04, '08), Jean-Michel Bayle-France ('91), and Pierre Karsmakers-Holland ('74). So if Musquin wins he will be only the second Frenchman to win and Roczen will be the first German rider to ever secure Supercross Championship. So yeah, this will be a rather exciting and possibly historic season.