Michelin Introduces The New Road 5 Motorcycle Tire
Chaparral Motorsports
|
November 14, 2017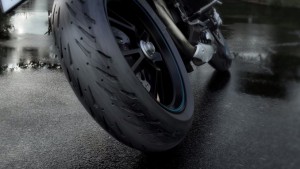 PRESS RELEASE
GREENVILLE, SC- November 3, 2017 (Motor Sports News Wire) Michelin has announced the Michelin Road 5 tire, its newest motorcycle tire, designed specifically for sport touring motorcycles with patented technologies that provide riders with enhanced grip, comfort, and stability, particularly in wet conditions.

Available in January, the Michelin Road 5 incorporates patented XST Evo siping and ACT+ technology to add a new dimension of confidence in wet and dry conditions over the life of the tire. Even after 3,000 miles, a Michelin Road 5 tire stops as short as a new Michelin Pilot Road 4 tire when braking in wet conditions.

"The Michelin Road 5 tire represents a breakthrough in motorcycle tire technology," said Ross Shields, vice president of Two Wheel, Michelin North America. "With design and technology DNA incorporated from Michelin's leading research and development team, we are able to set a new benchmark for the effects of tire wear and performance over time."

The Michelin Road 5 tire builds on the innovative designs of two distinct predecessors, the Michelin Pilot Road 4, and Michelin's leading automobile tire, the Michelin Premier A/S.



Superior Wet Grip

The wet grip of a worn Michelin Road 5 tire is as good as a new Michelin Pilot Road 4 tire thanks to Michelin's revolutionary patented Michelin XST Evo water drop sipes, which grow wider mile after mile.

In 2011, Michelin revolutionized motorcycle tire design with the patented Michelin XST sipe design which was enhanced again in 2014 with XST+ siping technology found in the [mageProductLink sku="190-m-051-kit" title=""]Michelin Pilot Road 4[/mageProductLink]. Designed to evacuate water efficiently, which helps increase confidence during wet conditions, this technology now leads the segment for wet grip performance.

The Michelin XST Evo represents a new iteration of siping in the Michelin Road 5 tires. This technology is borrowed from the tiremaker's Evergrip™ tread design, first introduced in the Michelin Premier A/S tire in 2014. The Premier A/S for passenger cars introduced the breakthrough concept of maintaining wet-braking performance as the tire wears.

Impeccable Dry Grip, Stability and Agility

In addition to optimizing wet grip, the Michelin Road 5 tire is designed to ensure outstanding grip on dry roads and superior stability compared with its predecessor, thanks to a combination of all new tread compounds and revolutionary adaptive casing technology called Michelin ACT+3.

The design of the casing ply, introduced in Michelin Power RS tires, incorporates high angles and overlapping cross plies, which allows for exceptional cornering stability while maintaining the high-flexibility in the crown for straight-line stability.

The new Michelin Road 5 will be available in two front and five rear sizes to fit a wide range of sport touring motorcycles. The tire will go on sale at retail locations nationwide starting Jan. 1, 2018.