Suzuki Announces Ricky Carmichael Continues As Brand Ambassador
Chaparral Motorsports
|
November 7, 2017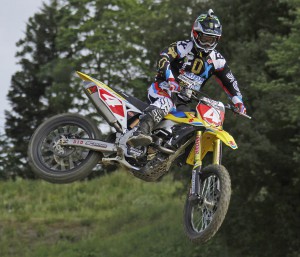 PRESS RELEASE: Brea, Calif, (November 7, 2017) - Suzuki Motor of America, Inc. (SMAI) announced today that Ricky Carmichael will continue his role as Brand Ambassador. Carmichael, nicknamed the "GOAT" (Greatest Of All Time) is a highly respected, multi-time AMA Supercross and Motocross champion and AMA Hall of Fame member who has filled the ambassador position with Suzuki since his retirement from active racing after the 2007 season. The agreement for Carmichael to continue his relationship with Suzuki is multi-year.

Suzuki is redefining its motocross brand in the United States through a number of initiatives including grass roots support and a more clearly defined path for riders to advance from amateur to professional levels. Carmichael will continue to be an integral part of Suzuki's efforts including the RM Army initiative - the umbrella under which Suzuki racing support resides. The Camp Carmichael program, an exclusive Suzuki offering, will continue with Carmichael providing personal coaching for riders who qualify on Suzuki RM and RM-Z race bikes. As a champion who rose to prominence through amateur racing, it's fitting that Ricky will continue to provide guidance to Suzuki Amateur Elite Team riders.

In support of Suzuki's all-new factory racing program in the U.S., Carmichael will also interact with Autotrader / Yoshimura / Suzuki Racing team management at Joe Gibbs Racing (JGR) as well as the contracted racers directly. This adds to the solid start the JGR group has had since the team was announced in September.

A significant portion of Carmichael's responsibility with Suzuki will be product development and feedback. With the recent announcement that Suzuki Motor Corporation (SMC) was suspending participation in the MXGP and All-Japan MX championships, a greater portion of the development and refinement of the company's motocross models has shifted to Suzuki in the United States.

"We are fortunate to have Ricky as a resource to improve our products and represent the company in the United States," said Kerry Graeber, Suzuki's Vice President of Sales and Marketing. "Ricky's success and voice in the motocross world is unparalleled. Suzuki is the winningest bike in U.S. motocross over the past decade and RC is a huge part of that success. We are stoked to continue our fruitful relationship with Ricky into the foreseeable future."

Carmichael echoed Graeber's comments. "I won championships and wrapped up my racing career on a Suzuki, so obviously the brand is near to my heart," said Carmichael. "With the increased emphasis and importance on Suzuki in the U.S., I am looking forward to doing what I can to help further develop its products and racing success."

Carmichael's team, RCH Racing which he founded with freestyle motocross legend Carey Hart, won the 2016 AMA Motocross Championship. Carmichael and Hart closed the team at the conclusion of the 2017 racing season.

In addition to his expanded role with Suzuki, Carmichael will continue to contribute to the motorcycle industry and sport though the Ricky Carmichael Daytona Amateur Supercross, the Ricky Carmichael University, and other charitable endeavors. For additional information about Ricky and his activities, please visit http://www.rickycarmichael.com/

The 2018 AMA Supercross season begins on January 6, 2018 at Anaheim Stadium.