Yamaha Introduces 2018 Hyper Naked Motorcycles
Chaparral Motorsports
|
November 6, 2017
***FZ Series Models Become MT (Master of Torque) Models from the Dark Side of Japan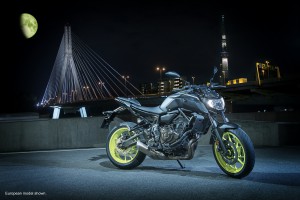 Cypress, CA - November 6, 2017 - The popular FZ motorcycle series from Yamaha Motor Corporation, USA, was reintroduced today with the MT (Master of Torque) model name for 2018. While the "MT" model name has appeared on various European-spec Yamaha motorcycles since 2005, its replacement of the "FZ" name for US-spec models is part of Yamaha's ongoing initiative to strengthen a passionate, global community of MT riders sharing the distinctive "Dark side of Japan" inspiration.

Along with the name change, the sporty and nimble MT-07 receives several updates for 2018. Highlights include a completely new body design, a new seat shape for improved comfort, and updated front and rear suspension components.

Joining the MT-07 for 2018 are the thrilling MT-09 and the MT-10, which offers the pinnacle of performance in the Hyper Naked segment.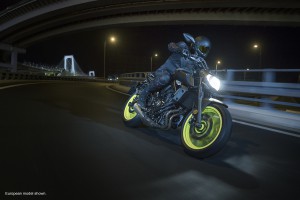 Going deeper into the Dark Side of Japan

While some may see Japan as a traditional and respectful society where conformity is the norm, behind this stereotypical image lies a vibrant sub-culture where new fashions and ideas are constantly emerging. From the spectacle of drift racing to the insanity of Japanese speedway, the other side of Japanese society has been responsible for some wild and wonderful trends. The same creative forces that drive the darker and unconventional side of Japan have inspired and shaped the unique and original MT motorcycles, providing outstanding all-round agility and provocative new-wave design on the street, while giving every rider the chance to experience the thrilling riding emotion of mastering torque.

2018 Yamaha MT-07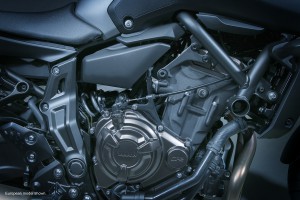 With its characterful and torquey crossplane concept twin-cylinder engine, compact chassis, low weight and agile handling, the Yamaha MT-07 is a motorcycle that appeals to all kinds of riders. Owners of all ages and with varying levels of experience have come to love and appreciate the multi-faceted character of this very popular motorcycle.

All new body design for 2018

The MT series models are subject to an on-going development program, and for 2018 Yamaha's designers have created an all-new body for the MT-07 that enhances its appearance and also gives an improved feeling of quality.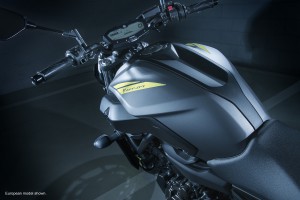 The new body design retains the fundamental character of the previous model, and blends it with new elements that have been inspired by the MT-09 - such as the bolder headlight that gives a more imposing face.

A newly designed fuel tank cover accompanied by MT-09 style 'air scoops' give a sharper image and reinforce the MT family look. A new seat and more compact taillight, along with a new front fender and black components (handlebar, footrest brackets, shift rod), further add to the look of the bike.

Improved seat comfort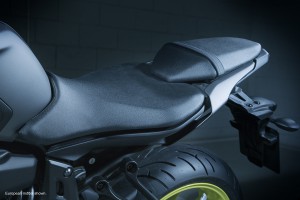 For 2018, the MT-07 is equipped with a completely new seat design that provides improved comfort for riders of all sizes. The front of the new seat now extends to the sides of the rear of the fuel tank area to bring more freedom of movement to the riding position.

Refined front and rear suspension

With 130mm travel at both the front and rear, the 2018 MT-07's suspension system is designed to provide a more refined feel and more adjustability, making it ideal for a wide range of riding conditions.

The front forks are equipped with revised spring rate and rebound damping settings, while the rear suspension is fitted with a new rebound damping adjuster along with revised spring rate and compression settings, all combining for a sportier handling character.

CP2 crossplane concept engine with linear torque

One of the key features of the MT-07 is its CP2 crossplane concept engine that produces strong, linear torque, making it a joy to ride in a wide range of conditions.

The 2-cylinder engine's 270-degree crank gives the MT-07 a pulsating driving force that sets this value-for-money middleweight apart from other models, and this unique facet of the bike's character has helped to make the MT-07 the top choice in its class.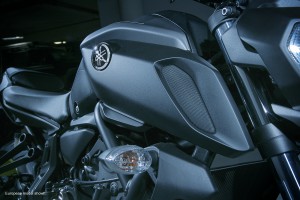 MT-07 New for 2018 Features



Completely new body design for enhanced appearance

MT-09 style headlight

New, more compact taillight

Revised seat shape for improved comfort

New sportier front fork settings

Rear shock with rebound damping adjuster and revised settings

ABS now as standard equipment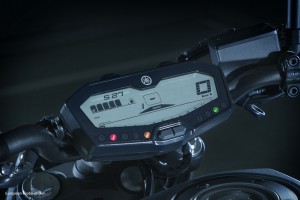 MT-07 Technical Highlights


698cc, 403lbs. wet weight

Liquid-cooled 689cc inline 2-cylinder 4-stroke

Crossplane philosophy design with 270-degree crank

Deep and powerful linear torque output

Outstanding fuel efficiency

Built for optimum riding enjoyment

Slim and compact tubular backbone frame

Agile, maneuverable and easy to handle

Mass-forward design with sculpted bodywork

Lightweight 10-spoke cast aluminum wheels

Digital instrumentation with full LED display

Dual 282mm front discs with 4-pot caliper and ABS

2018 MT-07 Colors, MSRP and Availability


Matte Gray, Team Yamaha Blue, Intensity White

$7,599

March 2018

2018 MT-09 Colors, MSRP and Availability


Matte Gray, Matte Raven Black, Rapid Red

$8,999

January 2018

2018 MT-10 Colors, MSRP and Availability


Matte Gray, Team Yamaha Blue

$12,999

November 2017



Chaparral Motorsports is an authorized Yamaha dealer.