CHAPRRAL MOTORSPORTS ANNOUNCES 31ST ANNUAL MONSTER PARKING LOT SALE
Chaparral Motorsports
|
September 13, 2017
|
Last Updated: November 9, 2020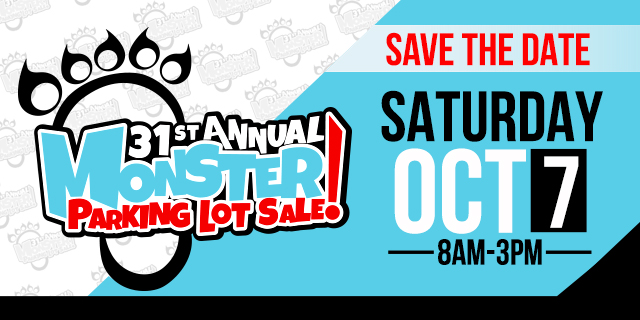 September 13, 2017 (San Bernardino, CA) - Uggs, pumpkin spice, and Halloween mean one thing, it's October. And if it's October then it's time for Chaparral Motorsports' biggest event of the year, the annual Monster Parking Lot Sale, which will be held on Saturday October 7th. For more than 30 years this massive sale has drawn crowds from near and far to score great deals on loads of off road gear and accessories.
Held in the parking lots behind Chaparral Motorsports' massive retail store in San Bernardino, the gates will fly open at 8am sharp on Saturday morning. With more than 25 top name vendors such as Alpinestars, O'Neal, Gaerne, Metal Mulisha, Pro Circuit, EVS, Galfer, FMF, Assault Industries, and Oakley on site, shoppers will be able to find something for everyone in the family. When those gates finally do open up, swarms of people pulling wagons and pushing wheel barrows will be able to rush in to find the best deals on everything from motocross boots, utility jugs, motorcycle helmets, and protective gear, to dirt bike pants and jerseys. For many motorsports enthusiasts the Monster Parking Lot Sale is their favorite event of the year and some have even made it a tradition to get up in the wee hours of the morning to ensure that they get a spot right at the front of the gate.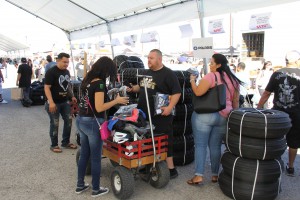 Besides all the incredible deals on parts, accessories, and apparel, one of the biggest draws of the Monster Parking Lot Sale for dirt bike, street bike, cruiser, ATV, and UTV fans is the huge discounts they can get on tires inside the Chaparral booth. We're talking the biggest savings of the year on all the popular brands and tire models. To go along with all the deals going on outside, shoppers can make their way inside Chaparral's 160,000 sq-ft mega store and find even more price cuts on a wide variety of items.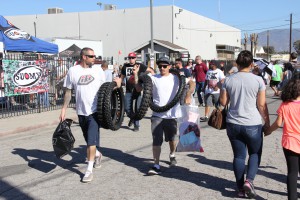 Seeing that it was a huge success last year, Chaparral has decided to hold another scavenger hunt during the Monster Parking Lot Sale to give shoppers a chance to score some awesome free prizes from many of the generous vendors on site. So be sure to mark your calendars, set your alarms, get your running shoes ready, and lube up the wheels on the kid's wagon because once these deals are gone you won't see prices like this for another 365 days.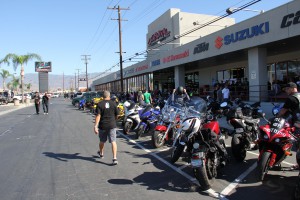 Chaparral Motorsports started as a family motorcycle parts business in 1980 and now encompasses a 160,000 square foot footprint in San Bernardino, California. Recognized as one of the largest motorcycle dealerships in the country, Chaparral Motorsports offers a great selection of motorcycle parts, accessories, motorcycle gear, and motorcycle tires. Over its 37 years in business, Chaparral Motorsports has developed into a multi-line motorcycle and ATV superstore, offering Honda, Yamaha, Kawasaki, KTM, Suzuki, Can-Am, Polaris, and Kymco ATV's, motorcycles, side-by-sides and utility vehicles. For more information on Chaparral Motorsports, visit www.chaparral-racing.com.