The Yamaha BLU CRU Road Racers Are Ready For Their Pitt Stop This Weekend
Chaparral Motorsports
|
August 23, 2017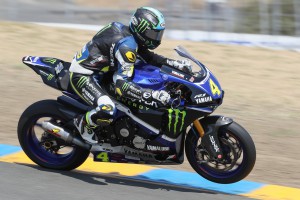 Cypress, CA - August 23, 2017
- Round 8 of the 2017 MotoAmerica AMA/FIM North American Road Racing Championship is this weekend at Pittsburgh International Race Complex in Wampum, PA, and the Yamaha bLU cRU teams will be racing for the very first time on PIRC's undulating, 2.78-mile, 21-turn road course.

Monster Energy/Yamalube/Yamaha Factory Racing: Beaubier & Hayes

Two-time and defending MotoAmerica Superbike Champion Cameron Beaubier had a magical weekend during the previous round of the series in Sonoma, CA, where he led every practice and qualifying session, captured the pole position, and won both of the weekend's races. Cameron is hoping to keep that same momentum going this weekend in Pittsburgh and throughout the remainder of the season.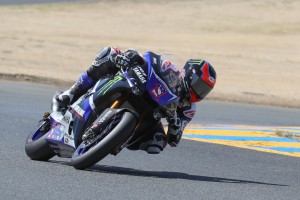 Cameron said, "We're coming off a great weekend at Sonoma and hoping to finish out the season strong. I enjoyed the Pittsburgh track when we tested there. It's smooth and flowing, which is exactly what I like. And it's spectator-friendly, as well."

Four-time AMA Superbike Champion Josh Hayes also had a solid weekend at Sonoma as he reached the podium in both Superbike races, and he, too, is looking to keep his resurgence going at Pittsburgh.

"This weekend at the new PittRace facility, I'm hoping to continue in the same positive direction that we took at Sonoma," commented Josh. "It seems that track conditions will be a little bit different from when we were there for the test, with more new pavement and the addition of a chicane for safety. I'm looking forward to more time on our R1, and I'm hoping to make Cameron work a little harder for it this weekend."

Superbike Superpole (Qualifying) is on Saturday at 11:30 AM EST, Superbike Race 1 will go green on Saturday at 3:30 PM EST, and Superbike Race 2 is on Sunday at 3:30 PM EST.

Monster Energy/Yamalube/Yamaha Extended Service/Graves/Yamaha: Gerloff & Beach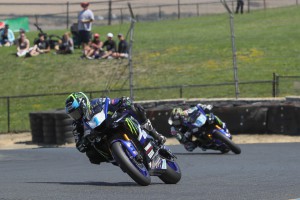 Like Cameron, defending MotoAmerica Supersport Champion Garrett Gerloff also had a perfect weekend at Sonoma where he, too, led every practice and qualifying session, captured the pole position, and won both of the weekend's races. The result enabled Garrett to increase his lead over his teammate JD Beach, which now stands at 14 points.

"Pittsburgh is a big unknown!" Garrett exclaimed. "Luckily, we were able to test there, but I've heard there will be some big changes when we arrive at the track on Thursday. No matter what, though, I felt great at the test, and I have a few things up my sleeve for the race weekend. I'm excited that MotoAmerica and PIRC are bringing professional motorcycle road racing to all the great fans in the Pittsburgh area, and I can't wait to get the action started!"

JD continues to stalk Garrett in their season-long cat-and-mouse game, and his two runner-up finishes at Sonoma have kept the 2015 MotoAmerica Supersport Champ very much in the hunt for this year's title.

"Going into Pittsburgh, I'm excited for two reasons," said JD. "First-off, I didn't have to wait too long to get back on my 2017 Yamaha R6. Second, we're back east again, so I get to drive my sweet van up from my home in Kentucky! But, seriously, I'm looking forward to this weekend. The track was a lot of fun during our test there, but it needed some safety improvements. I've heard that PIRC worked hard, with MotoAmerica, to make those changes, so it should be a great weekend!"

Supersport Qualifying at PIRC is Saturday at 9:20 AM EST, Supersport Race 1 is scheduled for Saturday at 2:25 PM EST, and Supersport Race 2 will go green on Sunday at 2:25 PM EST.

Meet Cameron, Josh, Garrett, And JD

Friday night, from 6 to 7 PM, be sure to stop by ProMotorsports at 4361 Gibsonia Road, Route 910, in Gibsonia. Cameron Beaubier, Josh Hayes, Garrett Gerloff, and JD Beach will be on hand to meet fans, sign autographs, and give away posters.

Cameron, Josh, Garrett, and JD will also be available for autographs at their Team Transporters during the Dunlop Paddock Autograph Session on Saturday from 12:45 to 1:45 PM, and then, again on Sunday during the Dunlop Hot Pit Walk & Autograph Session on pit lane from 12:40 to 1:30 PM. The riders will be handing out free, autographed posters and other team items, and you can also get your picture taken with them, as well as with the Monster Energy and Yamaha Extended Service Umbrella Girls.

Enter To Win A 2017 Yamaha YZ250F Or YZF-R3 In Yamalube 50th Anniversary Graphics!

Look for the Yamalube Umbrella Girls in the paddock, and ask them to enter your name in the Yamalube 50th Anniversary Sweepstakes.





FIRST PRIZE: 2017 Yamaha YZ250F decked out in Yamalube 50th Anniversary vintage graphics and GYTR accessories

SECOND PRIZE: 2017 Yamaha YZF-R3 in Yamalube 50th Anniversary vintage livery and equipped with GYTR accessories

WEEKLY PRIZE: One Free Case of Yamalube

On Monday following the race weekend, one lucky winner's name will be drawn for the Free Case of Yamalube, and all names collected on the race weekends will be automatically entered in the drawing for the 2017 Yamalube 50th Anniversary YZ250F or YZF-R3. A First Prize Winner and Second Prize Winner will be selected in a random drawing on October 2, 2017 from among all eligible and qualified entries.

No purchase is necessary to enter win. For official Sweepstakes rules, please visit:

https://www.shopyamaha.com/yamalubebikegiveaway

https://www.shopyamaha.com/yamalubeoilgiveaway