Southern California Motorcycle Rider Lucky To Be Alive After Riding Off Hillside
Chaparral Motorsports
|
August 10, 2017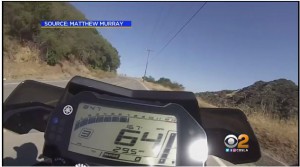 A southern California motorcyclist caught a scary moment on his GoPro two weeks ago when he missed a left hand curve and flew down a steep hillside in Calabasas. According to the Go Fund Me page setup to help pay for Matthew Murray's injuries and rehab bills, he was on his way to work when he exited the road and ended up hitting a tree before going unconscious on the side of the mountain. In the exclusive video obtained by CBS Los Angeles you can see that Matthew doesn't move or make a sound for quite some time and then he comes to and begins to call for help.


With multiple injuries and being in a somewhat isolated area, out of site from vehicles traveling on the road, amazingly Murray managed to get himself back up to the roadside where a motorist stopped and called 911. Once the fire department and paramedics had Murray stabilized one of the officers on the scene picks up Murray's GoPro and shows the Yamaha FZ-10 that Murray had been riding, which had been pulled up the hill to the side of the road, and then pans to the left and down to show where and how far he went down the hill-some 250 feet according to the fire fighters on scene.

According to Murray's interview on CBSLA, Murray says he was only going about 40mph and when he went to lean into the turn the bike wouldn't lean. Whatever the case may be as for the cause of the accident, Murray is laid up for a the next couple of months with a ton of injuries such as broken bones in his back, collar bone, tail bone, hip, pelvis, sacrum, sternum, and has punctured lungs. Matt has a long road to recovery, and doesn't plan on getting back on a motorcycle. He is just lucky to be alive.