The BLU CRU Road Racers Are Looking To Uncork Their Yamahas In Wine Country This Weekend
Chaparral Motorsports
|
August 9, 2017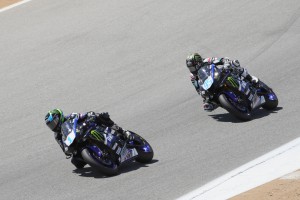 Cypress, CA - August 9, 2017
- Round 7 of the 2017 MotoAmerica AMA/FIM North American Road Racing Championship is this weekend at Sonoma Raceway in Sonoma, CA, and the Yamaha bLU cRU road racers are looking forward to returning to a track that they haven't had the pleasure of visiting in a few years.

Monster Energy/Yamalube/Yamaha Factory Racing: Beaubier & Hayes

For two-time and defending MotoAmerica Superbike Champion Cameron Beaubier and his teammate Josh Hayes, who is a four-time AMA Superbike Champ, Sonoma Raceway is a track on which both riders have had a lot of success.

For Cameron, Sonoma is located close to his home in Roseville, CA, and it's where, in 2010, he won the very first time he raced as an AMA Pro rider on the 2.52-mile, 12-turn road course (while aboard a Yamaha YZF-R6). The last time Cameron raced at Sonoma--in 2014--he was aboard the previous-generation Yamaha YZF-R1 Superbike, and he earned the pole position and won that race too.

Cameron commented, "I love having two MotoAmerica rounds in California and close to my home. I'm excited to rip the new-generation R1 Superbike around Sonoma, and I'm looking forward to getting back on track after the summer break. The team and I are ready to go!"

Josh has also had a lot of success at Sonoma Raceway, having notched a total of five Superbike race victories aboard his R1 during what has been a phenomenal Yamaha road-racing career.

"Sonoma was the site of my very first Superbike win in 2009, and it was on this Yamaha team," Josh said. "I'm happy to be returning to a great, spectator-friendly, California racetrack, and I hope to put on a great show for the fans. The team is looking to get back to our winning ways, and I definitely want to do my part. See you at the track!"

Superbike Superpole (Qualifying) is on Saturday at 11:30 AM PST, Superbike Race 1 will go green on Saturday at 3:30 PM PST, and Superbike Race 2 is on Sunday at 3:30 PM PST.

Monster Energy/Yamalube/Yamaha Extended Service/Graves/Yamaha: Gerloff & Beach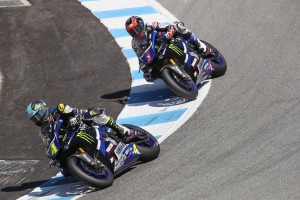 After six rounds and ten races so far in the 2017 MotoAmerica Supersport Championship, defending Champ Garrett Gerloff has a scant, four-point lead over his teammate and 2015 Supersport Champion JD Beach.

Both riders last competed at Sonoma Raceway in 2014. Garrett earned the pole position and then won the race aboard his Yamaha YZF-R6, so JD is looking for a little bit of redemption at Sonoma, as well as an opportunity to leapfrog Garrett in the points standings.

"Back to Sonoma, finally!" Garrett exclaimed. "I fell in love with Sonoma Raceway back in 2014 when I raced there for the very first time, and I've been looking forward to going back ever since. With the new R6 working better than ever, I'm ready to get out there on track Friday morning."

JD commented. "Going into Sonoma, it's going to be different. We've raced there in the past, but it's been a few years, and it was a different series. I kind of feel like it's a new racetrack, and I'm going to approach it like that. My results at Sonoma haven't been all that great in the past, so I'm going into it with an open mind, and I'm looking forward to working with my awesome crew to put my 2017 Yamaha R6 at the front!"

Supersport Qualifying at Sonoma Raceway is Saturday at 9:20 AM PST, Supersport Race 1 is scheduled for Saturday at 2:25 PM PST, and Supersport Race 2 will go green on Sunday at 2:25 PM PST.

Meet The Yamaha bLU cRU Road Racers Twice This Weekend!

All your favorite Yamaha U.S. bLU cRU road racers will be available for autographs at their Team Transporters during the Dunlop Paddock Autograph Session on Saturday from 12:45 to 1:45 PM, and then, again on Sunday during the Dunlop Hot Pit Walk & Autograph Session on pit lane from 12:40 to 1:30 PM.

Cameron and Josh from Monster Energy/Yamalube/Yamaha Factory Racing, Garrett and JD from Monster Energy/Yamalube/Y.E.S./Graves/Yamaha, and the other bLU cRU riders will all be on hand, along with the Monster Energy and Y.E.S. Umbrella Girls.

Enter To Win A 2017 Yamaha YZ250F Or YZF-R3 In Yamalube 50th Anniversary Graphics!

Look for the Yamalube Umbrella Girls in the paddock, and ask them to enter your name in the Yamalube 50th Anniversary Sweepstakes.



FIRST PRIZE: 2017 Yamaha YZ250F decked out in Yamalube 50th Anniversary vintage graphics and GYTR accessories

SECOND PRIZE: 2017 Yamaha YZF-R3 in Yamalube 50th Anniversary vintage livery and equipped with GYTR accessories

WEEKLY PRIZE: One Free Case of Yamalube

On Monday following the race weekend, one lucky winner's name will be drawn for the Free Case of Yamalube, and all names collected on the race weekends will be automatically entered in the drawing for the 2017 Yamalube 50th Anniversary YZ250F or YZF-R3. A First Prize Winner and Second Prize Winner will be selected in a random drawing on October 2, 2017 from among all eligible and qualified entries.

No purchase is necessary to enter win. For official Sweepstakes rules, please visit:

https://www.shopyamaha.com/yamalubebikegiveaway

https://www.shopyamaha.com/yamalubeoilgiveaway