Polaris Issues Stop Sale Notice On 2017 General Models
Chaparral Motorsports
|
August 3, 2017
Polaris has issued a Stop Sale Notice (Service Bulletin# R-17-06A/R-17-06B) on 2017 General Base Models (Indy Red) and 2017 General Hunter Edition models. The purpose of the Stop Sale Notice is because Polaris has determined that 2017 General Base and Hunter models have incorrect tire pressure values on either the tire pressure/load decal in the bed, or in the owner's manual.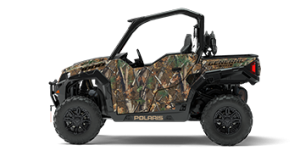 To correct this, Polaris will be providing owner's manual addendums for both Base (Indy Red) and Hunter models, and load decals for Hunter models only. The Hunter Edition will require a new load decal in the bed to correct tire pressure specs.

The Service Bulletin is associated with Model Number: R17RGE99A7 (General Indy Red Base Model) and R17RGE99A9.

If you own one of these models please contact your local Polaris dealer.