Custom Bike Builder Creates High Horsepower Harley Gin
Chaparral Motorsports
|
July 26, 2017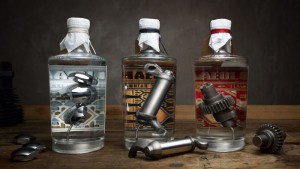 I remember when I turned 21 and my college buddy had just brought back a special bottle of tequila from Mexico to celebrate the occasion. What was so special about the bottle? It had a worm in the bottom of it and you were supposed to drink the tequila and then eat the worm. I'm sure many of you know exactly what I am talking about; it was probably a rite of passage for many 21 years olds. Well it seems in the motorcycle world we can't just put insects into our alcohol and be content; no, apparently we have to actually have engine parts in our gin.

Uwe Ehinger is custom bike builder, parts manufacturer, designer, and artist. Ehinger earned the nickname "The Archeologist" because when he's not in his shop he is probably out scouting high and low for vintage parts for his next build or project. While most of his bike builds are based around old iron like Harley Davidson, flatheads, knuckleheads and panheads, he does dabble with a few other mediums. The latest is a venture which mixes his love for old motorcycle parts with the wonderful world of spirits, in the form of The Archeologist Gin.

To say the new Archeologist Premium Dry Gin is unique would be an understatement. With components that Ehinger has found all over the world like 1939 Flathead camshafts from the Mexican desert, 1947 Knucklehead screw-nuts from Chile, and 1962 Panhead rocker arms from South Korea inside the bottles it's safe to say you've never seen anything like this limited edition alcohol. Sipping on gin infused with old motorcycle parts might not sound like the healthiest of things to do, but don't fret, the parts have been cleansed and sealed with a tin alloy to make it safe for them to be utilized in a drink. Additionally, to prevent the parts from swirling around in the bottle and potentially breaking the glass, they have been soldered to a round platform at the base of the bottle.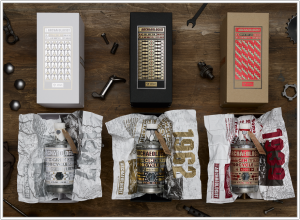 The first run of these three batches of Archeologist Premium Dry Gin: Knucklehead, Flathead, Panhead were done in extremely limited numbers and offered to Ehinger's best customers first and served only in his shop. The remaining bottles of the high horsepower gin (that may be an oxymoron seeing as how Harleys aren't typically known for excessive amounts of power) were up for sale on his webstore but immediately sold out.

I'm not exactly sure if this is actually a real gin or some kind of marketing prank, (with all the stuff that goes around on the web these days you have to be a little skeptical when stuff like this pops up), but based on the fact that there's a press release on it I'm gonna say it is real. If anything, the short stories on the site explaining how Ehinger came across the parts is pretty interesting and worth a read.