KTM INTRODUCES ITS HIGH-PERFORMANCE ELECTRIC MOTORCYCLE TO THE NORTH AMERICAN LINEUP THROUGH A LIMITED EDITION PILOT PROGRAM
Chaparral Motorsports
|
July 25, 2017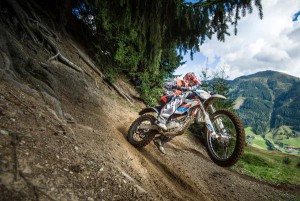 MURRIETA, Calif.
- As the global high-performance electric motorcycle market continues to grow, KTM is pleased to announce the launch of a READY TO RACE pilot program in North America involving the KTM FREERIDE E-XC, an electric version of the already-familiar KTM FREERIDE 250R motorcycle.

Through this pilot program, the KTM FREERIDE E-XC is available in limited quantities and sold exclusively through select authorized KTM dealers in the U.S. Each of the 11 select dealerships have been certified through KTM's high voltage technical training in order to service this new technology.

Tom Etherington, VP of Sales, KTM North America, Inc.: "KTM has created this pilot program as a way to better understand the level of consumer interest in electric motorcycles, which will assist us in future planning when considering serial production of electric motorcycles in the coming years. The exciting part for consumers is that through this pilot program, the FREERIDE E-XC is available for a price that is substantially less than these models would sell for outside of this program."

The MSRP for the 2017 FREERIDE E-XC is $8,299 and the motorcycles are arriving now in limited quantities through the following select authorized KTM dealers:



Moto City KTM in Avondale, Ariz.

3 Bros KTM of Orange County in Costa Mesa, Calif.

CJ KTM of Murrieta in Murrieta, Calif.

KTM of Roseville in Roseville, Calif.

Malcolm Smith Motorsports in Riverside, Calif.

Elite Motorsports KTM in Loveland, Colo.

Larsons Cycle in Cambridge, Minn.

Edelman's KTM in Troy, N.Y.

Solid Performance KTM in Downingtown, Penn.

Adventure Powersports KTM in McKinney, Texas

KTM of North Texas in Arlington, Texas

KTM North America, Inc. is proud to venture into the zero-emission vehicle world with a purpose built motorcycle that could open the door to new and exciting riding areas and applications in the future. For more information on KTM's dealer network, please visit www.ktm.com.