Product Spotlight: Dunlop Hits The Sweet Spot With The New Sportmax Roadsmart III Tires
Chaparral Motorsports
|
July 24, 2017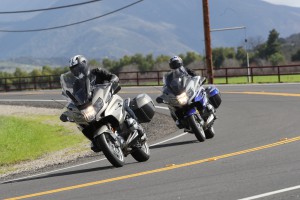 Can you have your cake and eat it too? Well, while motorcycle tires are consumables, I don't really think you want to toss one onto your plate and gnaw on it. But in a figurative sense, with Dunlop's new[mageProductLink sku="331-33r301" title=""] Sportmax Roadsmart III[/mageProductLink] tires, yes, yes you can have your cake (long distance mileage) and eat it too (high performance throughout the life of the tire).

Back in the day a motorcycle tire was a motorcycle tire was a motorcycle tire. They were round, made of rubber, and featured a tread pattern designed to offer grip for a broad range of riding styles and applications. As materials and technologies advanced, competition and selection grew to the point that tire manufacturers were able to develop offerings directed at specific motorcycling segments and applications. Developed as the replacement to the Sportmax Roadsmart II, with this latest tire, Dunlop aimed its focus not only at a specific segment of the motorcycling community but at one tire in particular from one of their biggest competitors.

[caption id="attachment_63911" align="alignright" width="300"]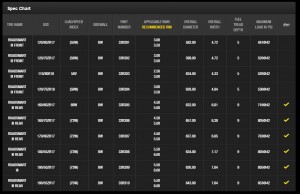 While the Sportmax Roadsmart III tires are geared towards the long distance demands of heavier sport touring bikes, Dunlop offers the tires in a variety of sizes to fit lighter bikes as well.[/caption]

The new Sportmax Roadsmart III tire was created for the sport touring community to provide them with a tire that was long on mileage without heavily sacrificing key performance characteristics (dry/wet grip, dry/wet cornering, and comfort) towards the end of the life of the tire. Encompassing a large swath of riders, the sport-touring community has significantly grown in popularity over the years, which makes sense as to why Dunlop would look to create a tire that caters to that market. Beyond that though, competition-wise one of its biggest competitors, Michelin, had a strong hold of that category with its [mageProductLink sku="190-m-051-kit" title=""]Michelin Pilot Road 4 GT[/mageProductLink] which was often selected over the Roadsmart II and Dunlop wanted to change that.

[caption id="attachment_63913" align="alignright" width="300"]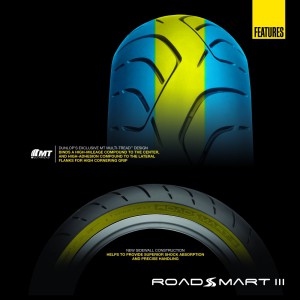 Hard on the inside soft on the outside.[/caption]

To achieve everything they wanted with the Roadsmart III (RSIII) tires Dunlop utilized wear-resistant compounds, a Multi-Tread design composition, new sidewall construction, and changed the tread design. Dunlop's exclusive MT Multi-Tread design puts a harder more road resistant rubber compound in the center section of the tire and a softer compound at the sides that offers superb grip from 30 degrees to maximum lean angle. In conjunction with the multi-tread composition, an advanced resin formula helps increase overall wet grip. By addressing sidewall construction Dunlop was able to improve the shock absorption characteristics of the tire making for a smoother ride over large and small inconsistencies in the road and therefore reducing rider fatigue. The narrower sidewall also contributes to the tire's overall precise handling abilities.

The engineers also wanted to keep the handling on the RS III predictable across the entire surface of the tire so they slightly changed the radius of the rear tire to ensure that the rider would have a consistently smooth feel as they transitioned from the center patch to the sides of the tires when leaning in and out of corners. Along with steady handling, the new profile of the rear tire has been designed to increase the footprint for a more stable ride and to extend the longevity of the tire. For those that have owned or ridden on the RS II's you may notice that the tread pattern on the RSIII's has significantly changed with a new design as well as additional large C shaped sipes. The new tread pattern was designed to improve wet weather performance and features sipes that span from the side and run out toward the center of the tire as they cross through the side sipes. They vary in width and depth and have been integrated to help wick water away from the contact patch.

[caption id="attachment_63914" align="alignright" width="300"]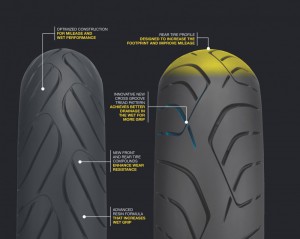 Testing proved riders on Dunlop's Sportmax Roadsmart III tires could have their cake and eat it too.[/caption]

To confirm that the new RSIII met their goals and expectations, Dunlop put the tires through their own rigorous testing as well as had the tires tested independently utilizing third parties. In their own testing at their Huntsville Proving Grounds in Alabama, Dunlop put a set of Roadsmart IIIs up against Michelin's Pilot Road 4s (each with 3,000 miles on them and mounted on a on a 2015 BMW R1200RT) and found the handling of the Roadsmarts resulted in significant performance advantages in numerous categories over the Pilot Road 4s, including wet and dry grip, steering response, and compliance. In independent testing, Texas Test Fleet put RSIIIs and Pilot Road 4s on a 2016 BMW R 1200RT and found that they got more than 12,000 miles out of the rear RSIII-3,000 more miles than the Michelin. The results for the front RSIII was even better with around 20,000 miles while the Michelin was just over 15,000 miles. Over in Europe, Germany's Motorrad Test Centre gave the tires a go against competitive tires from Bridgestone, Pirelli, Metzeler, and Michelin and found that the RSIII beat out all them in mileage with the rear lasting 19% longer and the front running 82% longer.

In addition to the significant mileage findings, according to Dunlop, as compared to some other high-mileage tires that start out with light, linear steering and stability under braking, and then become heavier steering, less linear and less trustworthy as the miles roll up and the tire profile changes with wear, their engineers placed a priority on even wear to maintain light steering, consistent braking and handling, and excellent ride quality over the long life of the tires.

[caption id="attachment_63909" align="alignright" width="225"]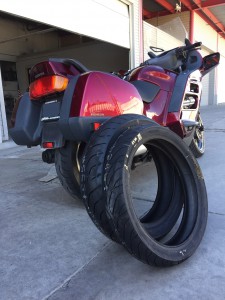 Bill's 2001 Honda ST 1100 is ready for its new Dunlop tread.[/caption]

So not only has Dunlop achieved its goal of creating a long lasting tire that performs at a higher level throughout its lifetime, they have developed a tire that beats out their main rival in the category. The Sportmax Roadsmart III tire is perfect for the demanding miles of the ever growing sport-touring world and Dunlop is so proud of their accomplishments with this tire and that thy have coined a new term for the riding segment, Performance Touring. For those that aren't into sport touring, the good news is the are fitments for the lighter weight bikes as well.

Chaparral Motorsports takes motorcycle tires very seriously, (have you seen our 25,000-foot plus tire department?) and so for the past several month our tire department manager, Bill Walsh has been testing the new Roadsmart IIIs on his 2001 Honda ST1100. Here is what he has to say about them.

New Shoes For Old Feet

[caption id="attachment_63910" align="alignright" width="300"]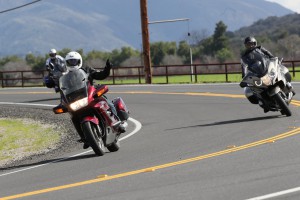 Bill out testing the new Roadsmart III's with the Dunlop team and some other invited riders.[/caption]

I have logged more than 50,000 miles on my 2001 Honda ST1100 over the last five years. The OEM tires on the ST1100 were Bridgestone's. However, when I purchased the bike used back in 2009 it had 3,500 miles on it and it was fitted with Battlax BTO21. Due to the ST1100's unique rear tire size, a 160/70ZR17, my replacement tire choices were limited, therefore I had only experienced the Battlax BTO23, the Bridgestone T30, and more recently the T30GT. I was fairly satisfied with the Bridgestone's, they handled well in all conditions and I was able to average more than 10,000 miles per set.

Thanks to the crew at Dunlop I was able to fit pair of new Shoes on my old ST1100 "the third generation Dunlop Roadsmart IIIs" The Latest Performance-Touring tire from Dunlop. Back in February, Dunlop invited a group of seasoned riders (myself included) out to the Ventura area in Southern California for a ride day to test out the new Roadsmarts IIIs. The ride started on a nice sunny 65 degree day as we proceeded to twisty Route 33 to Ojai. Due to a very rainy winter in southern California there were many wet spots along the ride as well some dirt and mud patches. Considering the obstacles, after a short time piloting my ST1100 on the Roadsmart IIIs my confidence steadily grew due to exceptional grip while breaking into a corner and accelerating hard out of the corner on the dry pavement. Additionally, the Roadsmart III front tire feedback offered very neutral steering and the rear delivered exceptional grip and predictability. I was impressed with the overall handling of the new Roadsmart III's.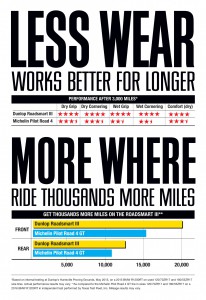 Later in the afternoon, after many of the wet patches had dried, the ride continued on to the famous winding ribbons of Mulholland Hwy. Again, the new Roadsmarts inspired confidence with positive feedback. Mulholland Hwy has many tight switchbacks and the Roadsmart III's maintained excellent grip while transitioning from right to left through the twisties. The total ride with the group was 150 miles, and then I continued an additional 90 miles of freeway back home. All in all it was a long day of riding on the new Roadsmart III's.

I commute on CA freeways to and from work approximately 350 miles a week on my ST1100, and since that test ride with the Dunlop team I have logged about 5,000 miles on the Dunlop Roadsmart IIIs and they still look new and handle just as good as they did when new (I run my PSI at 38 front and 42 rear). As I mentioned, the Bridgestones averaged a little more than 10K miles so time will tell as to the max mileage on the new Roadsmarts.