Off The Line: 2017 Honda CRF250L Rally
Chaparral Motorsports
|
July 20, 2017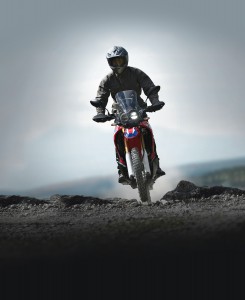 In a world filled with dreams of big adventures, it just might be a wee sized dual sport that could turn those hopes and desires into reality. Hot on the heels of Honda's new big ADV bike, the CRF1000L Africa Twin, big red has dropped yet another steed into the on/off road motorcycle realm with the introduction of its CRF250L Rally. In its extremely short life-span, the Africa Twin has garnered plenty of attention and praise from the media and adventure bike fans. However, with nearly 100 horsepower, weighing more than 450 pounds, and a $13k-plus price tag, the large charger can be quite intimidating for many and more bike than most people want, which is exactly why Honda brought out the CRF250L Rally.

While the CRF250L Rally is a completely new machine, you might look at it and see hints of familiarity, that's because the bike is based on the CRF250L with key elements derived from team HRC's CRF450 Rally they've raced in Dakar. You may also notice that some inspiration was pulled from the biggest of the CRF siblings, the 1000cc Africa Twin.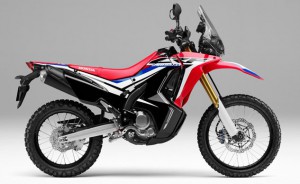 Lightweight, easy to maneuver, and extremely rider friendly, Honda designed the CRF250L Rally to inspire confidence in situations and terrain that beginner and even some more advanced riders may typically feel uncomfortable with. The Rally edition features the same frame and engine as the standard 250L. In fact, for 2017 Honda improved the performance of the standard 250L's engine by increasing the throttle body from 36 to 38mm, redesigning the breathing system, creating a new muffler and larger head pipe, and adding a new brain (ECU) to control the EFI. The engine changes were done to increase low and mid-range power while also improving throttle response, all of which the Rally edition benefited from as well. Transferring power from the engine to the rear wheel is a six speed transmission that makes for more relaxed long distance highway cruising.

[caption id="attachment_63867" align="alignright" width="300"]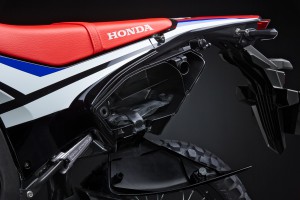 A 2.66 gallon (including 0.42 gallon reserve) fuel tank helps deliver a range of more than 198 miles, while a small storage compartment on the left side provides a place to hideaway some tools to help with road side repairs.[/caption]

Speaking of highway cruising, the Rally features a larger fuel tank that holds 2.7 gallons as opposed to the 2.1 gallon capacity found on the standard 250L. Braking performance has also been improved with a 40mm larger front rotor measuring 296mm. To better handle offroad situations the Rally sports more aggrieve knobby tires as compared to the regular 250L.

The Rally literally stands apart from its standard brother with more suspension travel, a longer wheel base, taller seat height, and more ground clearance. Bumps up front are tackled by a 43mm inverted front end that offers 11 inches of travel and a Pro-Link single shock with over spring the delivers 10.3 inches travel. A taller seat height my sound off putting to those of shorter stature or nervous beginners, however at 35.2 inches the 341 pound machine isn't too overbearing to handle or manage in precarious situations. It is these changes to the stance however that make the Rally a more worthy tool for offroad excursions enabling the rider to climb and clear large obstacles more easily.

[caption id="attachment_63864" align="alignright" width="300"]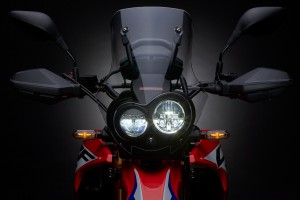 The asymmetrical headlights kind of give the bike a wonky personality up front but the LED headlights and turn signals offer bright illumination with low power consumption.[/caption]

Aesthetically, the Rally is strikingly different from the L model with a much more aerodynamic and sporty appearance thanks to smooth flowing lines in the body work that borrows from both the HRC CRF450 Rally and the Africa Twin. Up front a compact floating windscreen/fairing is just tall enough to help block wind, rain, and road debris for most average size riders. Behind the screen is a pair of slightly offset LED headlights and direct above them is a digital info center. Below the windscreen sits a pair of radiator shrouds that flank the sharp beak of the front fender. Handguards offer protection for the rider's hands up top while a skid plate mounted to the underside of the bottom of the frame helps keep rocks and other destructive objects from wreaking havoc on the engine.

It might not be the most potent of the ADV/dual sport crowd but with its $5,899 MSRP (an ABS model is also available for $6,199) and its go anywhere attitude, this mighty machine will help you live your wildest motorcycle dreams without giving you nightmares about your bank account.