Head To Head: 1000+CC ADV Bikes For The Road And The Trail
Chaparral Motorsports
|
July 20, 2017
2017 KTM 1090 Adventure R Base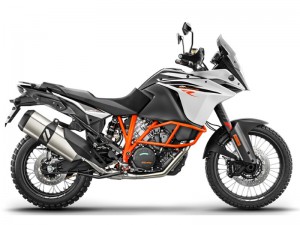 MSRP: $14,699
Engine: 1,050cc, LC8 2-cylinder, V-twin engine,
Bore x Stroke: 103mm x 63mm
Transmission: 6-speed
Fuel Delivery: Keihin EMS with RBW, twin ignition
Power: 125 hp/80 ft.-lbs. torque
Curb Weight: 492 lbs.
Seat Height: 35"
Wheels (front/rear): 21"/18"
Fuel Capacity: 6 gal.

For 2017 KTM replaced its 1190 Adventure models with the 1090 Adventure models. Just because the engine is 100cc less than the 1190 does it mean the 1090s are slouches. Absolutely not! These bikes put out more than 120hp and 80-ft-lbs of torque. The Adventure R model is also 20 pounds lighter than its now obsolete brother. While the Africa Twin and KTM have 21"/18" front and rear wheels, the KTM is ready for rough terrain with its Continental TKC80 knobbies. The 1090 is also outfitted with enough gadgetry to equal the space shuttle such as: Motorcycle Stability Control (MSC), different riding modes, multi-mode traction control, ABS, multi-function dashboard, daytime running light (DRL), automatic turn indicator reset (ATIR), adjustable ergonomics, and adjustable windshield height.

2017 Honda CRF 1000 Africa Twin (DCT Model)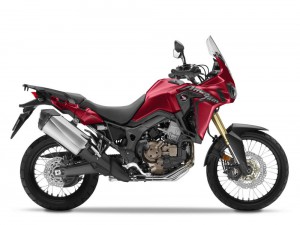 MSRP: 13,999
Engine: 998cc, liquid-cooled, 4-stroke, Unicam, 8-valve Parallel Twin
Bore x Stroke: 92mm x 75mm
Transmission: automatic six-speed Dual-Clutch Transmission (DCT)
Fuel Delivery: PGM-FI fuel injection
Power: 93.9 hp/ 72.3 ft.-lbs. torque
Curb Weight: 534 lbs.
Seat Height: 34.3"/33.5" (standard position/lowered position)
Wheels (front/rear): 21"/18"
Fuel Capacity: 4.97 gal.

Based on looks alone you have to give the Africa Twin high marks. The DCT Africa Twin stands far apart from the others with its exclusive automatic six-speed Dual-Clutch Transmission (DCT) system. Appreciated by ADV newbies and dusty grey beards, the ability to creep, crawl, and climb over obstacles without having to worry about feathering the clutch or flicking between gears makes for much more enjoyable backcountry excursions. The Honda is a bit more portly than the KTM, but the offset to that is the Honda's adjustable seat offers nearly an inch of height difference from 34.3" in the standard position to 33.5" in the lower setting, and that can mean the world to those with shorter inseams.

2018 Suzuki V-Strom 1000XT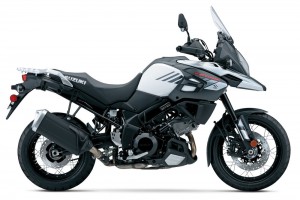 BASE MSRP Intro Pricing: $13,299
Engine: 1037cc, 4-stroke, liquid-cooled, DOHC 90-degree V-Twin
Bore x Stroke: 100.0mm x 66.0mm
Transmission: 6-speed constant mesh
Fuel Delivery: Suzuki Fuel Injection, SDTV-equipped
Power: N/A
Curb Weight: 511 lbs.
Seat Height: 33.5"
Wheels (front/rear): 19"/17"
Fuel Capacity: 5.3 gal

Fans of the V-Strom the will appreciate the facelift and upgrades that the 2018 V-Strom 1000XT will deliver. Starting with a re-styled front fairing assembly sporting a more robust snout, the XT has a taller windscreen that can be easily adjusted into three different angles/heights. Tapered style handlebars and handguards with large vibration damper weights along with DID spoke wheels help make the 1000XT a more dirt worthy motorcycle than before. The new XT does feature some electronic whizbangery with a new IMU-based Motion Track and Combination Brake System and a traction control system. While the V-Stroms might not be known as the most adventurous among ADV fans the 1000XT is definitely a step in the right direction at the right price.