Red Alert: ChapMoto's Almost Race Ready 2017 CRF 450R
Chaparral Motorsports
|
July 14, 2017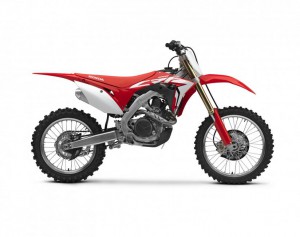 The announcement of Honda's brand new CRF 450R for the 2017 model lineup brought a lot of smiles to motocross fans. A total ground up revamp and sporting a host of performance enhancements to improve the bike's power output and handling was exactly what every dirt bike fan wanted to see and Honda did not fall short. Some of the highlights of the redesigned model include an 11-percent increase in top end power thanks to some crafty internal work with more valve lift, a higher compression ratio, a more direct flow for the intake system, and a revised cylinder head. Knowing that hole shots are key factors to winning races Honda engineers addressed the low down as well with improved torque performance and a 5-percent bump in acceleration off the line.

A great performing engine is useless unless it's cradled in an equally strong chassis. So to that end Honda built upon its legacy of great mx frames and created its seventh generation aluminum frame. More compact and with a lower center of gravity, the aluminum frame was designed with a shorter distance between the swingarm pivot and the rear wheel, which according to Honda, the new package equates to unprecedented levels of rear traction. To keep the bike light, agile, and streamlined Honda added a new titanium fuel tank and then dressed the bike in sleek new plastics. In the suspension department, Honda drew back to what worked well in the past and ditched the airfork from the 2016 model for a 49mm Showa steel spring front fork. This change alone can mean the world of difference for riders, as many are still finding the airforks to be tricky to dial in.

While all these features are great and all, probably the most important new news to many enthusiasts for the 2017 450R was the availability of an optional electric start. The addition of electric start could play a major factor into whether a race is won or lost due to a damaged/broken kicker pedal or an exhausted rider that just doesn't have the energy to kick over a stubborn bike.

We have a hive of Honda fans on staff and the Chaparral Motorsports mod team was eager to get its hands on one of these fresh new machines; so as soon as the delivery truck arrived with the first shipment one of the crates was hauled into the backroom where a collection of new aftermarket parts and accessories could be installed.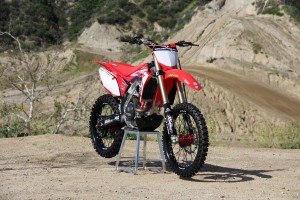 Our offroad apparel manger, Travis Snyder, is a huge Honda guy so he was stoked when he was tapped to lead the charge with the parts selection for this CRF 450R project which has been dubbed, Red Alert. Travis owns and races a 2007 CRF 450R, so he was pretty confident on exactly what he wanted to do with the build. "I wanted the bike to basically be race-ready with everything a rider would want," Travis stated. "The only thing we didn't do was mess with the engine or the suspension, those kinds of changes are more based on rider preference so we left that to the new owner to address."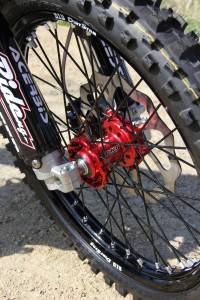 Starting with the wheels we ditched the stock hoops and went with a more durable setup put together by our friends over at Dubya. Travis had them lace up a set of black DID Dirt Star Rims with matching black spokes and silver nipples and then tie everything together with red anodized Talon hubs. Outfitted with the stock Dunlop GeoMax tires, before the wheels were installed the swingarm was sent out to get baked in black powdercoat and the stock triple clamps were replaced with Ride Engineering clamps. While Ride Engineering offers the clamps in several offset options Travis stuck with the stock 22mm offset to keep the handling the same. Machined out of 2024 T6 aluminum the new clamps are a little bit lighter than stock and according to Ride Engineering they offer more flex on the bottom clamp, have revised steering stops, and a larger profile top clamp, all of which equates to better handling.

In the braking department the stock components were upgraded with a mix of goodies from
Galfer and Ride Engineering. Up front one of Galfer's massive 280mm Tsunami brake rotor kits was mounted to the wheel and at the fork leg a Ride Engineering Billet Caliper was installed with a Galfer steel braided brake line. This combination of components was chosen because it would drastically improve braking performance with better modulation, less fade, and much improved heat dissipation via the over-sized rotor and larger pistons and cooling fins cut into the backside of the caliper.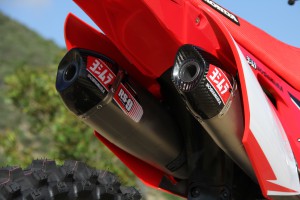 Even though the engine was left untouched, the 450R did get a boost with the addition of a full Signature Series RS-9T FS TI-TI-CF Exhaust system from Yoshimura. An all-new system designed to complement the new Honda engine package, the system features an extremely light weight titanium header and tail pipes with dual tapered mufflers capped with carbon fiber tips. This exhaust is not only 1.4 pound lighter than stock but has been dyno tested to provide much improved throttle response, broader power, as well as better mid-range and top end power.

As mentioned earlier, the 2017 Honda is available with a dealer-installed electric start, so naturally we went with this option and had our guys slap in the push-to-start kit. Actually it's not that simple, installation takes a couple hours and involves dipping into the top end, but the end result is much quicker and easier starting when in a hurry. Obviously a battery was required for this setup, so to keep thing as light as possible we reached for a Featherweight Lithium Battery from WPS.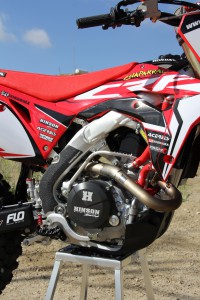 We did break into the drivetrain to upgrade the standard clutch package with a Billetproof Conventional Clutch Kit from Hinson. The complete clutch assembly features eight plates (one more than stock) and is designed to deliver a host of improvements such as smoother clutch engagement, better heat dissipation, longer life for the individual components, and better all-around performance. Gearing was addressed as well with the stock 13 tooth sprocket left in place and the rear 49 tooth replaced with a 50 tooth red Talon sprocket wrapped in a DID 520MX Gold/Black chain. This slight change in the gearing ratio will help give the new owner a tad more lower end power and acceleration for hole shots and digging out of corners.

In order to stay abreast of service intervals a Works Connection Hour Meter and Maintenance Timer with a tach was mounted to the frame just behind the steering head. To keep tabs on the heat being generated several CV4 Temp sticks were added to the radiators and engine. Speaking of the radiators, a set of Works Connection Radiator Braces were installed as an added layer of protection in the event of a tip over or crash.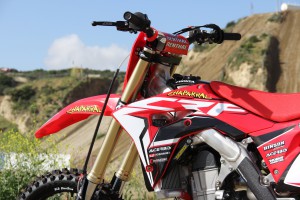 When it came to the hand and foot controls Travis set the bike up with a Renthal RC Bend Fatbar mounted in Ride Engineering bar mounts. The bars were outfitted with Ultra Tacky Dual Compound Renthal Half Waffle grips and Arc Folding Levers. Down below the stock shift and brake levers were left in place but the footpegs were tossed aside for a set of Flo Motorsports footpegs. Made from high grade 7075 T6 aluminum and precision machined, the Flo pegs have a wide platform and stainless steel replaceable cleats to deliver exceptional performance and improved handling.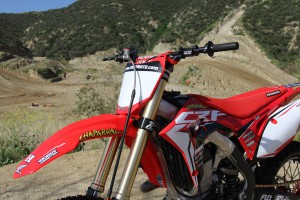 While the 450R received new plastics for 2017, Travis decided to change it up a little by going with an all red plastic set from Acerbis and a Red Factory Edition Stadium Number Plate from Cycra. To matchup with the black powdercoated swingarm the stock red lower fork guards were switched out for a black set from Acerbis. To give the bike a more race-ready appearance, the plastics were sent out to Magik Graphics for a custom red, white, and black graphic design. A host of accessories were thrown at the bike to add a bit of a factory look. We added Works Connection Fork Guard Titanium bolts, Works reservoir caps, axle blocks, and oil filter cover, Ride Engineering ignition and timing plugs as well as a Ride Engineering dip stick.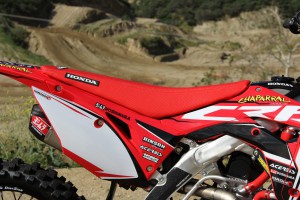 Lastly, the bike was capped off with a Think Technology Lite Seat Foam wrapped in a custom seat cover done up by Magik Graphics. The seat is a significant upgrade to the bike as the foam from Think Technology is the same material that's used in the aerospace industry and weighs only 3 ounces which is nearly 1-1/2 pounds lighter than the stock seat. The seat makes for a significant amount of weight savings from an often overlooked component on the bike.

So that pretty much covers everything that was changed or added to what we've come to call the Red Alert Honda CRF 450R. Many people on staff have fallen in love with the bike and hated to see it roll onto the sales floor. They were able to find solace in the fact that more than likely someone local will purchase the bike, so they'll probably get to see it in its natural environment on one of the nearby tracks.



Parts List
[schema type="productembed" url="http://www.chaparral-racing.com/product/galfer-o-e-m-replacement-rear-brake-line-kit/319-8063.aspx" name="Galfer O.E.M Replacement Rear Brake Line Kit" image="014-FK003D912R" ]

[schema type="productembed" url="http://www.chaparral-racing.com/product/galfer-tsunami-oversized-offroad-wave-rotor-kit/319-8215.aspx" name="Galfer Tsunami Oversized Offroad Wave Rotor Kit" image="014-KITOS812" ]

[schema type="productembed" url="http://www.chaparral-racing.com/product/galfer-wave-rotor/319-8174.aspx" name="Galfer Wave Rotor" image="319-8159" ]

[schema type="productembed" url="http://www.chaparral-racing.com/product/yoshimura-rs-9t-titanium-offroad-signature-series-carb-compliant-complete-dual-exhaust-system/031-225831r720.aspx" name="Yoshimura RS-9T Titanium Offroad Signature Series CARB Compliant Complete Dual Exhaust System" image="031-225831R720" ]

[schema type="productembed" url="http://www.chaparral-racing.com/product/flo-motorsports-pro-series-footpegs/fpeg-791-b.aspx" name="Flo Motorsports Pro Series Footpegs" image="FPEG-791-X" ]

[schema type="productembed" url="http://www.chaparral-racing.com/product/renthal-fatbar-rc-honda-kawasaki-handlebar/10-604-01-bk.aspx" name="Renthal Fatbar RC Honda/Kawasaki Handlebar" image="10-604-01-BK" ]

[schema type="productembed" url="http://www.chaparral-racing.com/product/renthal-dual-compound-ultra-tacky-tapered-half-waffle-mx-grips/10-g198.aspx" name="Renthal Dual Compound Ultra Tacky Tapered Half Waffle MX Grips" image="10-G198" ]

[schema type="productembed" url="http://www.chaparral-racing.com/product/cv4-hose-kit/379-3300.aspx" name="CV4 Hose Kit" image="171-SFSMBC269R" ]

[schema type="productembed" url="http://www.chaparral-racing.com/product/cv4-temperature-strips/171-tmts-1.aspx" name="CV4 Temperature Strips" image="171-TMTS-1 " ]

[schema type="productembed" url="http://www.chaparral-racing.com/product/acerbis-replica-full-plastic-kit/257-219800-0001.aspx" name="Acerbis Replica Full Plastic Kit" image="257-263070-0227" ]

[schema type="productembed" url="http://www.chaparral-racing.com/product/acerbis-block-2-0-chain-guide/257-241096-0001.aspx" name="Acerbis Block 2.0 Chain Guide" image="257-241096-0001" ]

[schema type="productembed" url="http://www.chaparral-racing.com/product/d-i-d-520-mx-black-gold-chain/312-1291.aspx" name="D.I.D 520 MX Black/Gold Chain" image="312-1291" ]

[schema type="productembed" url="http://www.chaparral-racing.com/product/ride-engineering-ignition-and-timing-plug-kit/583-cr-bit00-ba.aspx" name="Ride Engineering Ignition And Timing Plug Kit" image="583-CR-BIT00-RA" ]

[schema type="productembed" url="http://www.chaparral-racing.com/product/ride-engineering-brake-line-clamp/583-cr-blc00-ba.aspx" name="Ride Engineering Brake Line Clamp" image="583-CR-BLC00-RA" ]

[schema type="productembed" url="http://www.chaparral-racing.com/product/ride-engineering-triple-clamps/583-cr-btb00-ba.aspx" name="Ride Engineering Triple Clamps" image="583-CR-BTB23-BA" ]

[schema type="productembed" url="http://www.chaparral-racing.com/product/ride-engineering-oil-dipstick/583-cr-ds45r-ra.aspx" name="Ride Engineering Oil Dipstick" image="583-CR-DS45R-RA" ]

[schema type="productembed" url="http://www.chaparral-racing.com/product/ride-engineering-oversized-handlebar-mount/583-kx-bbm00-ca.aspx" name="Ride Engineering Oversized Handlebar Mount" image="583-MX-BBM00-CA" ]

[schema type="productembed" url="http://www.chaparral-racing.com/product/ride-engineering-front-brake-caliper/583-mx-bc000-ba.aspx" name="Ride Engineering Front Brake Caliper" image="583-MX-BC000-BA" ]

[schema type="productembed" url="http://www.chaparral-racing.com/product/ride-engineering-rear-brake-clevis/583-cr-bc006-ra.aspx" name="Ride Engineering Rear Brake Clevis" image="583-MX-BC006-RA" ]

[schema type="productembed" url="http://www.chaparral-racing.com/product/hinson-clutch-cable-bracket/hin-cb789-0616.aspx" name="Hinson Clutch Cable Bracket" image="HIN-CB789-0616" ]

[schema type="productembed" url="http://www.chaparral-racing.com/product/hinson-racing-billetproof-complete-clutch-kit/hin-hc463.aspx" name="Hinson Racing Billetproof Complete Clutch Kit" image="HIN-HC789-0816" ]

[schema type="productembed" url="http://www.chaparral-racing.com/product/d-i-d-dirt-star-talon-complete-front-wheel/578-4104mb.aspx" name="D.I.D Dirt Star/Talon Complete Front Wheel" image="W54-56-4000RBB" ]

[schema type="productembed" url="http://www.chaparral-racing.com/product/d-i-d-dirt-star-talon-complete-rear-wheel/578-4119mb.aspx" name="D.I.D Dirt Star/Talon Complete Rear Wheel" image="W54-56-4156RBB" ]

[schema type="productembed" url="http://www.chaparral-racing.com/product/talon-radialite-520-rear-sprocket/w54-75-11350r.aspx" name="Talon Radialite 520 Rear Sprocket" image="W54-75-11350R" ]

[schema type="productembed" url="http://www.chaparral-racing.com/product/works-connection-axle-blocks/wc17-010.aspx" name="Works Connection Axle Blocks" image="WC17-016" ]

[schema type="productembed" url="http://www.chaparral-racing.com/product/works-connection-aluminum-radiator-brace/wc18-001.aspx" name="Works Connection Aluminum Radiator Brace" image="WC18-B708" ]

[schema type="productembed" url="http://www.chaparral-racing.com/product/works-connection-front-brake-reservoir-cover/wc21-000.aspx" name="Works Connection Front Brake Reservoir Cover" image="WC21-005" ]

[schema type="productembed" url="http://www.chaparral-racing.com/product/works-connection-rear-brake-reservoir-cap/wc21-500.aspx" name="Works Connection Rear Brake Reservoir Cap" image="WC21-505" ]

[schema type="productembed" url="http://www.chaparral-racing.com/product/works-connection-steering-stem-nut/wc24-380.aspx" name="Works Connection Steering Stem Nut" image="WC24-305" ]

[schema type="productembed" url="http://www.chaparral-racing.com/product/works-connection-oil-filter-cover/wc27-000.aspx" name="Works Connection Oil Filter Cover" image="WC27-026" ]

[schema type="productembed" url="http://www.chaparral-racing.com/product/works-connection-arc-folding-front-brake-lever/wc33-103.aspx" name="Works Connection ARC Folding Front Brake Lever" image="WC33-601" ]

[schema type="productembed" url="http://www.chaparral-racing.com/product/works-connection-arc-rc8-clutch-perch/wc34-201.aspx" name="Works Connection ARC RC8 Clutch Perch" image="WC34-201" ]

[schema type="productembed" url="http://www.chaparral-racing.com/product/works-connection-tach-hour-meter-clock-maintence-timer/wc37-200.aspx" name="Works Connection Tach/Hour Meter/Clock/Maintenance Timer" image="WC37-200" ]

[schema type="productembed" url="http://www.chaparral-racing.com/product/works-connection-tach-hour-meter-clock-maintence-timer-mounting-bracket/wc37-205.aspx" name="Works Connection Tach/Hour Meter/Clock/Maintence Timer Mounting Bracket" image="WC37-205" ]