The Yamaha BLU CRU Road Racers Are Looking To Be Big Men On Campus In Utah This Weekend
Chaparral Motorsports
|
June 22, 2017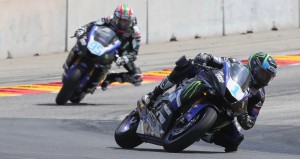 Cypress, CA - June 21, 2017
- Round Five of the 2017 MotoAmerica AMA/FIM North American Road Racing Championship is this weekend at Utah Motorsports Campus in Tooele, UT, and the Yamaha bLU cRU road racers are looking forward to turning laps and striving for victories aboard their YZF-R1 and YZF-R6 machines on UMC's 3.048-mile, 15-turn Outer Course.

Monster Energy/Yamalube/Yamaha Factory Racing: Beaubier & Hayes

Two-time and defending MotoAmerica Superbike Champion Cameron Beaubier is currently in second place in the 2017 points standings, just 14 points out of the Championship lead, and he's coming to the part of the season where the Californian will be racing at tracks much closer to his home.

Cameron commented, "Utah is a fun track, and it always makes for great battles. The team and I are ready to go to work and try to put my #1 Monster Energy/Yamalube/Yamaha Factory Racing R1 Superbike up front where it belongs. I'm looking forward to racing in the western part of the country for the next few races. Also, my brother Ezra will be racing an R6 in Superstock 600 at Utah, so I'm excited to cheer him on!"

Four-time AMA Superbike Champion Josh Hayes is currently ranked fourth in points aboard his #4 Yamaha R1 Superbike, and he's ready to go forth (see a pattern here?) and add another win or two at Utah to the race victory that he got earlier this season at VIRginia International Raceway.

"I've always enjoyed the track at UMC," Josh said. "And I'm looking forward to trying to right the wrongs from Road Atlanta and Road America. Traditionally, the track has suited both me and my Yamaha R1 fairly well. I expect there'll be some great racing for the fans to enjoy."

Superbike Superpole (Qualifying) is on Saturday at 11:30 AM MST, Superbike Race 1 will go green on Saturday at 3:30 PM MST, and Superbike Race 2 is on Sunday at 3:30 PM MST.

Monster Energy/Yamalube/Yamaha Extended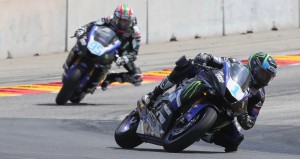 Service/Graves/Yamaha: Gerloff & Beach

In MotoAmerica's middleweight racing class, the quest for the Supersport Championship is a hotly contested one between Monster Energy/Yamalube/Yamaha Extended Service/Graves/Yamaha teammates Garrett Gerloff and JD Beach. Each rider has notched three wins so far this season, and just four points separate Championship leader Garrett from second-place JD. Garrett will try to put an end to JD's Utah four-race winning streak, with the Kentuckian having notched double wins at UMC for the past two years in a row.

"Miller is a challenging racetrack," Garrett said. "With the altitude, and also, the hot weather that we're expected to have this weekend, it'll make for an interesting few days in the desert! I really love the fast, flowing nature of the track, though. It suits the way I like to ride a motorcycle. So, all in all, I'm excited for another weekend and another race, and I'm going to do the best I can, just like always."

JD commented. "I'm really looking forward to racing at Utah Motorsports Campus. I've had some good fortune there in the past, and it's a track that I like a lot. This season has been a blast so far, racing the brand-new 2017 Yamaha R6. I'm looking forward to getting back to work with my crew and having fun, which I always do when I'm racing!"

Supersport Qualifying at Utah Motorsports Campus is Saturday at 9:20 AM MST, Supersport Race 1 is scheduled for Saturday at 2:25 PM MST, and Supersport Race 2 will go green on Sunday at 2:25 PM MST.

Enter To Win A 2017 Yamaha YZ250F Or YZF-R3 In Yamalube 50th Anniversary Graphics!

Look for the Yamalube Umbrella Girls in the paddock, and ask them to enter your name in the Yamalube 50th Anniversary Sweepstakes.



FIRST PRIZE: 2017 Yamaha YZ250F decked out in Yamalube 50th Anniversary vintage graphics and GYTR accessories

SECOND PRIZE: 2017 Yamaha YZF-R3 in Yamalube 50th Anniversary vintage livery and equipped with GYTR accessories

WEEKLY PRIZE: One Free Case of Yamalube

On Monday following the race weekend, one lucky winner's name will be drawn for the Free Case of Yamalube, and all names collected on the race weekends will be automatically entered in the drawing for the 2017 Yamalube 50th Anniversary YZ250F or YZF-R3. A First Prize Winner and Second Prize Winner will be selected in a random drawing on October 2, 2017 from among all eligible and qualified entries.

No purchase is necessary to enter win. For official Sweepstakes rules, please visit:

https://www.shopyamaha.com/yamalubebikegiveaway

https://www.shopyamaha.com/yamalubeoilgiveaway