Chaparral Motorsports/Bar X Motorsports/Suzuki Amateur MX Team Members Race Their Way To 2017 AMA Amateur National Motocross Championship
Chaparral Motorsports
|
June 20, 2017
June 20, 2017 (San Bernardino, CA)-Chaparral Motorsports is proud to announce that every member of the Chaparral Motorsports/Bar X Motorsports/Suzuki Amateur Race Team: Cole Barbieri, McClellan Hile, Brock Bennett, and Brock Papi have all earned guaranteed spots to the 2017 AMA Amateur National Motocross Championship. Two weeks ago Barbieri, McClellan, and Hile got their tickets punched for the Nationals while racing the Northwest Regional Qualifier at Washougal and a week later Papi scored his pass racing the Mid-West Regional at Hangtown.

Cole Barbieri (#972) from Ukiah, California, has had a great series racing an RM-Z450 in the Open Pro Sport class and a RM-Z250 in the 250A class. Barbieri secured spots for the Nationals in both the Open Pro Sport and 250A classes at the Washougal Regional event. In the Open Pro Sport he went 3-2 for a second place overall finish and then followed up with another 3-2 and second place in the 250A Class.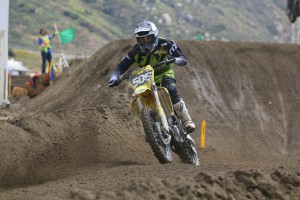 McClellan Hile (#505) from Atascadero, California, has also been riding the Suzuki RM-Z450 and RM-Z250. At the beginning of April he placed 7th in the 450B class at the Southwest Region Area Qualifier held at Glen Helen. Then at the Washougal Regional he went 3-6 for a fourth place overall finish in the 250B Class and placed second overall by going 3-3 in the Schoolboy 2 (12-17) B/C Class.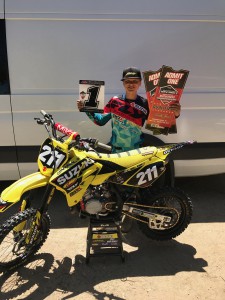 Brock Bennett (#211) from Bakersfield, California, has been racing remarkably on his Suzuki RM85. He nearly had a clean sweep at the Northwest Region Area Qualifier held at Albany MX Park, where he took first place in 85cc (9-12), Mini Sr 1 (12-13) and Mini Sr 2 (12-14), and then grabbed third in the Supermini 1 (12-15). At the Washougal Regional, Bennett scored guaranteed spots for the Nationals aboard his RM85 in the 85cc (9-12) and Mini Sr 2 (12-14) classes by finishing in third place and second place overall respectively.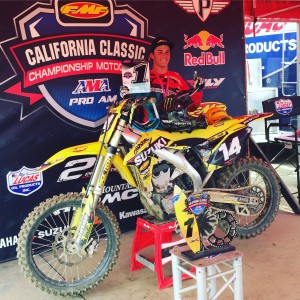 Brock Papi (#14) from Clermont, Florida, has also been pulling double duty aboard an RM-Z250 and a RM-Z450. At the Mid-West Regional held at Hangtown, Papi raced his way to three guaranteed spots for Nationals by taking third overall in the 250B class and first overall in both the 450B and Schoolboy 2 (12-17) classes. In the 250B Class he went 2-3 and then followed that up with spectacular 1-1 finish in the 450B Class and a 3-1 in the Schoolboy 2 (12-17) Class.

The AMA National Motocross Championship is the premiere event in amateur motocross racing and has been held annually at the ranch of famed country music star Loretta Lynn in Hurricane Mills, Tennessee, since 1982. With 55 Area Qualifiers held all throughout the country and 13 Regional Championships, the program to the Nationals provides riders across the country stepping stones to the big dance at Loretta's. After qualifying for the Regionals from an Area Qualifier, riders need to place either 4th or better or 6th or better (depending on the region) in order to get a guaranteed slot for the Nationals. More than 20,000 racers compete for one of 1,482 spots in the 38 classes at the Nationals, making the event a great opportunity to get noticed by potential sponsors and race teams. The 2017 AMA Amateur National Motocross Championship will take place Monday, July 31 through Saturday, August 5.

In preparation for the National Championship, all four Chaparral Motorsports/ Bar X Motorsports/Suzuki team members along with team manager, industry veteran, Larry Brooks, will be heading to Mammoth Lakes for the Monster Energy Mammoth Motocross June 17th-25th. This year marks the 50th Anniversary of the Mammoth Motocross, the oldest continuously running motocross event in the USA. Almost as popular as the AMA Amateur National Motocross Championship, the Mammoth Motocross has become another prime event for amateur racers to break out amongst the ranks. Barbieri, Hile, Bennett, and Papi are all looking forward to the Mammoth series where they hope to continue their great success and continue to make names for themselves.

About Chaparral Motorsports

Chaparral Motorsports started as a family motorcycle parts business in 1980 and now encompasses a 160,000 square-foot footprint in San Bernardino, California. Recognized as one of the largest motorcycle dealerships in the country, Chaparral Motorsports offers a great selection of parts, accessories, riding gear, motorcycle tires for dirt bikes street bikes, ATVs and UTVs. Over its 37 years in business, Chaparral Motorsports has developed into a multi-line motorcycle, ATV and UTV superstore, offering vehicles from Honda, Yamaha, Kawasaki, KTM, Suzuki, Can-Am, Victory, Polaris, and Kymco. For more information on Chaparral Motorsports, visit www.chaparral-racing.com.



###