Yamaha Introduces 2018 Cross Country Motorcycle Models
Chaparral Motorsports
|
June 13, 2017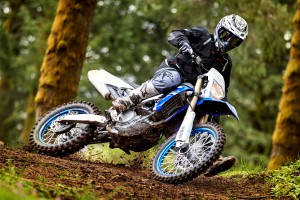 CYPRESS, Calif. - June 12, 2017
- Yamaha Motor Corporation, USA, today introduced the company's roster of championship-ready cross country motorcycle models for 2018. The lineup includes the return of the enduro-based WR450F and WR250F machines, and the cross country competition-focused YZ450FX, YZ250FX, and YZ250X.

2018 WR450F & WR250F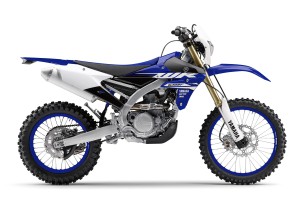 Yamaha's 2018 WR450F is a highly-capable enduro motorcycle derived from their proven YZ450F motocross bike. WR-specific features include a wide-ratio five-speed transmission, temperature regulating radiator fan, optimized clutch, sealed O-ring chain, 18-inch rear wheel, side stand and skid plate for ultimate enduro performance. A bright headlight, LED taillight, and a complete LCD enduro race computer are also equipped for handling long race days.

The WR450F will be available in Yamaha dealerships beginning in September with a Manufacturer's Suggested Retail Price (MSRP) of $9,099.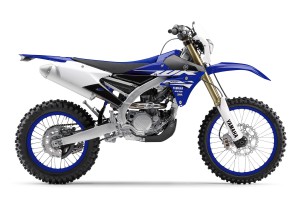 Also returning for 2018 is Yamaha's WR250F. Derived from the motocross and Supercross-winning design of the YZ250F, the WR250F combines enduro-specific features with its powerful 249cc four-stroke engine for full-day racing performance. Equipped with a 2-gallon fuel tank, 6-speed wide-ratio transmission, 18-inch rear wheel, O-ring chain and a skid plate, the WR250F is ready for long hours of racing competition.

The WR250F boasts a number of new features starting with its revolutionary rearward slanted, liquid-cooled, DOHC 4-stroke power plant with 4 titanium valves. A new cylinder head design with reshaped intake and exhaust ports matched to a new shorter intake funnel help to boost top end power, and new cam shafts and valve springs were developed to further increase power output.

The WR250F also receives a new lighter flat top piston design mated to a new shorter piston pin containing a DLC (diamond like carbon) coating to reduce friction and increase hardness. On the bottom end, the crank has adopted a new balance ratio and new nickel-chromoly steel connecting rod to produce broad, balanced, and predictable power while boosting reliability. These changes are regulated through a revised ECU that sends new 3-D mapping to the fuel injection system to optimize power output and increases the rev ceiling.

Not stopping there, the same bilateral beam frame that is found on the championship winning YZ250F was added to the WR to improve handling. The end result creates perfect mass centralization producing an extremely light and nimble handling character on the trail. The industry leading fully-adjustable KYB® spring-type forks with speed sensitive damping and KYB® rear shock return with enduro-specific settings.



An onboard Enduro computer is standard and features speedometer, odometer, average speed, clock and more.

A side stand also comes standard for added rider convenience, and the WR250F is compliant for emissions in all 50 states for off-road use.

Beginning in September, the 2018 WR250F will be available at Yamaha dealerships with a MSRP of $8,099.

2018 YZ450FX, YZ250FX & YZ250X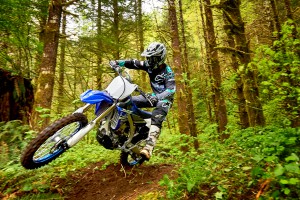 The YZ450FX returns for 2018 with the shared revolutionary rearward-slanted-cylinder engine design of the YZ450F that allows for a straight downdraft intake with a symmetrical port layout. In the YZ450FX, this engine delivers a controllable, torquey power character with strong top-end power tuned specifically for cross country racing. A lightweight bilateral beam frame, five-speed wide-ratio transmission, and fully adjustable KYB® suspension that has been optimized for Grand National Cross Country (GNCC) and Hare Scrambles racing are also standard features.

The 2018 YZ450FX will be begin arriving at Yamaha dealerships in August with a MSRP of $8,999.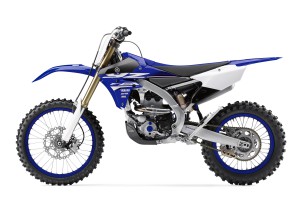 The 2018 YZ250FX is also optimized for the cross country circuit with the sKyame bilateral beam aluminum frame of the YZ250F that provides a nimble lightweight feeling in tight technical terrain, while still providing confidence-inspiring stability in fast sections.

The 2018 YZ250FX will be available at Yamaha dealerships beginning with a $7,999 MSRP.

Yamaha's 2018 YZ250X brings two-stroke performance to cross country racing. Its lightweight aluminum frame and proven reed-valve inducted engine is race-ready. Based on the YZ250 motocross model, the YZ250X features a revised compression ratio, revised exhaust port, revised power valve timing, and model specific CDI unit for improved trail performance. All these features are focused on creating a wide, controllable power character ideal for cross country racing.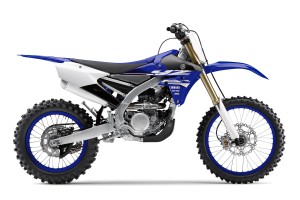 The 2018 YZ250X will be available at Yamaha dealerships beginning in July with a $7,499 MSRP.

All of the 2018 Yamaha cross country motorcycles will be available in Team Yamaha Blue, and feature new blue wheels inspired by Yamaha's Factory SX and MX Race Team.

Chaparral Motorsports is an authorized Yamaha dealer.