Bell Helmets And Fasthouse Collaboration Equals Some Awesome MX Gear
Chaparral Motorsports
|
June 5, 2017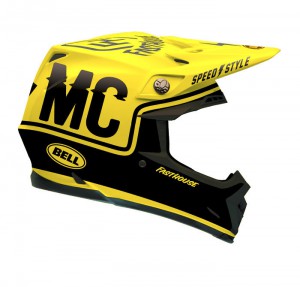 SCOTTS VALLEY, Calif. (June 1, 2017) - Bell Helmets, an industry leader since 1954 in helmet technology and innovation, and Fasthouse, one of motocross' most core and authentic lifestyle brands, are combining the strength of their brands through an official partnership that kicked off today with the unveiling of a special edition Fasthouse Moto-9 helmet. The powerful collaboration will see the two brands produce an ongoing range of special edition Bell helmets and accessories, in addition to distinguishing Bell as the official helmet of Fasthouse.

The partnership was originally spurred by the successful one-off collaboration between the two brands in November 2016, when Bell released a limited edition [mageProductLink sku="650-7080715" title=""]Moto-9 Flex[/mageProductLink] helmet with Fasthouse graphics for Red Bull Day in the Dirt 2016. Resoundingly positive response to the helmet demonstrated the significant power of the combined brands, and motivated the development of a longer-term partnership.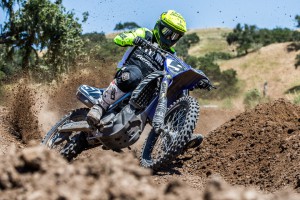 "When I was a little dude we used to go riding in the desert - my dad was a dedicated desert racer - and I spent every weekend racing at local motocross tracks. I started wearing Bell helmets at age 9," said Kenny Alexander, Fasthouse Partner and Creative Director. "They were then and still are the raddest helmets out there. Bell has deep roots, a rich moto heritage, and they make the coolest and safest helmets and Fasthouse is stoked to partner up with them."

"Fasthouse captures the authentic attitude and lifestyle of motocross with as much passion, style and authenticity as any brand in our industry, and we couldn't be more excited to partner with them," said Chris Sackett, Bell Helmets Vice President. "Fasthouse is so much more than just apparel and accessories. Much like Bell, Fasthouse represents the lifestyle of riding, and that authenticity is something that our customers take very seriously."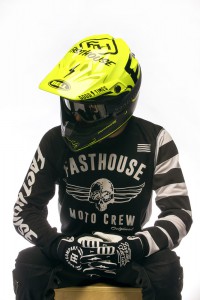 The Moto-9 features Bell's lightweight composite "Tri-Matrix" shell, as well as a Velocity Flow Ventilation system for maximum cooling. The Fasthouse black / flow yellow Moto-9 will be available online June 1.

Certification: Snell M2015, DOT

Sizes: XS, S, M, L, XL, XXL

MSRP: $399.95