Dirt Bikers Jump Broken Bridge In North Carolina
Chaparral Motorsports
|
June 1, 2017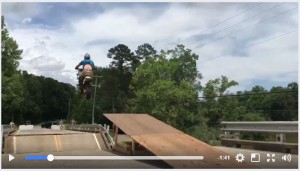 Give 'em an inch and they'll take a mile...or at least in this case some 70-plus feet. That's the size of a gap left from a collapsed bridge in North Carolina that was recently used as an obstacle for some eager dirt bike jumpers. Not exactly the biggest gap, the collapsed Mill Pond Bridge left an opening of around 72 feet long-about the size of an average Supercross triple. The only problem is, coming up short or casing the landing in this scenario could have led to serious consequences. Therefore the North Carolina Duke Boys funtime exploitations were quickly shut down by the man.

Due to structural integrity issues the bridge had been blocked off earlier this fall and then after the bridge collapsed at the beginning of May the dirt bikers built a ramp and placed it right before the gap on one side and then pushed the massive cement block barricades out of the way on the opposite side to give them enough room for the landing. Of course when they hit the jump there were several spectators there to watch and some even took video which was then was posted to Facebook. In the video you can see the two riders, one on a Honda and the other on a Kawasaki, which looks to have some supermotard mods, clearing the gap with ease. Although they do seem to be pretty experienced riders, that ramp looks a little sketchy, one wrong move or that thing fails and it could get ugly real quick.

You can watch the video here: https://www.facebook.com/colt45howell/videos/10212036661499274/

Of course once the authorities caught wind they began looking for the riders. According to TCW News, NC Trooper TA Rathbone says the riders could face charges such as driving on a closed road, but really he just wants to discuss how dangerous the stunt could have been to them or others. After the video went viral NCDOT crews returned to the bridge and secured the barricades in place to prevent them from being moved.

Just like the story we ran a few months ago about the dude jumping his dirt bike over the freeway, if you're a big enough dare devil, anything can become a stunt.