Honda Adds Big Starting Power To The 2018 CRF450R For Little Cash
Chaparral Motorsports
|
May 9, 2017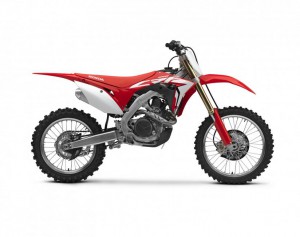 A motocross race can be won or lost in an instant due to the rider not being able to kick start the bike to life after a crash or stall. With this knowledge in mind Honda has nixed the optional electric start kit that it announced last year with its totally revised 2017 CRF450R and made electric start standard for the 2018 model. This should be big and much welcomed news for Honda fans and racers that have been looking to make life easier on the track. Honda now becomes only the third manufacturer to offer an electric start only 450 motocross bike--KTM and Husqvarna are the other two manufacturers that offer MX bikes with electric start as standard equipment.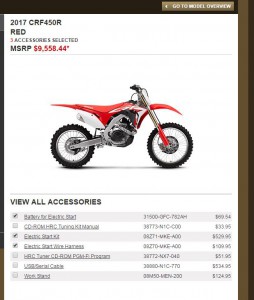 Even bigger and better news than the announcement of electric start is the fact that the 2018 Honda CRF450R comes in at only $300 more than the 2017 version, before adding the electric start. This actually isn't a significant difference in overall price considering the parts and labor costs involved in adding the electric start option. Breaking down the cost, the electric start option on the 2017 version you were looking at more than $500 just for the electric start kit alone. Then toss in another $110 for the wiring harness and an additional $70 (if you went with the Honda option) for the battery and you're sitting at more than $700 just in parts. Oh, and don't forget the labor for the dealer to install it all, about $400 or so depending on the labor rate. So what would essentially cost you more than a grand on top of the MSRP for the 2017 CRF450R, you now get standard for about $700 less.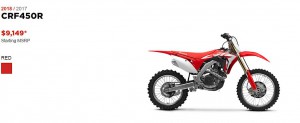 To help lighten things up, Honda completely ditched the kicker assembly, and although the 2018 CRF450R does weigh 5 pounds more than the 2017 version, the ability to start trying to ignite the bike to life as soon as you grab the handlebars, as opposed to waiting until you can get it slightly upright, toss a leg over, and pull out the kicker pedal, can mean the difference between first and second place.

Honda made the announcement about the upgrades to the 2018 CRF450R and 450RX today, you can read the full details here: press release.

Chaparral Motorsports is an authorized Honda dealer.