ChapMoto Race Recap Week 17: What Went Down In Vegas
Chaparral Motorsports
|
May 9, 2017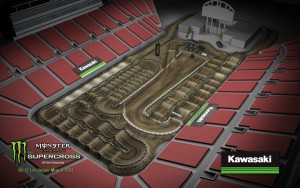 This is a new series in which we will look back at the past weekend's Supercross race and give you our thoughts and perspectives on what we saw. We've posed several questions based on the evening's events to a motley crew of Chaparral Motorsports staff (and one outsider) and provided you with their answers and insights.

A little background on the respondents in this series:

Dave Damron (DD): Chaparral Motorsports founder. Racer, team owner, manufacturer, retailer. Dave has seen it all and done it all on two wheels.

Travis Snyder (TS): Chaparral Motorsports Offroad Products and Apparel Manager. Travis is one of our in-house moto racers. A Honda guy, Travis is either at one of the local tracks or prepping his bike for his next event.

Mike Medina (MM): Chaparral Motorsports Technical Advisor/Communications Specialist. When Mike's not at the office he's in the pits spinning wrenches for the Enticknap brothers, #722 Adam (The Seven Deuce Deuce) and #723 Tyler.

Eric Ellis (EE): Chaparral Motorsports Marketing/Social Media. Eric is just a Harley guy who likes to watch Supercross.

The Outsider (TO): N/A. The outsider is not a Chaparral employee but he is an industry veteran with a good perspective on the inside.

Being that Chaparral Motorsport is part of the Monster Energy| Yamalube| Yamaha Financial Services| Yamaha Factory Racing team with two-time Supercross Champion Chad Reed and two-time 250SX West Region Champion Cooper Webb (making his debut in the 450 class this season) we focused a few questions on the their performance. Also, we had the opportunity to toss Reed and Webb a few questions in between their busy schedules so you could get some perspective on the races directly from the riders.

Let's start off with the questions we sent to Reed and Webb first: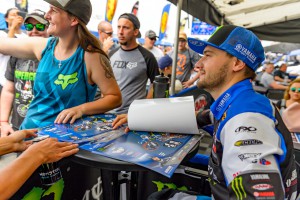 Webb:

What are your thoughts on your night in Las Vegas?

CW: The heat race went well. I felt good and was looking forward to a solid main event. I didn't get that start that I needed, which seemed to be a recurring problem for me this season. From there, I tried as hard as I could, but I struggled quite badly on the slick, blue-grooved dirt. Vegas wasn't the way I wanted to go out in my rookie 450SX season but, on the bright side, I'm healthy, I learned a lot, and I'll be ready for the start of the outdoor season coming up here in a couple of weeks.

What is the most important thing you learned or your biggest takeaway from your first season in 450SX?

CW: I think the biggest thing I learned is that these guys are no joke! This isn't the 250SX class anymore. I'm racing with a gate full of well-respected Champions, and you have to be on your "A" game each and every time to try to beat these guys. It would be easy to just say the season didn't go as planned, but from where I started at Anaheim 1, I've made huge strides. I had momentum on my side before I got hurt, and I felt a win was right around the corner. The shoulder injury took a little bit of wind out of my sails, and it was hard to get any momentum rolling after that. But, like I said earlier, I've been working hard, and I can't wait to see how this summer goes.


Reed:

Man, what a night! It looked like things were really clicking for you. You looked really comfortable and completely dialed in on that track. How do you feel about your night?

CR: I knew, going into the weekend that Vegas would be a more favorable situation for me. Seeing the end-result definitely made me believe that I had a shot at being the winner. But, I made a mistake in thinking that I had more room, and I totally underestimated (Jason) Anderson's position in the race.

What is the most positive thing you'll take away from this season?

CR: Even though it was the most frustrating year of my career, it failed to break my beliefs.

What We Saw

Dave is out of town this week so we will leave him out of the questions/answers.

Who had the best night?

https://youtu.be/L08ECaPfalc

TS: The best night has to go to Zach Osborne! What a race!!

MM: The best night had to go to the sold out Las Vegas crowd in Sam Boyd Stadium. They were electric and loud the whole night and got the show they came to see and more. This was definitely one of the most action packed final rounds I have ever had the pleasure of witnessing.

EE: Osborne hands down. His performance Saturday night is exactly what Supercross is about, putting every ounce of your blood, sweat, and tears into it, and leaving nothing on the table.

TO: KTM- winning the 450 Supercoss championship and their sister brand Husqvarna winning the 250 east championship both coming down to the last lap.

Who had the toughest night?

TS: Joey Savatgy losing the championship on second to last lap, or Jordon Smith losing the championship and getting hurt. Both riders had a tough night.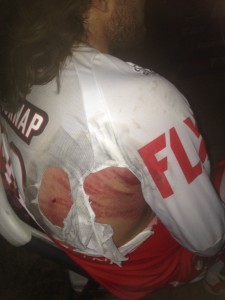 MM: The toughest night is split between two brothers in the 450 class, the Seven Deuce Deuce Adam Enticknap and the Seven Deuce Tres of Tyler Enticknap. Tyler was in a qualifying position in his semi race when he came up short in the rhythm section leading to Monster Alley casing his bike which resulted in a broken tib / fib in his left leg. Another one that just got away from him trying to qualify for his first 450 main event. Adam was battling with Alex Ray #314 for the 16th place spot when he nose picked the last whoop and was sent over the handlebars to the ground and being ran over by the oncoming Jake Weimer. He suffered a fractured collar bone, broken rib, and a collapsed lung. Both of them are out of the hospital and are expected to make full recoveries. On the plus side, this was the best season both of them had making it all the way through 17 rounds of Supercross. Plenty of positives to take into next season.

EE: It's a tie between Savatgy and the Enticknap boys. I don't know what got into Savatgy the last two races but he really struggled and then he had to watch a title slip out of his fingertips as his bike launched out of his hands. The Enticknap brothers are always fun to watch and root for but man, both of them ended their night with some gnarly injuries. I guess if you were to try and find a bright side at least it was the last race of the season.

TO: Kawasaki- it was looking like a Green Sweep for a while.

What was the best pass of the night?

TS: Of course ZachO passing Savagty with a statement on the last lap with two corners to go! Not to mention Osborne passed 14 other riders before that.

MM: The best pass of the night had to go to the Rockstar Husqvarna's Wacko Osborne #16 for making the pass of the century on Pro Circuits Joey Savatgy to win the 250E title.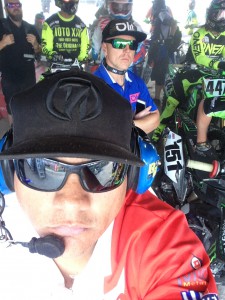 EE: This will probably be unanimous, Osborne passing Savatgy. Was Savatgy not aware of what was going on? How did he leave that door so wide open? Whatever the reason, Osborne saw Savatgy lay out the welcome mat and then slammed it shut!

TO: Osborne. When he crashed in the first corner, I thought it was over for him.

Which was the more exciting race, the 250 or the 450 final?



TS: 250 was a little more exciting than the 450, not by much though.

MM: It's a coin flip for me. The excitement was there to see if Wacko could come back from dead last in the 250 race but the 450 race had everyone on edge to see if Tomac could pull the championship off and if Dungey would crack.

EE: The 250 main by far was THE most exciting race I've ever seen. There were so many twists, turns, crashes and possible story lines it was insane. A group of us were watching the races in Travis' garage and my biggest regret was not capturing the vibe in the room as that last lap unfolded and Osborne tucked Savatgy away for the night. The room exploded with people screaming and yelling!!! It was awesome.

TO: Both races were unbelievable!

Thoughts on Osborne's final lap pass on Savatgy?

https://youtu.be/O4Sf04i-D1s



TS: It was the Pass of the Year! Savagty didn't even see him coming. He didn't deserve that championship anyways.

MM: Wacko's pass on Savatgy was the pass of the century. He did exactly what needed to be done if he wanted the title. Savatgy would have done the same thing if the script was flipped. Savatgy can only be mad at himself for letting Osborne close the gap on him and not being aware of how close he was. Myself and the Seven Deuce Deuce saw the whole thing unfold at the starting line waiting for our main event and wondered, "How the hell are we supposed to follow that?" LOL! Like when the Rolling Stones had to follow James Brown at a couple of shows.

EE: A lot of people didn't like it, I loved it. He didn't spear him, it wasn't malicious, and it was a clean pass-as evidenced by the fact that the AMA didn't feel the need to say or do anything. I feel like all those people who disagreed with it would rather watch the guys simply run solo timed laps where there's no possibility for passing or contact.

TO: Super aggressive. Joey shouldn't have been that far back to begin with. Zach just wanted it more.

Quite a few people didn't like Tomac's strategy in the 450 final, what do you think?

https://youtu.be/OEbt8xEEhBM

TS: It was the last race of the year. That's what made it exciting and Tomac had to do what he had to do. Unfortunately it didn't work out into his favor.

MM: ET3 could have approached the race in two different ways. I would have been fine if he just told himself to get to the front and don't look back and smoke everyone and pray RD5 finishes outside of 4th place. Or he could have done what he did by trying to make things happen in his way by getting in the Diesel's head and try to ruffle feathers. The first hit that pushed Dungey on top of the berm would have worked better if he went down. The second pass was another hit Dungey took with a grain of salt. The final hit or push to get Dungey off of the track almost worked because ET3 layed up to let Dungey get close enough to him to make another aggressive move with the top five guys all bunched together. If Dungey went down, he may have lost the championship considering the top five were all within bike lengths of each other. I wouldn't say they were so much as cheap shots since he needed Dungey to have a bad night and wanted to help the cause, but Eli may have lost some fans by taking this approach to the race. Eli will go 24 for 24 in the Outdoor season, write it down.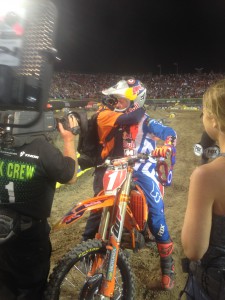 EE: There was strategy on both parts. Dungey knee all he had to do was stay up on two wheels and shadow Tomac. Tomac knew what needed to happen in order for him to win the championship and I think the strategy he used was perfect, it left open a wide range of possibilities for things to unfold the way then needed to for him. By controlling the pace and letting the lead pack bunch up it created a situation to where Dungey could get mixed up with or passed by a couple riders. Also by baiting Dungey to pass it created situations where Tomac could put a forceful pass on him and maybe either force a Dungey mistake or rattle his nerves. Tomac did everything he could and still ran a clean but calculated race.

TO: Tomac did the only thing he could do to try and win the Championship. By controlling the pace and letting other riders catch Dungey and hopefully pass him. Tomac knew if he ran away Dungey would do consistent laps and bring home another Title. It's interesting how the Championship ended this year with Musquin pulling over at the previous round and Tomac ramming Dungey in Vegas and trying to slow him down. It was an exciting finish compared to a rider clinching the Title with a race or two to go.

Any predictions on which (if any) 250 riders might get a 450 ride next year?

TS: Justin Hill. Jeremy Martin possibly.

MM: Well, we know Justin Hill has to move up to the 450 field now. I am wondering if he will take Josh Grant's spot alongside ET3 with Monster Energy Kawasaki.

EE: Hill, maybe Osborne or Jeremy Martin?

TO: Justin Hill will probably end up as Tomac's new teammate.

Thoughts on Ryan Dungey's next move: Retirement or resign?

TS: Finish outdoors, then retire. Possibly resign as KTM manager?

MM: I will be fine if the Diesel decides to retire and move on to focus on family life. He has done plenty to get himself into the Hall of Fame as one of the best in the game and an ambassador for the sport. But, there was a moment I captured when he and his mechanic Carlos Rivera were congratulating each other on the toughest season of his life that would lead me to believe he is not done yet. He strives under pressure situations and embraces challenges. I think he will want to do it again with a healthy Ken Roczen expected to be back for 2018 and to try and join the king Jeremy McGrath and Ryan Villapoto to be 1 of 3 riders to win 4 in a row.

EE: I think he'll retire. It's known he wants to start a family. You always want to go out on top and this season was a close to almost losing a title as you can get; I don't think he wants to go through a season like this again. Let's face it, next year Tomac and Musquin probably won't be any slower, and IF by some miracle Roczen can rehab and get back into close form as to when he went out, I don't think Dungey will be able to do it again.

TO: 50/50. I thought he was going to announce his retirement on the podium.

Webb

Thoughts on Webb's night?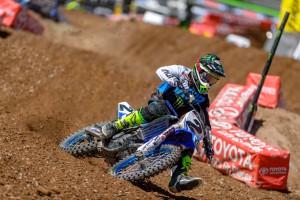 TS: Webb rode a decent race. I'm glad he kept it on two wheels being that Hangtown is in two weeks.

MM: Coops night was shaping up to be a good one when he was 9th fastest in qualifying and was 3rd in his heat race, one spot ahead of his team mate Chad Reed, to go straight to the main event. He finished in 10th place for the night and is now looking forward to the outdoor season.

EE: He had a good heat race. It would have been so great if he could have got up in mix with Reed and Anderson and given Anderson some gruff after he knocked Reed off the track. I'm looking forward to watching how he does at Hangtown.

T0: I'm sure he's looking forward to outdoors.

What did you think of Webb's rookie season in the 450 class?

TS: He learned a lot. Knowing Webb, he'll do his homework and come back next year smarter and stronger.

MM: Coops rookie season did not go as well as I had hoped for him. There were more downs than ups in my opinion but he will learn from this season and iron out any wrinkles there was to make the 2018 season more consistent and solid. He ended up 13th overall for the season being top rookie ahead of Mookie and Bogey. Now its time to take it outside and get dirty.

EE: I'm sure it wasn't what he wanted but after missing five rounds due to that shoulder injury he still just barely finished outside top 10 overall. Not too bad and he'll definitely go up from here.

TO: He has work to do. I think the 450 class is a lot tougher then he originally thought.

Reed

Thoughts on Reed's night?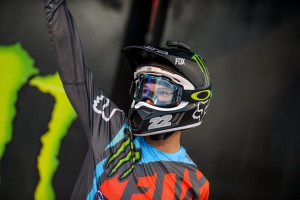 TS: The way Reed was riding, I thought he was going to make it to the front of the pack. Until Dungey's bodyguard Anderson had something to do with it.

MM: Reedy was having a good start to his night as to his teammate Cooper Webb. He finished 4th in his heat race to transfer to the 450 main event. He had a mediocre start to the main event but was getting it figured out as the main event went on. Reed would eventually finish the race in 6th place and ended his season 9th in points. I had Reed figured around where he ended up inside of the top 10.

EE: Good heat race and looked rather comfortable with the track. He had a fairly good start in the main and was right up near the lead pack, but between Dungey and Tomac we didn't get to see much of what else was going on behind that. It was great to see him make that charge and get past Anderson-even if it was only for a second.

TO: I thought Reed was going to be the spoiler to Dungey until Anderson parked Reed for his buddy Dungey.

How about the quick back and forth between Reed and Anderson?

TS: Dungey had a lot help from Anderson behind him. Defending anyone that wanted to get involved with the Championship.

MM: With some strong lap times and sheer determination, Reed made his way through the field up to the top 5 with a couple of laps to go until he ran into to a hard charging Husky rider by the name of El Hombre and got served like John McEnroe when he was punted off of the track before the finish line jump. It was an aggressive pass for sure, but El Hombre wanted it more and ended up winning the race for his first 450 win of the 2017 season.

EE: It was awesome! I just wish Reed could have made the pass on Anderson stick, or at least like I said earlier, if only Webb was there to give Anderson some attention.

TO: Reed looked good, But Anderson definitely had Dungey's back!