ChapMoto Race Recap Week 16: What Went Down In Jersey
Chaparral Motorsports
|
May 2, 2017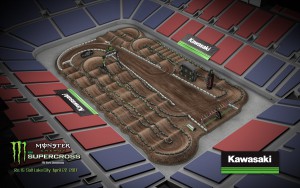 This is a new series in which we will look back at the past weekend's Supercross race and give you our thoughts and perspectives on what we saw. We've posed several questions based on the evening's events to a motley crew of Chaparral Motorsports staff (and one outsider) and provided you with their answers and insights.

A little background on the respondents in this series:

Dave Damron (DD): Chaparral Motorsports founder. Racer, team owner, manufacturer, retailer. Dave has seen it all and done it all on two wheels.

Travis Snyder (TS): Chaparral Motorsports Offroad Products and Apparel Manager. Travis is one of our in-house moto racers. A Honda guy, Travis is either at one of the local tracks or prepping his bike for his next event.

Mike Medina (MM): Chaparral Motorsports Technical Advisor/Communications Specialist. When Mike's not at the office he's in the pits spinning wrenches for the Enticknap brothers, #722 Adam (The Seven Deuce Deuce) and #723 Tyler.

Eric Ellis (EE): Chaparral Motorsports Marketing/Social Media. Eric is just a Harley guy who likes to watch Supercross.

The Outsider (TO): N/A. The outsider is not a Chaparral employee but he is an industry veteran with a good perspective on the inside.

Being that Chaparral Motorsport is part of the Monster Energy| Yamalube| Yamaha Financial Services| Yamaha Factory Racing team with two-time Supercross Champion Chad Reed and two-time 250SX West Region Champion Cooper Webb (making his debut in the 450 class this season) we focused a few questions on the their performance. Also, we had the opportunity to toss Reed and Webb a few questions in between their busy schedules so you could get some perspective on the races directly from the riders.

Let's start off with the questions we sent to Reed and Webb first: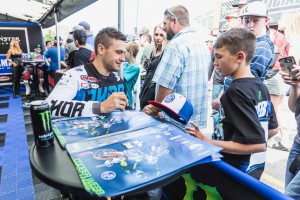 Webb:
Does your intensity or level of excitement increase as you head into this final race of the Supercross season in Las Vegas?

CW: Vegas is always an exciting place. It's a little disappointing not going into Vegas with a shot at the Championship, but it's still cool to race in that city and in front of a huge crowd. Without the Championship pressure, though, I don't think this race will feel any different, intensity-wise, for me.

Does the travel schedule of racing out west, then back east, then out west again within three weeks' time affect you mentally and/or physically?

CW: I personally like the back-and-forth schedule because it gives me a chance to switch up where I'm training and living. It doesn't get old riding the same tracks and staying in the same place all the time. Plus, I get to be in North Carolina on the East Coast and enjoy my new house in California when I'm on the West Coast!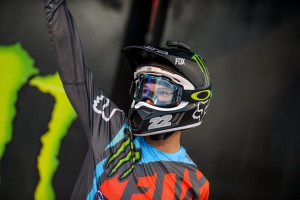 Reed:

Does your intensity or level of excitement increase as you head into this final race of the Supercross season in Las Vegas?

CR: I'm excited for this last race because it has been the most disappointing and frustrating season of my career. Las Vegas has always been one of my favorite rounds, and it fits my current strengths (hard pack), so I'm all-in to try to finish up the season with a solid result.

Does the travel schedule of racing out west, then back east, then out west again within three weeks' time affect you mentally and/or physically?

CR: The schedule has always been long and challenging, but I embrace it and enjoy the journey. This is my 15th year doing this, so it just feels like "business as usual.

What We Saw

General questions:

Who had the best night?

DD: It had to be Osborne and Dungey, both of them road the race they needed to. Tomac gave Dungey an early Christmas present by falling and losing his concentration for the remainder of the race.

TS: Roger Decoster. I mean com'on... who wasn't more stoked than Roger? His Factory Red Bull KTM Team is all business.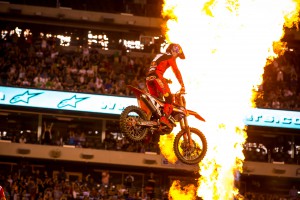 MM: The best night has to go to the Factory Red Bull KTM team. Ryan Dungey is that much closer to another premier class championship and the team went 1-2 for the night with Marvin Musquin in second place. They're moving some bikes on Monday morning at your local dealership.

EE: Ryan Dungey. All he had to do Saturday night is the same thing he does week in and week out, ride consistently and play it smart. He did just that and everything fell right into place, you could even say some things just fell into his lap.

TO: Dungey!

Did anyone surprise you?

https://youtu.be/iWTtGwqzNFA

DD: Tomac was a surprise. He never seemed to settle down and find his rhythm, he over jumped, under jumped, and just flat didn't seem to be in tune with the track.

TS: Dylan Ferrandis, this kid is the real deal. There's something about Frenchmen & SX going hand in hand. Let's see what he's got in the Outdoor Motocross series.

MM: Eli Tomac surprised me with the horrific performance he displayed in NJ. I did not see this type of a ride coming from him as many others probably predicted as well. Joey Savatgy would get the honorable mention as well for the mistake he made and the eventual penalty he sustained to bring the championship to a heads up three rider showdown.

EE: The AMA. As trigger happy as they've been with docking points and fines, I am surprised they didn't do anything with the Grant/Stewart situation. I like Josh Grant. And I am not saying either way if what he did was intentional or not, but I definitely thought that that corner action was going to get a reaction from the AMA. I'm glad it didn't. #Letemrace

https://youtu.be/hP3p3COIzJQ

TO: Tomac. He wasn't even the same rider from a week ago.

Who had the toughest night?

DD: It had to be Tomac and Savatgy, both came into the night leading in points and both left without the points lead.

TS: The #3 of Eli Tomac. He finally gets to run the red plate all by himself and he flops over like a dead fish. In my opinion, he wasn't mentally focused.


https://youtu.be/fQeyJNPsmHE

MM: Eli Tomac did not have the toughest night but made it tough on himself with the brain farts he was having during the 450 main event. He has washed his front end before, no big deal. But all of the errors made trying to cut back through the field look like a rider in panic mode and he could not hold it together. He needs a huge gift from the Diesel come Las Vegas which probably will not happen. It was an impressive series comeback that I hoped would materialize but New Jersey will probably be the deal breaker for Monster Energy Kawasaki's championship hopes.

EE: Team Kawasaki. You know everyone on team green was just salivating at the possibility of sweeping the 250 and 450 series? At least they still have a window of opportunity with Savatgy in the 250 East. I'm not saying the window still isn't open for Tomac to win the championship but Dungey is definitely looking to close him out, so Tomac is going to have to bust through. It'll be interesting for sure.

TO: Tomac.

Predictions for the 250 East Championship?

https://youtu.be/lSPjvgpmYiM

DD: I feel the 250 East will come down to the rider that doesn't make a mistake and I am leaning towards Jordon Smith because Osborne and Savatgy have made their fair share of mistakes thus far this season and so far it appears to me that Smith seems to ride within his ability but he now has the RED plate and that red plate has a way of changing a rider.

TS: Thank you Joey Savagty!! This 250 East race is one for the books. After watching ZachO lay the smack down on everyone in Jersey, I'm going to have to go with Zach winning the East Championship. He looked healthy and fast!

MM: If I had to lay some money down at the sportsbook in the casinos in Vegas, Wacko Osborne would be the smart bet for the W and the 250E title. My heart is still with Pro Circuit's Joey Savatgy but I would not be upset at all if Jordon Smith took the W and the title, this kid is deserving of it.

EE: I'm going to pull for Savatgy in the 250 East and looking at Justin Hill to take the East/West Showdown.

TO: To Close to call. It's going to be a wild night in Las Vegas.

Thoughts on Musquin's last lap and the end result?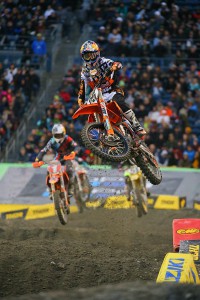 DD: A much better "Let Brock By" scenario, at least he jumped a rut to make it look believable. I doubt there were any "team Orders" but Marvin is a team KTM / Red Bull team rider and he knows that there is only a KTM/Red Bull and Monster/Kawasaki rider left that can win the championship, he's smart enough to know to try and keep it within the family that pays him.

TS: Ryan Dungey could not have been in any better of a situation. I've gotta chuckle a little bit at all the social media post thinking this is such a big deal within the sport. I hate to break it you ya... this whole "teammate pull over" has been going on for decades. If only Musquin admitted that he purposely pulled over for the Champ, I might have a little more respect. Rather than him lying saying he popped out of the rut. That was Musquin's race to win, but he knew he wasn't in the championship race, so he let his TEAMMATE get the extra points that were needed. #LetBrocBy

MM: Marvin moved out of the way of his teammate so he could gain maximum points and some breathing room for the final race in Las Vegas, plain and simple. Not mad about that at all, but do not play it off as you messed up in the rut on a smooth flat corner. He looked behind him and saw his teammate there two laps prior and felt the last lap is where he would let Dungey overtake him. There probably was a stipulation in the new extended contract he signed with KTM the same weekend that he agreed to move over for Dungey if the chance presented itself. LOL.

EE: I've watched it multiple times and I just don't see anything other than Musquin pulling off to the side. There's absolutely nothing wrong with allowing your teammate, you know the guy who actually has a shot at winning the championship, get every point he can. Just be up front about it and people will respect that. I know it's wrong, but I'll feel totally opposite if the Vegas race comes down to Musquin having to make the decision to pull out or not to give his teammate the overall win. Nobody wants to see a championship race go down like that and I'm sure Dungey won't want to win a title that way either.

TO: KTM is spending way too much money and effort to not have Musquin take a Dive. If I was Musquin I would demand my 1st place bonus money.

What do you think are Tomac's chances and winning the championship?

[caption id="attachment_62946" align="alignright" width="300"]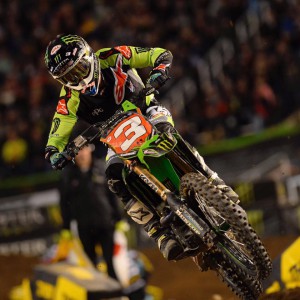 Image Source: Kawasaki USA[/caption]

DD: I think his chances are pretty slim, but it's not over till it's over. Dungey is solid in his approach and the red plate hasn't affected his riding any different, if he does lose it will because of something out of his control.

TS: Very slim. Dungey has to get 4th place or better in Vegas if Tomac wins. Dungey's worst finish so far this season, is 4th (which happened three times). Based off the numbers, I think Dungey is going to be next four-time Champ. But it ain't over till the fat lady sings... so let's roll the dice in Vegas!


MM: ET's chances are very slim considering the Diesel needs to finish 4th or better to clinch the title no matter what ET does. The Diesel has finished at worst 4th three times this year and is not likely to finish any worse. But it is Las Vegas and there is always a chance, everyone brings it to Las Vegas and the whole field is trying to make a statement and bring some momentum to the Outdoor season in the future forecast. It would not shock me to see a new race winner in Las Vegas besides ET3 or RD5.

EE: I'll bet Eli is probably pretty happy the final race is in Vegas because he is going to need all the luck he can get. His changes at winning are extremely slim, but there is a chance. Travis and I were just talking about this. If Tomac were to win the race, Dungey has to place at least 6th for Tomac to be able to win the championship in the clear by two points. If Dungey gets 5th and Tomac wins, they end up in a tie for points with 357 total and Tomac would win the title because he's won more races this season. But if Dungey gets 4th and Tomac wins Vegas, it's a wrap and Dungey gets his fourth 450 Supercross title and probably rides off into the sunset from racing. Dungey hasn't finished outside of 4th place since 2014, so the points and odds are absolutely in his favor. But really how crazy would it be if they tie and Tomac snatches the Championship from Dungey based on overall wins? That would be wild!!!!!!

TO: It will take a small miracle for Tomac to win.

Reed/Webb questions

Thoughts on Reed's night?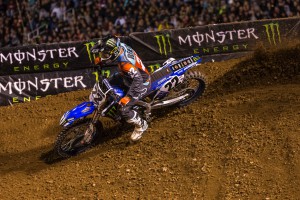 DD: Reed rode ok he didn't seem to get a flow going on the track and was never at the pace needed to win or even podium.

TS: The Red Fox set up looked good on him.

MM: Reed has one more shot to take a win for the Yamaha effort and he may be a new race winner for 2017. I am sure he does not like not being in the mix and will play the spoiler role come Vegas.

EE: Not too spectacular. I really hope he goes out with a bang in Vegas and ends on a high note. I want to see him rebound next season and stun people.

TO: I'm sure he's looking forward to next year.

Thoughts on Webb's night?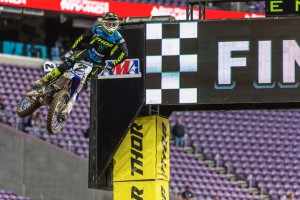 DD: Webb was about on par with Reed and he never got it going either, here's hoping that he gets his race face going for the outdoors.

TS: I'm excited for Hangtown! I think he might Holeshot one of the two motos.

MM: I am picking Webb to be my dark horse and light the fireworks in Las Vegas. If he can get a subpar performance out of Jason Anderson and Marvin Musquin, Webb may take a win just because it's Las Vegas and it's time to leave everything on the track.

EE: He held up pretty well in the heat race and transferred into the main, but the main was no Bueno. Let's hope he has more LUCK in Vegas.

TO: I'm sure he's looking forward to Outdoors.