ChapMoto Race Recap Week 15: What Went Down In SLC
Chaparral Motorsports
|
April 25, 2017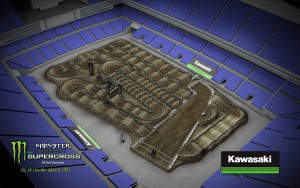 This is a new series in which we will look back at the past weekend's Supercross race and give you our thoughts and perspectives on what we saw. We've posed several questions based on the evening's events to a motley crew of Chaparral Motorsports staff (and one outsider) and provided you with their answers and insights.

A little background on the respondents in this series:

Dave Damron (DD): Chaparral Motorsports founder. Racer, team owner, manufacturer, retailer. Dave has seen it all and done it all on two wheels.

Travis Snyder (TS): Chaparral Motorsports Offroad Products and Apparel Manager. Travis is one of our in-house moto racers. A Honda guy, Travis is either at one of the local tracks or prepping his bike for his next event.

Mike Medina (MM): Chaparral Motorsports Technical Advisor/Communications Specialist. When Mike's not at the office he's in the pits spinning wrenches for the Enticknap brothers, #722 Adam (The Seven Deuce Deuce) and #723 Tyler.

Eric Ellis (EE): Chaparral Motorsports Marketing/Social Media. Eric is just a Harley guy who likes to watch Supercross.

The Outsider (TO): N/A. The outsider is not a Chaparral employee but he is an industry veteran with a good perspective on the inside.

Being that Chaparral Motorsport is part of the Monster Energy| Yamalube| Yamaha Financial Services| Yamaha Factory Racing team with two-time Supercross Champion Chad Reed and two-time 250SX West Region Champion Cooper Webb (making his debut in the 450 class this season) we focused a few questions on the their performance. Also, we had the opportunity to toss Reed and Webb a few questions in between their busy schedules so you could get some perspective on the races directly from the riders.

Let's start off with the questions we sent to Reed and Webb first: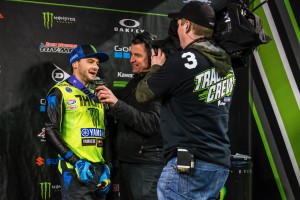 Webb:
Did the elevation have any effect on you? Did you do anything differently to train for Salt Lake City?


CW: "I didn't really notice it at all. I thought I would, but it didn't bother me one bit. I didn't do anything different to prepare for it because, in my past experiences, the higher elevation hasn't given me any problems."

There's still talk about possible changes to the series format. Are you happy with how things are? Is there anything you'd like to see change?


CW: "I think changes would be cool. The format has been the same for so many years. I think in order for our sport to grow and attract more fans, we need some change."

Reed:
Did the elevation have any effect on you? Did you do anything differently to train for Salt Lake City?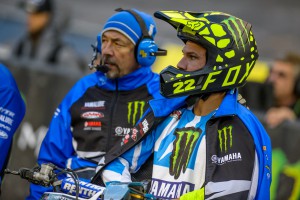 CR: "I didn't do anything different as the rider. The bike is the issue with the altitude change. It runs much slower, so changes are needed to compensate."

What We Saw

General questions:

Who had the best night?

DD: Eli Tomac had the best night, putting on a Supercross clinic for every rider out there.

TS: I'd have to say Justin Hill along with Mitch Peyton. It's been some time now since the Pro Circuit Kawasaki Team has won a championship. Congrats to Justin and the Team!

[caption id="attachment_62945" align="alignright" width="300"]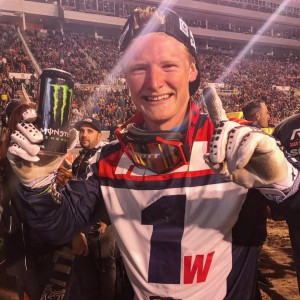 Image Source: Kawasaki USA[/caption]

MM: The best night award goes to the the #46 Justin Hill of the Monster Energy Pro Circuit team. Justin sealed the deal on the 2017 West region title with his 3rd place win. It is good to see Pro Circuit at the top again after some long years against Factory Connection Honda and Star Racing Yamaha. Now it is up to Joey Savatgy to bring home the East Regional title for a Pro Circuit sweep.

EE: By far, the night belonged to Eli. Even if he doesn't go on to win the championship, by taking over the point lead this late in the season he's accomplished what seed nearly impossible.

TO: Kawasaki-Justin Hill winning his first Supercross championship and Eli Tomac continuing to come closer to his First 450 SX Championship.

Who impressed you the most?

https://youtu.be/b-XK7fqmNWU

DD: Shane McElrath showed he's still got it after injury.


TS: Freckle! AKA Mitch Oldenburg impressed me finishing 2nd behind his teammate Shane Mcelrath.


MM: Eli Tomac impressed me the most with his come from behind win in SLC. This had to be soul crushing for the Diesel. This dude is on another level and if Kawasaki can keep the bike under him, he will be the 2017 Monster Energy Supercross champion when the dust settles in Las Vegas.


EE: Tomac. He was on point all night. Sure he had a few slight bobbles like at the start and then the first time he passed Dungey in the corner and nearly lost it, but he remained focused and determined and cut through the competition from way back in the pack like it was nothing. And man, watching him fly across those whoops, that was beautiful.


TO: Eli Tomac coming from 19th to 1st. Eli put on a riding clinic!

Who had the toughest night?



DD:
Aaron Plessinger crashed while leading the main event, handing the championship title to Justin Hill.

TS: Aaron Plessinger had a tough night. He was leading the main event until those nasty whoops took him to the ground. It seemed like those were the type of whoops you were happy to get through each lap, but didn't look forward to hitting them 45 sec later.


MM: Aaron Plessinger of the Star Yamaha team had a tough night by letting the 250 main event win slip away from him when he crashed in the whoop section while leading. If AP23 would have went on to the win, he would have kept Pro Circuit's Justin Hill from locking up the title and keep his title hopes alive. He will be a top pick for most to win the 250 shootout in Las Vegas if he races it.


EE: Plessinger. He, even though he was down 18 points to Hill for the 250 West title, there was still a glimmer of hope in sight, and then in an instant it all disappeared. Tough break. At least he wasn't seriously injured.


TO: Dungey, to be out front and getting a pitboard that says Tomac is 10th / 12th after the first lap and still getting passed by him.

What was the better race the 250 main or the 450 Main?

https://youtu.be/DPtJ8pHv5zA

DD: The 450 Main.

TS: The 450 main. Eli Tomac showed the world he's going to be the 2017 SX Champion. The beginning scenario of the race couldn't have been any more perfect for Dungey. He showed that he will never override the bike and only races a certain speed that Dungey is comfortable with. Do you think each and every lap Tomac wanted to click it up a gear and grab a hand full of throttle right before those treacherous whoops? No, he probably didn't. But he knew that was a solid passing point if you wicked it into those every lap on such a short track.


[caption id="attachment_62946" align="alignright" width="300"]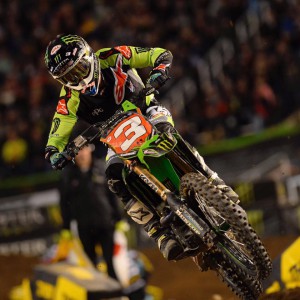 Image Source: Kawasaki USA[/caption]

MM: The 450 main event was more exciting to watch if ET3 was going to catch the Diesel for the win. Along the way, other riders were not making it easy for ET3 since his bad start put him in 12th after the first turn. ET3 was not given anything, he earned this victory and is that much closer to the title.


EE: In my opinion the 450 main had lot more excitement as you had the drama of not knowing if Tomac could catch Dungey and then once he did it was whether or not he'd get around Dungey. It was the heads up racing between the two people had been dying to see.

TO: Both races had me on the edge of my seat. very exciting for both main events!

How does this 450 series rank in the history of Supercross?

DD: It's up there with the best. Don't forget about 2011 when Villopoto barely beat Reed by 4 points. Not to mention, Dungey was only 6 point behind Reed at the end of the season as well.

TS: It's up there as one of the best. We'll see what New Jersey and Vegas has to offer.

MM: Although one of the key players in the series retired from the season with an injury, Ken Roczen, the series still had enough excitement to keep it interesting. I think the 2006 Supercross series was one of the best in a long time when Suzuki's #4 Ricky Carmichael, Kawasaki's #7 James Stewart, and Yamaha's #22 Chad Reed went into the final race almost in a three way tie in points. The title could have went to any of those three guys.


EE: As a fairly new fan of Supercross my depth on the history is pretty shallow. I've only paid attention to the last few seasons where the series was usually wrapped up by now by either Villopoto or Dungey. So this season is near the top for me. I know there were seasons in the past with riders like Reed, Stewart, Carmichael, and McGrath, to name a few, that were really exciting but I didn't follow any of those seasons so I gotta go with what I know.


TO: One of the best comebacks with Eli Tomac making up such a big points gap. Very impressive.

Reed/Webb questions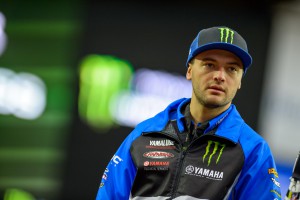 Thoughts on Webb's night?

DD: He rode well in the Semi, but fell flat in the Main.

TS: Considering he got a horrible start, 9th was a decent finish. I'm going to go out on a limb here and say that I think Cooper has his mind set on outdoors already. You can thank the shoulder injury he had half way through the SX season for that.


MM: Webb had an OK night, not a great night. The Outdoor series is what he is looking forward to and so is the spectating world.


EE: It was a tough one in Utah. We all know Webb is fast, so I'm hoping that with these last two races he can put something together and end the season with a bang.


TO: Cooper is probably looking forward to the outdoors.

Thoughts on Reed's night?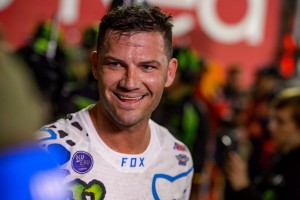 DD: He had some good battles with Baggett and Millsaps. 6th was a good finish for the night.


TS: He finished better than I expected. I don't know what to say about Reed. Is he planning to race SX in 2018?


MM: Reed's night, as I would expect from Reed himself, was not up to par. Although a 6th in the main event is pretty good for how his season has gone, he expects top 5's or better out of himself. I would expect his mindset is towards the Outdoor series which starts in less than a month.

EE: With everything that was on the line between Dungey and Tomac and all the energy they were generating, a 6th place finish for the night isn't too bad. Reed was up in the mix in the main running in 5th during the first few laps and held a consistent pace to maintain his position. Just like with Webb, we know what he's capable of so I'm looking forward to these last two races.


TO: Reed is probably looking forward to next year.