Josh Grant Has A Scary Over The Bars In Seattle
Chaparral Motorsports
|
April 14, 2017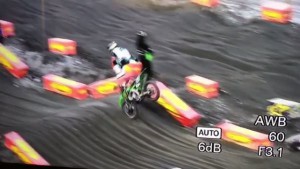 In what could have been an extremely disastrous evening for Factory Kawasaki rider Josh Grant, the Team Green rider was able to leave Seattle with everything in still in tact after taking a nasty spill in his heat race. Grant was chasing Justin Bogle when he came up short in the rhythm section and went over the bars of his KX 450F and landed feet first before slamming his helmet into the dirt. It looked like a nasty impact and according to Grant's Instagram account he rang his bell good enough that medical staff decided to pulled him from the evening's remaining activities.

It doesn't sound like the hit to the head was too severe. But in actuality, it was the landing feet first and more specifically the condition of his ankles that had some worried seeing as how Grant had double ankle surgery just last year. "I ended up having a double ankle surgery, which consisted of a full reconstruction of all the ligaments and tendons," he told Transworld in an interview back in December. So as you could imagine, after the surgery and recovery he just went through, taking a landing like he did on Saturday night could have been catastrophic. Grant commented on a video of the crash that his ankles are looking good, which is awesome news.

Great doctors, plenty of training, staying physically fit, and excellent riding gear are some of the keys to keeping riders like Grant on two wheels. We can only assume Grant is pretty happy with his boot sponsor, Alpinestars, after the hit he took on Saturday night.