ChapMoto Race Recap Week 13: What Happened In STL
Chaparral Motorsports
|
April 4, 2017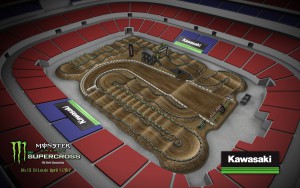 This is a new series in which we will look back at the past weekend's Supercross race and give you our thoughts and perspectives on what we saw. We've posed several questions based on the evening's events to a motley crew of Chaparral Motorsports staff (and one outsider) and provided you with their answers and insights.

A little background on the respondents in this series:

Dave Damron (DD): Chaparral Motorsports founder. Racer, team owner, manufacturer, retailer. Dave has seen it all and done it all on two wheels.

Travis Snyder (TS): Chaparral Motorsports Offroad Products and Apparel Manager. Travis is one of our in-house moto racers. A Honda guy, Travis is either at one of the local tracks or prepping his bike for his next event.

Mike Medina (MM): Chaparral Motorsports Technical Advisor/Communications Specialist. When Mike's not at the office he's in the pits spinning wrenches for the Enticknap brothers, #722 Adam (The Seven Deuce Deuce) and #723 Tyler.

Eric Ellis (EE): Chaparral Motorsports Marketing/Social Media. Eric is just a Harley guy who likes to watch Supercross.

The Outsider (TO): N/A. The outsider is not a Chaparral employee but he is an industry veteran with a good perspective on the inside.

Being that Chaparral Motorsport is part of the Monster Energy| Yamalube| Yamaha Financial Services| Yamaha Factory Racing team with two-time Supercross Champion Chad Reed and two-time 250SX West Region Champion Cooper Webb (making his debut in the 450 class this season) we focused a few questions on the their performance. Also, we had the opportunity to toss Reed and Webb a few questions in between their busy schedules so you could get some perspective on the races directly from the riders.

Let's start off with the questions we sent to Reed and Webb first: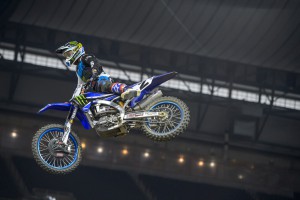 Webb:

What would you say is the skill that you excel at the most on the track (e.g.: cornering, whoops, picking lines)?

CW: I would say cornering. My technique has always allowed me to pick up time in the corners compared with everybody else.


The next three races are moving back to open-air venues. Do you have a preference between covered or uncovered tracks?

CW: Not really. The covered tracks just make the weather not become a factor. I'm cool with some rain once in a while, though. It switches things up!

Reed:

The next three races are moving back to open-air venues. Do you have a preference between covered or uncovered tracks?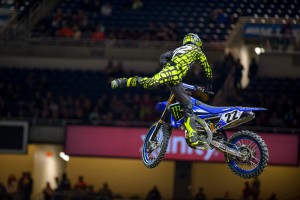 CR: The last four races are all open stadiums. I prefer them, if only for the fresher air. Other than that, I don't have a preference and will race anywhere, anytime!

You had a good heat race but, unfortunately, you didn't seem to get the jump you wanted at the start of the main. What are your thoughts on the night?

CR: I wasn't 100% at St. Louis, which made for a long weekend for me. But, I gave it my all, and I'm looking to bounce back at Seattle this weekend.

What We Saw

General questions:

Did anyone surprise you on Saturday Night?

https://youtu.be/DuL9M4K-b44

DD: Dean Wilson. Finishing 15th in the main event. Seems as if he had more fire inside when riding the Yamaha him and his dad put together.

TS: Mookie! Running 5th place in the main event! Until he didn't surprise me when he fell. He finished 9th and did all 24 laps, so that's a step forward. Unfortunately he's learning towards the end of the SX season, so lets see if Mookie has the cojones to take on the Outdoors... Josh Grant surprised me as well, taking 5th for the night!


MM: The #44 Jordon Smith of the TLD KTM team is still continuing to impress me. I did not even have him as a top 5 guy in my preseason picks in the East Coast standings. He has made me a believer and is making this chase to the title extraordinary to watch.


EE: Jordon Smith backing up his first win last week with another fist place finish was pretty cool. He now sits only six points behind Savatgy for the overall lead.


TO: Dungey. He looked like he was going to put up a fight until the Chad Reed incident. Dungey looked a lot more aggressive than he has in a while.

Who had the best night?

DD: Jordon Smith. He showed that he has heart and determination.

TS: Five in a row for Eli Tomac. The next best thing is the Red plate.




MM:
The #44 of Jord0n Smith indeed had the best night in St. Louis. He continues to surprise me with his speed and grit and is very much in the title hunt for the 250 East Coast Championship. Even with unrelenting heat coming from the green machines of Pro Circuit and Wacko Osborne of the Rockstar Husqvarna team, Jordon seems to be as cool as a fan.


EE: Tomac by way of Dungey and Reed. All Tomac has to do was ride his race the Dungey/Reed drama took care of the rest for him.


TO: Tomac. He's on a whole different level.

250 series, who do you predict will win the east/west shootout?

https://youtu.be/Y833er3INzU

DD: I'm thinking Jordon Smith, he's been racing well on the hard packed slick soil.

TS: Shane McElrath. Don't ask me why, it's just a gut prediction cuz I like the guy, okay.


MM: Here it is ladies and gentlemen, write it down so you remember, the winner of the 250 East/West Shootout in Las Vegas, NV will be the Monster Energy Pro Circuit rider #46 Justin Hill. West Coast - Best Coast, yuh dig.


EE: I am going with the West and Justin Hill on his Kawasaki KX 250F. That dude was on a four-win tear before the break. If he can pick up where he left off he should be a shoe-in for the shootout title.

TO: Hill

Who had the toughest night?

DD: Joey Savatgy. Throwing the win away then getting involved with a lapper, he almost seems to lose focus as the lap count goes up.

TS: Keith McCarty (Yamaha Motorsports Racing Division Manager). Watching the whole Reed-Dungey "lapper" incident, as well as watching Webb take 14th. Go Team!


MM: The toughest night award has to go to our friend #374 Cody " Happy " Gilmore. Cody had a bad crash off the start of the 450 LCQ which resulted in him being carried out on the stretcher. The latest is that he has suffered some fractured vertebrae which may or may not need surgery but is expected to make a full recovery. Get well soon Happy Gilmore.


EE: Cody Gilmore. That crash he had at the start of the 450 LCQ was nasty. It's good to hear from the updates that he had full movement although suffering a non-displaced fracture of his C3 and C7. Best of luck for a full and speedy recovery.

TO: Dungey. He was going for it!

Do you think the Red Bull/KTM team has had/ or will have "The Talk" with Musquin in regards to making sure Dungey maximizes his points?

DD: No.

TS: Nah. Maybe Dungey and Musquin have had the talk with one another. Who knows what was said though, considering Musquin is 50 points back but decided to passed Dungey to take 2nd place in Indy AND Detroit. That's 4 points Dungey missed out on. Thanks Teammate!


MM: I think the "talk" has already taken place which seemed to be very evident in the riding of Marvin Musquin. I saw plenty of spots where Musquin could have overtaken the Diesel in their heat race and main event but relented. I am not saying it was as bad as a "Let Brock Bye" performance, but with how Musquin has been getting faster as the season winds down, I think he pulled his punches. Now if Musquin holeshots the main and the Diesel has a horrible start, then its fair game and Musquin needs to go for the " W " for the orange brand.


EE: I don't know if t teams do that sort of thing but seeing as how Musquin is 49 points down with only three races left, I could see where they (or any team in this situation) would want their leading rider to have the best opportunity to make the most of each race. However, after watching the way Musquin was on Dungey's ass at the start of the main (he nearly put his front tire into Dungey's rear) that talk might not have happened before STL but I'll bet it's been discussed now. I did notice that after Musquin almost hit Dungey the gap between the two seemed to have grown and Musquin did finish a bit off pace from Dungey, so it does make me wonder.


TO: "Let Broc Bye"- I'm sure it is going to get to that point. KTM has way too much invested.

After their heat race, Dungey made a comment about Reed's riding, stating that Reed tried to cut across the track and take him out, also saying "it's uncalled for" and "not very mature". Were Dungey's comments after the heat race warranted?

DD: I feel that the comments made by Dungey directly following the HEAT race were not warranted, they were straight up racing in the heat and if Dungey didn't like being behind Reed he should have started in front of him. Also in the same heat race at one point Dungey cut across the track and almost took out Musquin's front wheel.

TS: C'mon!! This is what started all the drama for the night. If Dungey didn't cry to the cameras like a baby (over a Heat Race!), then maybe Reed would have let him by in the main event. I'm not agreeing with Reed's actions, but I'm sure he was making up for the "immature" comment Dungey made to the nation. On the flip side, the whole "lapper" incident was the perfect opportunity for Dungey to slam the door on Reed and show who's Boss. I'm sure Fox Racing was happy, they had some lengthy coverage time ha.


MM: I think the Diesel was a little out of line but he had a valid point stating Reed seems to be riding him a little hard. I personally thought the heat race with the Diesel and Reedy was excellent and it was just good hard racing. The best pass of the night happened in the first lap of the heat race when Reed railed his turn up against Dungey and made it stick, without any contact mind you. I saw nothing wrong with how Reed raced for the heat win. Now the main event? We will get to that in a moment.


EE: I didn't see Reed do anything that looked malicious, maybe Dungey got a little intimidated because he has a lot more on theline, but Reed wasn't being malicious. I think Dungey is just on edge and as a guy that's known for being the calm and collected nice guy, he isn't sure how to handle the feelings he's experiencing and is looking for an outlet. The announcers stated an interesting fact during the broadcast on Saturday night: ahaead of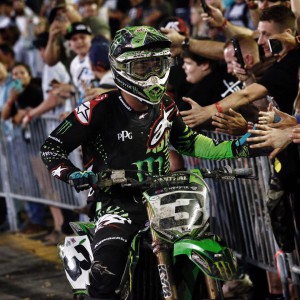 St. Louis, Tomac had led 78 of the last 97 laps, Dungey hasn't led any in that same time span (Tomac is now at 103 laps led Dungeystill has nill). That's pretty crazy. Dungey had a great points lead and has been watching it slowly slip away, he's got no one to blame but himself. Time to buck up and get aggressive RD.


TO: Dungey was very upset with Reed. Decoster and Ian got ahold of him and calmed Dungey down before he did the TV interview.

Reed/Webb questions

Thoughts on Webb's night?

DD: I thought he would be more prepared than what his results are showing. Seems like it takes him multiple rounds to get back going again.

TS: Eh.. ← Lets stop there. He needs to focus on the Motocross season which is right around the corner. I didn't think his "minor" shoulder injury was going to keep him out of racing for so long.

MM: Coop had another "also ran" evening. He had a good heat race but a horrible start to his main event and made mistakes that should not have been made which aided in him finishing a dismal 14th. It is hard to see the premier factory Yamaha team finishing so far down line. This is not suppose to be happening with a white hot two time 250 champion making his way to the 450 class and a veteran two time 450 champion in Reed.

EE: Let's look towards next week.

TO: Not to good. Getting lapped isn't a good night.

Let's address the elephant in the room? What do you think about the Reed/Dungey blue flag situation in the main event?

https://youtu.be/0WGWkazzmbs

DD: It was a VERY poor decision on Reeds part, not the way you would expect someone who has been some vocal in the past about lappers. Now he's paying the consequences with a $5000 fine and a deduction of 5 points.

TS: Dungey's being a baby. He wasn't going to catch Eli and if he really wanted to, he should have punted Reed off the track. On the other hand, what Reed did wasn't necessary and uncalled for. I can see where they're both coming from, but I don't agree with either one.


MM: It was very evident that Reed held up the the Diesel in his charge to give Eli Tomac a race for the checkers. I have not seen such a blatant disregard for the blue flags like I saw in the 450 main event. Everyone else moves out of the way for the leaders when they are a lap down and are being overtaken, but I guess Reed felt it did not apply to him. Reed should have been black flagged from the main event. Reedy took, what could have been an exciting finish to the checkers between the Diesel and ET3, away from the St Louis crowd. I personally think his camp heard what Dungey said on the broadcast after the heat race and Reed remembered that during the main event.

***Update*** Chad Reed has been fined $5,000 and was stripped of the 5 points he earned in St Louis by the AMA for his actions during the evening and disregard for the blue flags.

EE: It appears there was some built up animosity. Several outlets have said Reed was upset about his crash in Detroit and felt it was Dungey's fault. And apparently Dungey felt that Reed was coming into him during the heat race this past weekend and publicly called Reed out on it. So there was definitely tension and when it came to the main on Saturday night Reed wasn't about to do Dungey any favors. Was it the right thing for him to do? No it wasn't but Dungey spoke up and Reed reacted, what did Dungey expect? It's unfortunate that one of the rare times that Dungey let his emotions get the best of him publicly it comes back to bite him later in the evening--racers would do themselves well to heed TO's advice below. I guess the AMA/FIM saw Reed's actions were against the rules seeing as how they announced a $5,000 fine and docked him the 5 points he got from the race. But I do feel like the AMA/FIM made the situation worse by not acting sooner, I mean it went on for three laps, if they felt Reed was in the wrong they should have pulled the black flag by the second lap at least. It states right there in rule No.4: Riders disregarding the blue flag may be black-flagged at the discretion of Race Director. I assume this rule is implicating that the flag is to be thrown during the race not penalizing a rider after the race, right? The other thing is, Dungey sat behind Reed for three laps, THREE!!! If he couldn't get around Reed because he was in the "fast line" how did Dungey expect to get around Tomac in the fast line?


TO: It reminded me of the famous Anaheim race where Scott Burnsworth held up Ricky Johnson and David Bailey ended up winning. It's better to have friends on the racetrack then enemies!