60 Freeway Dirt Bike Jumper Critically Injured In Follow Up Stunt
Chaparral Motorsports
|
April 4, 2017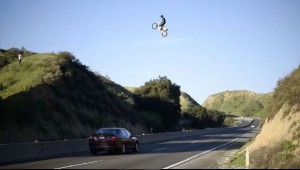 A month after wowing the internet, and a few morning commuters, by jumping across the 60 freeway near Beaumont, Kyle Katsandris had a major accident Sunday when he attempted to jump some railroad tracks in Simi Valley.

The jump Katsandris attempted was over rail line that cut through a small elevated section of earth with a lead up of about 40 feet and then a about a 70-100 foot gap over the tracks. So far details are sparse as to what exactly went wrong, by some accounts of people who were there it sounds like Katsandris might have hit a bump at the top that caused things to go catastrophically wrong. What's been reported so far from several local news outlets by Simi Valley Police is that emergency responders were called immediately after the accident and Katsandris was taken to a local hospital in critical but stable condition.

The jump has been successfully completed by only a few riders in the past, one of which was Colin "Scummy" Morrison who did it some 10 years ago. According to his Instagram account Morrison went out to see the jump to show it to his father and was met by several news outlets that asked for interviews. In the NBC Los Angels interview, Morrison says Katsandris contacted him a prior and asked about the jump.

At the beginning of March, Katsandris jumped the 60 out in the Badlands between Beaumont and Moreno Valley on his Kawasaki KX 450F. He completed that jump successfully as shown in a video on his Instagram account. That jump caused a big stir with law enforcement and CalTrans immediately blocked the area to prevent others from attempting the jump as well.



As of this posting there hasn't been an update on Katsandris' health, his Instagram account has been flooded with people offering their prayers and a healthy and full recovery.