ChapMoto Supercross Race Recap Week 11: What We Saw In Indy
Chaparral Motorsports
|
March 24, 2017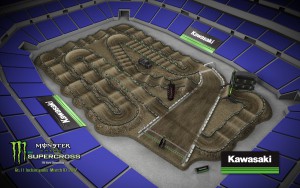 This is a new series in which we will look back at the past weekend's Supercross race and give you our thoughts and perspectives on what we saw. We've posed several questions based on the evening's events to a motley crew of Chaparral Motorsports staff (and one outsider) and provided you with their answers and insights.

A little background on the respondents in this series:

Dave Damron (DD): Chaparral Motorsports founder. Racer, team owner, manufacturer, retailer. Dave has seen it all and done it all on two wheels.

Travis Snyder (TS): Chaparral Motorsports Offroad Products and Apparel Manager. Travis is one of our in-house moto racers. A Honda guy, Travis is either at one of the local tracks or prepping his bike for his next event.

Mike Medina (MM): Chaparral Motorsports Technical Advisor/Communications Specialist. When Mike's not at the office he's in the pits spinning wrenches for the Enticknap brothers, #722 Adam (The Seven Deuce Deuce) and #723 Tyler.

Eric Ellis (EE): Chaparral Motorsports Marketing/Social Media. Eric is just a Harley guy who likes to watch Supercross.

The Outsider (TO): N/A. The outsider is not a Chaparral employee but he is an industry veteran with a good perspective on the inside.

General questions:



Who had the best night?
DD:
Eli Tomac. His team is focused and ready to win a SX championship once again.

TS: The frenchman Marvin Musquin! Compared to his past three weekends, he's conquered whatever has been holding him back. Tomac on the other hand lapped all riders up to 8th place! Look out Dungey.

MM: The best night award has to go to #3 Monster Energy Kawasaki's Eli Tomac for winning his heat race and putting on a clinic in the 450 main event. ET3 is doing what he needs to do by winning these main events and netting maximum points down the stretch to close the gap on Ryan Dungey. ET3 lapped the field up to 8th place and got a gift from Marvin Musquin for passing Ryan Dungey to gain 2 more valuable points in the standings. At this rate, ET3 will have the lead going into Las Vegas.

EE: Marvin Musquin! He's had a rough couple of weeks since he got sick ahead of round 8 the Toronto race. Before Toronto he was second in points but then got the flu a few days before the race and even though he competed he was way off his season performance and finished in 13th place which dropped him to third behind Eli in the overall. The following week was a dud too with a 15th place finish. It was awesome to see him back in form on Saturday night. He was the fastest qualifier and then chased down Dungey and pass his KTM teammate to take the second spot on the podium. Obviously Tomac had a great night as well with his third straight win--the dude is on a tear!

TO: Eli Tomac. He is showing he really wants the Championship!

https://youtu.be/Z05LCL3Us0M

Did anyone surprise you?

DD: Marvin Musquin. Compared to Toronto & Daytona where he finished 13th and 15th.

TS: I'll use Marvin Musquin as my answer again. It surprised me that he continued pushing forward the entire race.

MM: Yes, the Diesel for allowing his teammate Marvin Musquin to get by him and coughing up two more points to ET3. The Diesel needs to start digging deeper and get meaner.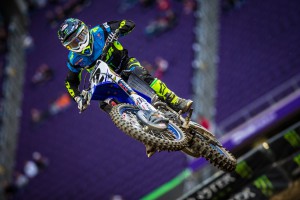 EE: Cooper Webb. I was really hoping to seen him back on the line by now. I guess the injury was more serious than I (we?) thought. All indications point to him racing this Saturday and I can't wait!

TO: Marvin Musquin. Passing Dungey and taking valuable points away.

What was the pass of the night?

DD: Zach Osborne over Joey Savatgy to take the lead in the main event. Zach warned him two times before that in the same corner. Joey should have saw it coming.

TS: Not so much a pass; but the defensive moves Chad Reed put on Ryan Dungey in the heat race, holding him off for a transfer position. Awesome battle! There was another good pass in the 450 LCQ, final corner on the last lap ha! I'm sure our guy Mike (The 7DueceDuece's mechanic) will choose this as the best pass of the night which favored his rider to the main event.

MM: The Best Pass of the Night award has to go to my boy "The Seven Deuce Deuce" Adam Enticknap #722 in the 450 LCQ. Adam was sitting two spots out of the last transfer spot to the 450 main event when K1 Speed's #80 Cade Clason took out #95 AJ Cantanzaro trying to shove his way into the main event. Both riders went down right before the finish line which allowed Adam to moonwalk his way into the 450 main event. The crowd went nuts. I made Adam pay for Cade's dinner that night as a thank you for his desperate take out move on AJ. LOL!

EE: Chad Reed in Heat Race 1 cutting down on Dungey in the turn to regain the final transfer spot to the main. His instinct and reaction showed the true intelligence and skill of a veteran racer.

TO: Marvin Musquin. I thought for sure KTM would give him a "Let Broc Bye" signal to let Dungey pass him back.

https://youtu.be/I0-pIhV2L_8

Who had the toughest night?

TS: I want to say Adam Cianciarulo, but he somewhat made the night tough on himself. Deciding that he would play games with Zach Osborne in qualifying to see who could close the door harder on one another in the bowl corners wasn't the best of ideas. AC lost that game leaving him with an injured knee which wore on him through out the night. #dramaqueen

MM: The toughest night has to go to #95 AJ Cantanzaro for having his second 450 main event this year within his grasp taken away from Cade Clason's last ditch take out. Definitely a heart breaker for him and the foot peg gouge in his back from his bike landing on him did not help either .

EE: I'm going to go with Alex Martin. He was putting in a good race in the 250 main keeping his teammate Jordan Smith at bay and holding onto the final podium spot and then he got tossed into the tuff blocks in heading into one of the corners. He got whipped something wicked. He's lucky that second row tuff block was there otherwise he would have disappeared over the top of that corner. Thankfully he was able to quickly recover but it must have been frustrating to be that close to getting on the podium and then have it all wash away.

TO: Dungey. Crashing in practice.

Dungey has been doing what he is known for (being consistent) however, even with a good start and running with Tomac early on in the main, he just couldn't keep the pace of Tomac and Musquin. What do you think about that?

DD: Dungey isn't doing anything wrong here. He's knows his speed and doesn't go beyond that. Tomac is faster.

TS: In Dungey's book, I think the word "consistent" needs to consist of more Wins. This current type of "consistency" is going to have a hard time beating Tomac and Team Kawasaki with the snowball they've created. Personally, I think there's something on the mental side of Ryan Dungey's program that's foggin' up his vision...

MM: In all of the Diesel's championship seasons, I never considered him the fastest guy on the track, he just puts himself in a position to win championships by being on the podium every weekend. I will not say he has been handed all of these championships, he still needed to do his part and always be there every weekend. It is the faster riders that make that crucial mistake which allows him to pick up the pieces. ET3 is an Extra Terrestrial!

EE: He made an interesting comment in the post-race interviews stating "The pressure isn't on me necessarily. I've won championships. These guys haven't. So they are going for their first one. If anything, I'm in a good position, with the position I'm in with the points. I wouldn't change it for the world." Dungey is right he is in a good position and yeah there is significantly more pressure on Eli as he's getting closer to making his first title a reality. So maybe it's not that Dungey couldn't keep the pace of Tomac and Musquin, maybe he's just choosing not to hang it all out there and rather ride a bit more conservatively without giving up too many points? There's two ways to place tennis (I think), you can try to slam every shot down you opponents throat or you can just keep hitting the ball back until the other guy makes a mistake. Dungey gave up an extra two points by getting passed by Musquin, which helped Tomac close up the gap by five. If Dungey's strategy is wait and let Tomac make a mistake and if Tomac continues his charge unscathed, it will be very interesting come Vegas.

TO: I don't know if the crash in practice affected him more then we think?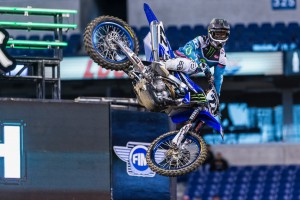 Reed questions

What did you think of Reed's night?

DD: Reed had a decent night. He crashed in practice pretty hard, so finishing the night in 7th was good for the Team.

TS: Considering the crash he had in qualifying, making the main event through the heat race and finishing off the night in 7th. Reed had solid results for the cards he was dealt. Now lets hope his teammate Cooper brings some luck to the table in Detroit next weekend.

MM: Reedy had his flashes of brilliance by making the 450 main event out of his heat race and playing the spoiler role sending Ryan Dungey to the semi race. His qualifying was not that great being only 14th fastest and had a crash that did not help either. His wing man Cooper Webb is expected to be back on the line for Tiger Town and it should bring out more speed from him. Stay tuned.

EE: Like I said, his heat race was great as he battled Dungey to maintain the transfer spot. His starts have come around and he looked good in the main. He was fast, but man I want to see him making passes. He took a hard fall earlier in the day, so to roll out of Indy with a 7th place the week of his 35th birthday, that's 15 places better than guys that are more than 10 years younger, that's not bad at all.

TO: Reed just isn't putting the pieces to the puzzle together. He looks great, but his results just aren't showing it.