Jeep Driver Continues Home With Motorcycle Lodged Underneath His Vehicle
Chaparral Motorsports
|
March 17, 2017
There are two scenarios nearly every motorcyclist's fears most, a vehicle making a left right in front of their path of travel, and getting rear ended. A 49-year-old motorcycle rider is now in critical condition after the latter of the two happened to him this past Wednesday in Mobile Alabama, when he was struck from behind on his Honda motorcycle by a Jeep. The Jeep hit the rider's bike with so much force that it lodged the entire rear of the motorcycle under the Jeep's front end.

https://youtu.be/oUtlVyXWjtU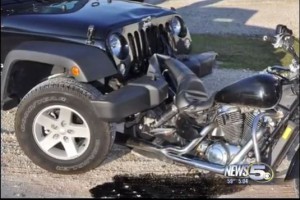 To make matters worse, the driver then left the scene of the accident and drove home. Police later found the driver, 29-year-old William Pruett, and the Jeep with the motorcycle still stuck in the front end at his residence a few blocks away. Pruett was arrested on suspicion of DUI, assault first degree, use/possession of drug paraphernalia, possession of a controlled substance, and leaving the scene of an accident with injuries.

With today being St. Patrick's Day please, please call a cab, Lyft, or someone to come pick you up if you have been drinking.

Our thoughts go out to the rider and his family in this difficult time.