ChapMoto Supercross Race Recap Week 10: What We Saw In Daytona
Chaparral Motorsports
|
March 14, 2017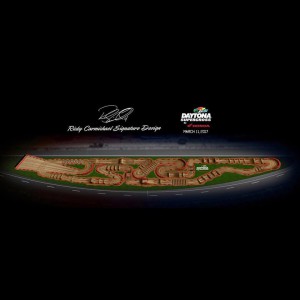 This is a new series in which we will look back at the past weekend's Supercross race and give you our thoughts and perspectives on what we saw. We've posed several questions based on the evening's events to a motley crew of Chaparral Motorsports staff (and one outsider) and provided you with their answers and insights.

A little background on the respondents in this series:

Dave Damron (DD): Chaparral Motorsports founder. Racer, team owner, manufacturer, retailer. Dave has seen it all and done it all on two wheels.

Travis Snyder (TS): Chaparral Motorsports Offroad Products and Apparel Manager. Travis is one of our in-house moto racers. A Honda guy, Travis is either at one of the local tracks or prepping his bike for his next event.

Mike Medina (MM): Chaparral Motorsports Technical Advisor/Communications Specialist. When Mike's not at the office he's in the pits spinning wrenches for the Enticknap brothers, #722 Adam (The Seven Deuce Deuce) and #723 Tyler.

Eric Ellis (EE): Chaparral Motorsports Marketing/Social Media. Eric is just a Harley guy who likes to watch Supercross.

The Outsider (TO): N/A. The outsider is not a Chaparral employee but he is an industry veteran with a good perspective on the inside.

Being that Chaparral Motorsport is part of the Monster Energy| Yamalube| Yamaha Financial Services| Yamaha Factory Racing team with two-time Supercross Champion Chad Reed and two-time 250SX West Region Champion Cooper Webb (making his debut in the 450 class this season) we focused a few questions on the their performance. Also, we had the opportunity to toss Reed and Webb a few questions in between their busy schedules so you could get some perspective on the races directly from the riders.

Let's start off with the questions we sent to Chad Reed and Cooper Webb first. Since Cooper is still recuperating from his shoulder injury we left him off the questions this week.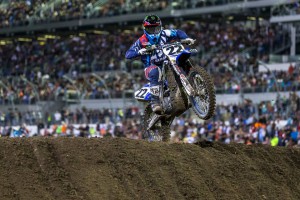 Reed:

How does racing in your backyard at Daytona affect your overall mood and disposition? Are you more relaxed, or do you feel more pressure?

CR: A home race is always fun. It's a nice, easy, two-and-a-half-hour drive from my house in Dade City over to Daytona, and with 17 races over the course of 18 weekends, it's great to be able to sleep in my own bed on Saturday night after the race. I definitely enjoyed it.

You looked good on Saturday night, got good starts in both the Semi and the Main, and you rode really consistently. What did you think of your evening?

CR: Daytona has long been a favorite event for me. The team made great progress with a solution to help me with my starts, but I'm extremely disappointed in myself for making a mistake that cost me another podium. I'm focusing on the positives from the weekend.

What We Saw

General questions:

Did anyone surprise you Saturday night?

[caption id="attachment_62501" align="alignright" width="200"]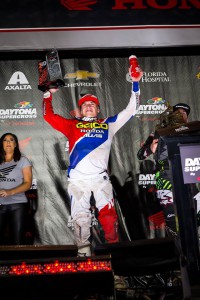 Photo: Honda Powersports USA[/caption]

DD: Jeremy Martin on the 450 was a surprise, because in the Main he went the distance at a very strong pace for a 2nd place.

TS: I want to say Jeremy Martin, but that kid is a bad ass already. Anyone that didn't consider J-Mart on the podium at the Motocross of all Supercross Tracks, then you've been under a rock the past couple years. He's showed us that him and his Honda 250 don't work well together on a true SX track. What would really surprise me is to see J-Mart on the podium in Indianapolis next round! On that note, does anyone know if he's going to continue on K.Roc's bike until west coast is back??

MM: J-Mart on the HRC Honda CRF450R leading the 450 main event for 12 laps keeping ET3 at bay was definitely a nice surprise. I had hoped for good things from J-Mart for Daytona and he delivered with a 2nd place podium which won me a free bar tab Saturday night from my comrades.

EE: Absolutely! Jeremy Martin killed it Saturday. What an awesome debut on the Honda CRF450R. He had the second fastest lap time in qualifying and then got the jump at the start of the main and was maintaining Tomac for the first ten laps until Tomac saw an opening and took it. Martin had a great race looked really impressive on the big bike.

TO: Jeremy Martin

What was the highlight of the night?

DD: Other than Martin on the 450 It was great to see Adam Cianciarulo win and go the distance and not fold under pressure from Savatgy. Adam also used a different Dunlop tire he used a Sand rear tire while Savatgy used the SX tire and I think that helped Adam get a better drive through the sand better.

[caption id="attachment_62498" align="alignright" width="300"]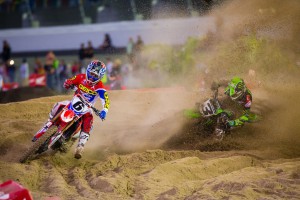 Photo: Jeff Kardas @kardyphoto[/caption]

TS: Adam Cianciarulo getting his first win since 2014! It was also nice seeing J-Mart lead 11 laps on a Honda at the one Honda sponsored event, until the green machine of Eli Tomac got sick of eating sand for 11 minutes. (see image)

MM: Although I loved seeing Kawasaki dominate the Daytona Supercross presented by Honda, with ET3's win in the 450 class and Adam Ciancarulo's win in the 250 class, the highlight for me was seeing the frenchman #108 Dylan Ferrandis get his first podium finish in the 250 class for the Yamalube/Rockstar team. He had a good week last week in Toronto and stepped his game up even further to capture 3rd place. Bon Travail!

EE: It may be messed up, but the highlight of the night for me was watching Dungey toss his goggles in frustration at the end of the main. Not that I don't like Dungey, but it was good to see him show some emotion. He's just always so subdued it gets a little boring watching him. He doesn't get overly excited when he wins and doesn't really let his emotions show when he loses (sure it a mature a good face to show the kids, but you want to see the guy is like us) so I liked seeing him get a bit angry/frustrated.

TO: Jeremy Martin moving up to the 450's and keeping Tomac at bay for half of the race and hanging on for 2nd. Great Ride!

What did you think about Jeremy Martin's debut on the 450 Honda?

DD: He did a good job of riding the 450 after qualifying 2nd he got a so-so start in his heat and had to ride the semi for a 5th place but then came out swinging in the main Eli got the hole shot but Jeremy hung tough and led the first 10 laps before Eli got him but he hung on to finish a very respectable 2nd.

TS: Travis likes.

MM: J-Mart's debut in the 450 class was impressive. I had him picked for a podium spot after watching practice sessions at Milestone MX during the week and all through qualifying during the day. The bike does not know he is sitting on it for being such a little guy. 2018 Factory Team Honda needs to be K-Roc and J-Mart. Seely is not cutting it for me.

EE: I loved it! He'll be a force to be reckoned with once he makes the jump to the 450 class full time.

TO: If this is a preview of the outdoor nationals J-Mart will be a podium contender.

Who had the toughest night?

DD: Chad had a pretty tough night having to ride the semi but I think the toughest night belongs to Dungey but he fought it right to the end making a last ¼ lap pass of Seeley to get 4th.

[caption id="attachment_62503" align="alignright" width="300"]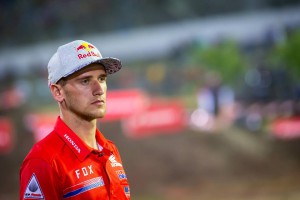 Photo: Honda Powersports USA[/caption]

TS: Ken Roczen. Having to watch J-Mart ride his bike while sitting on the sideline. I'm having a hard time believing that his arm will ever be 100% again... Prove me wrong Kenny.

MM: The rider who had the toughest night or day, goes to our friend #67 Jimmy Albertson on his privateer Suzuki RM-Z450. In qualifying session number two Jimmy had a gnarly crash which resulted in multiple injuries ending his season. First reports are fractured vertabrae, a broken hand, and bruised lungs. Get well soon Jimmy.

EE: That would probably be Jimmy Albertson. He had a bad off in the qualifying and ended up in the hospital with some pretty gnarly injuries. Sounds like he's got feeling all through his body, which is great to hear.

TO: Marvin Musquin- 15th and dropping to 4th in points.

How about Dungey? He was pretty frustrated at the end of the main.

[caption id="attachment_62504" align="alignright" width="300"]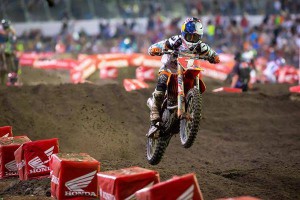 KTM Factory Racing[/caption]

DD: Dungey just proved why he is a champion, he never gave up and pushed right up the end.

TS: Well duh. I would be too! Being the points leader and all, Tomac is truly making this a Championship race. Dungey honestly got a horrible start and paid the consequences on the toughest track of the season. I'm wondering if his goggle rep gave him the necessary amount of tear-offs for starting in 17th place. Or did he pull the whole stack on the first lap? Either way he wanted no part of those goggles after the race.

MM: The Diesel flinched on the starting gate and had the worst start of his season in 17th place after the first turn. This was another damage control race for him and a sense of panic was evident in his riding which was not caught on TV. He gave a champions effort to claw his way back to 4th place with a last second exchange for two more valuable points by passing Cole Seely. These two points could become huge at the end of the season.

EE: Yeah not something we typically see from the Diesel. Not sure why he was so frustrated he rode an incredible race coming all the way back from a 17th place start to finish fourth is really impressive-especially on that track.

TO: Dungey is very competitive and he knows he lost valuable points.

Thoughts on Tomac's night? What do you think about his chances at the title?

[caption id="attachment_62510" align="alignright" width="300"]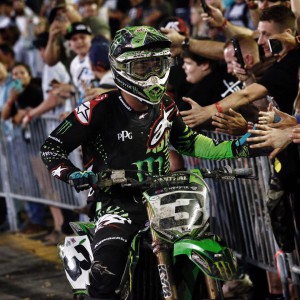 Photo: Kawasaki USA[/caption]

DD: Tomac is in the zone right now where everything he's doing is working unlike the first couple of races of the season when nothing was working. If he can stay in the zone this championship will go down to Vegas.

TS: He better pray to the motocross Gods that him and his Kawasaki have no race issues. Eli is starting to realize Dungey's program is one of the toughest to break. If these two stay injury free (knock on wood), this battle is going to the final round in Vegas. Meaning those extra 2 points Dungey received in the main event after passing Seely on the final lap are going to be important.

MM: ET3 did exactly what I expected him to do at Daytona. It may have taken 12 laps to get by J-Mart, but the inevitable pass was going to happen. J-Mart did not have 20 laps in him with being used to 15 lap main events. ET3 got maximum points and a little gift from Dungey that could have been a huge gift. His title chances are very much intact and The Diesel cannot have anymore lapses like he had in Daytona.

EE: Tomac definitely showed why experience pays off. Rather than forcing a pass he waited lap after lap until the time was just right and then took advantage of it was gone! It was another great night for the Kawasaki rider. I thought his chances at the title were going to be a long shot, but that just might not be the case. This is getting to be a real chase.

TO: Tomac is on the next level now. He will win the championship if he doesn't make any major mistakes. Tomac is setting himself up as the rider to beat outdoors also.

Reed questions

How about that loop out? What do you think happened there?



DD
: It was unfortunate that he crossed up out of the rut and while hanging on did the "whisky throttle" move, Chad's unmanned YamaRocket almost took about Justin Brayton.

TS: Seemed like a simple mistake. He was lucky the bike stayed running as well as nothing getting bent up. Solid finish after that.

MM: Reedy got cross rutted going into the right hand turn and ran over some tough blocks. His hand rolled off of the throttle and torpedoed his bike into the traffic in the next lane. Luckily Justin Brayton just missed being hit by Reed's bike. Just a racing mistake. After the race, I found those ruts in that corner to be knee high on myself, GNARLY!

EE: That was pretty crazy. Brayton got so lucky because that could have ended his night real quick. Looks like Reed just lost control and the bike shot out like a rocket.

TO: Whiskey throttle. Chad will make the highlight reels with that crash.

Overall, what did you think of Chad's performance on Saturday?

DD: Chad had a solid 4th place start and ran there for the first eight laps then lost a couple positions and then had his whisky throttle stunt, but he got back up and raced back up to a 6th place finish.

TS: He rode awesome. Another great start in the main with a solid finish in 6th.

MM: Reedy was having a decent day in qualifying being the 12th fastest but we know race time is where its at. His starts were getting better as the night went on and got into the main event with a 2nd place in his semi race behind Vince Freise. He got a great start in the main event and was pushing for a 3rd place spot on Justin Brayton, but then the brain fart happened. He got back up to 6th place to end his evening. It could have been way better.

EE: Not too bad. He would have had a great shot at the podium if it weren't for the slingshot. I feel like he's right on the edge of getting a win.

TO: Chad looks extremely fast, but just isn't putting together all the pieces in one night.