Will We See A New Africa Twin Rally Edition?
Chaparral Motorsports
|
March 10, 2017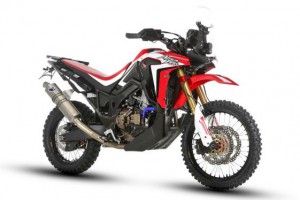 You want the good news or bad news first? Ok, the good news is that earlier this week at the Motodays Motorcycle Expo in Italy, Italian motorcycle media outlets revealed pricing for a new ADV model from Honda. Apparently Honda has released and a more offroad ready version of its latest adventure bike the CRF1000L Africa Twin by showcasing the Africa Twin Rally.

Now the bad news, there hasn't been any official statement from Honda Europe so we still aren't absolutely sure if this is truly a model that will be offered by Honda or if it's just a dressed up high performing model offered by a dealer or some kind of kit offered by a dealer. Now the really bad news, whether it' really is a new factory model or a kit, no info has been released as to when or if we will get to throw a leg over a Rally edition here in the US. Sad!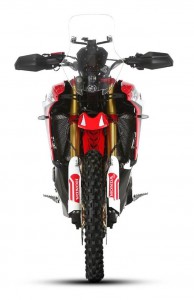 If the new model announcement is accurate the bike will be available in both a traditional manual shift (21,490) and DCT version (22,640 Euro). The CRF 1000 Rally has been touted as being almost 15-1/2 pounds lighter and putting out 5 more horsepower than the standard CRF 1000. Beyond begin lighter and faster the Rally sports a host of upgrades from tire to tire-literally. Both tires are aggressive knobbies wrapped in heavy duty aluminum rims. Up front there's dirt bike styling with a high mounted plastic fender. Suspension has been upgraded all around, carbon fiber covers and guards are spread throughout, and the front end has been paired down by ditching the large one-piece fairing and running just a clear high-mount windscreen protecting LED rally-replica lights. Horsepower has been improved with a Termignoni Titanium exhaust that flows with the lines of the subframe. Additionally, an electronic rewritable ECU that can be configured and adjusted with UMAP, an app that can be utilized through your smartphone has been added.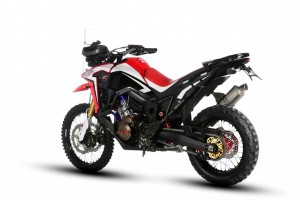 While the Rally does come with a steep price tag it could really sway some buyers away from the likes of a KTM 1090 Adventure R or one of BMW's ADV bikes. We can only hope that we will get to see the Rally edition of the Africa Twin here in the U.S.