ChapMoto SX Race Recap Week 7: What We Saw In Minnie
Chaparral Motorsports
|
February 22, 2017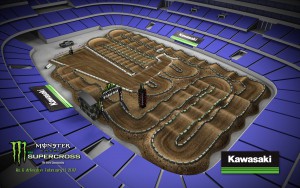 This is a new series in which we will look back at the past weekend's Supercross race and give you our thoughts and perspectives on what we saw. We've posed several questions based on the evening's events to a motley crew of Chaparral Motorsports staff (and one outsider) and provided you with their answers and insights.
A little background on the respondents in this series:

Dave Damron (DD): Chaparral Motorsports founder. Racer, team owner, manufacturer, retailer. Dave has seen it all and done it all on two wheels.

Travis Snyder (TS): Chaparral Motorsports Offroad Products and Apparel Manager. Travis is one of our in-house moto racers. A Honda guy, Travis is either at one of the local tracks or prepping his bike for his next event.

Mike Medina (MM): Chaparral Motorsports Technical Advisor/Communications Specialist. When Mike's not at the office he's in the pits spinning wrenches for the Enticknap brothers, #722 Adam (The Seven Deuce Deuce) and #723 Tyler.

Eric Ellis (EE): Chaparral Motorsports Marketing/Social Media. Eric is just a Harley guy who likes to watch Supercross.

The Outsider (TO): N/A. The outsider is not a Chaparral employee but he is an industry veteran with a good perspective on the inside.

Being that Chaparral Motorsport is part of the Monster Energy| Yamalube| Yamaha Financial Services| Yamaha Factory Racing team with two-time Supercross Champion Chad Reed and two-time 250SX West Region Champion Cooper Webb (making his debut in the 450 class this season) we focused a few questions on the their performance. Also, we had the opportunity to toss Reed and Webb a few questions in between their busy schedules so you could get some perspective on the races directly from the riders.

Let's start off with the questions we sent to Reed and Webb first:
Editor's note, after going down during his heat race and sitting out the rest of the night with a shoulder injury we opted to pass on Cooper's questions this week and let him focus on recuperating.

Cooper Webb:



Chad Reed
:

We heard some riders say that they didn't quite expect the dirt conditions to be what they were. What did you think? Did you and your crew have to make any adjustments to the setup of the bike?

CR: For me, the dirt was as expected from my past years' experiences in Minneapolis. We didn't tweak too much on the bike this weekend, but we did make a few setup changes to the bike during the week leading up to Minneapolis.

What will you be focusing on this week as you look towards Atlanta?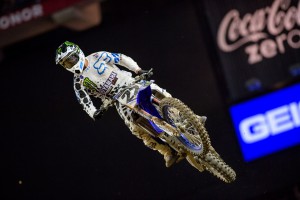 CR: I haven't been 100% myself for the past three races, and I'm hoping that I'm now over that hump and ready to go full steam ahead. I've never gone two seasons in a row without a win, and I don't plan on letting that happen now. I've always enjoyed Atlanta, and it's where I got my last win. My plan is to get the 'W' on Saturday night and shut the door for good on the Georgia Dome.

What We Saw

General questions:

What did you think of the 250 East Class?

DD: Some pretty good racing. Osborne hit the ground but set the fastest lap, typical. Pro Circuit team looks good this year. What happened to Christian Craig?

TS: It's a nice change of pace. It's almost as if the East coast riders get way more anxious waiting around watching the West Coast kids bang bars for six weeks. I'd have to say, a few riders surprised me!

MM: The 250 East Class will be an exciting one for sure with multiple riders who can score wins at any moment. I had two outta three riders as my picks for the podium which won me dinner Saturday night, thanks to my TPJ/Fly Racing fellow mechanics. I had Joey Savatgy for the win and the Pro Circuit train is still chugging along with the momentum coming from the West. I believe Pro Circuit will claim both the 250 West and East titles by seasons end with Justin Hill and Joey Savatgy. It's about time.

EE: I was pretty interested in this, mostly because I wanted to see how Adam Cianciarulo performed. I had a lot of hope for the kid when he last raced SX three years ago, but he had to bow out of the 2014 series after a shoulder injury which continued to plagued him. So it was great to see him back on an SX track. I think he was battling some nerves but all in all he did fairly well taking 2nd in his heat race and then battling in the main with some good passes from a 9th place start to finish in 5th. I don't think it will be too long before he's on the podium and if he can stay healthy he has a good shot at a tittle. Savatgy was looking good too, so it'll be interesting to watch the two teammates battle it out.

TO: A few surprises. Jordan Smith 2nd and R.J. Hampshire 4th? I thought Christian Craig would have finished better also.

Did anyone surprise you Saturday night?

DD: Marvin Musquin passing Ryan Dungey in the main event.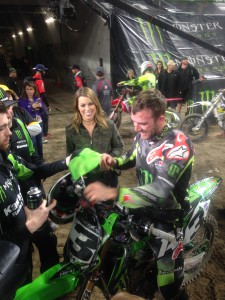 TS: Jordon Smith surprised me in the 250 class by finishing 2nd on the podium. Let's see how many times he can make that happen. I honestly thought that Dungey was going to give Tomac a run for his money being that Dungey was in his hometown. To see Musquin pass Dungey and hold it down for 2nd place. That surprised me!

MM: I would say the Rocky Mountain ATV/MC KTM #18 David Millsaps was the surprise of Saturday night. Davi won his heat race and led the opening lap of the 450 main event for a bit. He finished his night with a 6th place finish. I am going to add another rider to the surprise of the night and that rider is #44 Jordan Smith of the TLD/KTM team. Jordan had a horrible gate pick for the 250 main event and pulled a nasty holeshot from the outside to lead the race for a few laps. He held strong and finished his night with a 2nd place finish on the podium. I do not think anyone was picking this kid to even top 5, including myself. Bravo Jordan.

EE: No, nobody really surprised me, but Dungey does have me raising an eyebrow. I mean I still think he the favorite to win the title but it might not be as easy as I was expecting after Roczen went out. Musquin and Tomac have proven that they are going to make him fight for it.

TO: Marvin Musquin surprised me reeling in Dungey and making the pass stick. Broc Tickle is starting to look good the last two weeks also.

Tomac now has three wins and Dungey only has one so far this season, do you think Dungey is bothered by the fact that he doesn't have more wins at this point?

DD: Dungey doesn't get rattled, he'll ride his own race and that's what he does.
TS: It's not so much the fact that he's "bothered." It's more so that he's frustrated trying to figure out what to do to get another win. When the Diesel is frustrated, it can lead into some good racing. We've got 10 rounds a head of us, I'm sure he's going to make something happen if he sees the points lead slip away.

MM: I would think RD is a bit frustrated that he is tied with his counterpart Marvin Musquin with one win each so far after seven races in. I think Marvin is going to be more of a problem for RD than I thought since Marvin has found enough speed to catch and pass the defending 450 champion as we saw in Minneapolis. I think if Marvin was ever told he was going to be the second string rider under the KTM tent, he certainly is not riding that way. RD has to be feeling some pressure now.

EE: He's a champion. Champion's like to win and he definitely wanted to win it in his home town. So yeah I think he definitely has some thoughts going on in his head about not performing better but he's a true professional and doesn't let his emotions or frustrations show. This can be a good and bad thing. Obviously it's a good face to show for the younger fans because they can learn from him on how to conduct themselves. But on the other end we want to see some fire and desire both on and off the track. It helps establish a better connection, and lets people know that he really is human and not just the "Diesel."

TO: No, Dungey always looks at the big picture- Championship!

Who had the best pass?

DD: Savatgy closed the door on Jordon Smith before the triple to take the lead.
TS: Marvin Musquin passed Davi Millsaps like a slithering snake and then did it to Dungey before the finish a few laps later. MM25 has been lookin' confident.

MM: I think the winner for best pass or passes of the night goes to the #25 Marvin Musquin of the Red Bull KTM team. Marvin had a good exchange with Dungey with five minutes to go in the 450 main event through the sand section, whoops, and finish line turn exchanging lines inside and outside making it stick across the finish line. Marvin was all over RD and it was just a matter of time when the pass would take place.

EE: Musquin times two. First he cut in on Millsaps and then he cut in on Dungey. That pass he put on Dungey with 4:18 left was kinda of weird though. I almost think Dungey came into the corner too fast and overshot his line, because he was way on the outside of the turn and almost came to a stop. Musquin saw what was going on, took the hard inside line and just swept right past him. Musquin was definitely showing more eagerness out there.

https://youtu.be/IAkij6qCjO8

TO: Marvin Musquin. Passing the team captain Dungey. Marvin is no longer second fiddle!

Dungey's gear on Saturday night: yay or nay?

DD: Nay, it was purple.

TS: NAY. Unless you're a Vikings fan or Prince himself.

MM: The Diesels kit was horrific which led to some gnarly nightmares in my sleep later that evening, or it could have been the spicy as hell hot wings I ate for dinner. His kit was definitely not " Lit Kit Award " worthy. Justin Barcia's Alpinestars kit was outta site, color coordinated from head to toe, well done.

EE: NAY!!! I get that Fox was giving him some hometown love with the jersey and pants, but the violet Viking colorway was just off the mark. Was it a retro Vikings theme and I just missed it? At least he was easy to spot on the track.

TO: Nay. Fox isn't selling the gear, it was a one-off for that night only.

With 10 races left, what are your predictions for the 450 class?

DD: It's hard to predict with 10 races left and the top five are close in points.
TS: The 450 class this year is hard to predict. That's a good thing though, because four different racers have won within seven rounds. My prediction is the 450 points race is going to go down to the wire. Keep the elbows up in Vegas for the final round, because the bar bangin' will be at its finest! The top four are within 26 points of each other (Dungey, Musquin, Tomac, Seely). When you have 10 races left in the series, the championship can go anywhere.

MM: Mark my words boys and girls. Eli Tomac is going to go on a Jeremy McGrath like streak and take this championship to Las Vegas. Now that Marvin Musquin can get in between ET3 and the Diesel nightly, it only helps ET3's chances. Dungey needs to finish 2nd or better to make ET3 push his limits if he wants to take this championship away from him. ET3 will catch Marvin within a couple of races and then set his sites on the Diesel.

EE: If Dungey, Musquin, Tomac, and Seely continue down the same path we just might see one of the most exciting battles at the end of this series and quite possibly a first time Champion.

TO: Will Eli's speed be able to overcome Dungey's consistency? It's going to take a bad race by Dungey (flat tire,etc.) for Eli to win the championship.

Reed/Webb questions

Thoughts on Reed's night?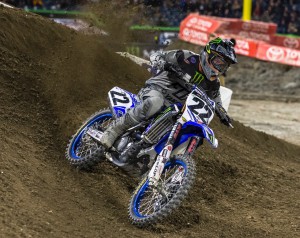 DD: Another bad start, then he crashed after the whoops. Not a good night for the veteran.

TS: He got another bad start. If you noticed, Reed decided to take the far inside gate and got tangled with a teflon block at the end of the start (dead last). Then he got a little huck-a-buck coming out of the whoops and took a digger. My point is... When Chad Reed gets a good start, he is more focused to stay up front and keep that top position.

MM: Reedy had a night he would like to forget I think. He qualified 9th and was about 1.5 seconds slower than the leaders in the main event. He got a horrible start in the main event and again crashed coming out of the whoop section by getting cross rutted. He finished with an "also ran" 16th place. Not good.

EE: He had a good heat race, taking second place, but man that start in the main was rough to watch. He started all the way on the inside and then ran out of track, and as the camera followed the main group around the first turn you could see Reed still fighting with the last tuff block on the opening straight and it kind of went downhill from there. He's got some kind of funk going on, but he's been doing this so long he knows how to deal with it and work on out. I just hope he can shake it off in ATL.

TO: Chad just had a night to forget. He didn't look that great before the crash. Here's hoping to better nights.

Thoughts on Webb's night?

DD: Unpromising night for Webb. He's a tough kid, he will be back soon.
TS: Bummed. Unlucky. Part of the sport. I don't know what else to say... It's unfortunate because he was really starting to look good on the 450.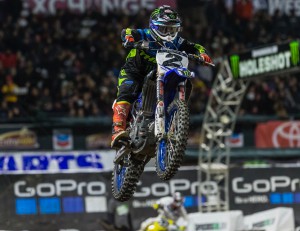 MM: Coop would also like to forget Minneapolis. Coop was 7th in qualifying and was looking to have a strong night. His night made an ugly turn when his handlebars got clipped by Dean Wilson coming down from a jump and sending him into a high side crash into the oncoming turn hurting his shoulder in his heat race ending his night. More tests with doctors to come but it did not look good for Coop. This was another weekend the Yamaha boys would like to have back.

EE: I really expected to see him on the podium again so it was hard seeing him go down and then not return. Other than the post he put up on his Instagram page on Sunday where he stated it was nothing major but that he would be going to the doctors later to confirm, we haven't heard anything. I really hope it's nothing other than some bruising.

TO: Copper's crash looked really bad. Hopefully his shoulder isn't too bad and he comes back quick.