ChapMoto Race Recap: What We Saw In Texas
Chaparral Motorsports
|
February 15, 2017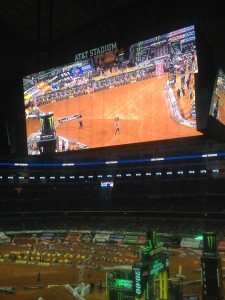 This is a new series in which we will look back at the past weekend's Supercross race and give you our thoughts and perspectives on what we saw. We've posed several questions based on the evening's events to a motley crew of Chaparral Motorsports staff (and one outsider) and provided you with their answers and insights.
A little background on the respondents in this series:

Dave Damron (DD): Chaparral Motorsports founder. Racer, team owner, manufacturer, retailer. Dave has seen it all and done it all on two wheels.

Travis Snyder (TS): Chaparral Motorsports Offroad Products and Apparel Manager. Travis is one of our in-house moto racers. A Honda guy, Travis is either at one of the local tracks or prepping his bike for his next event.

Mike Medina (MM): Chaparral Motorsports Technical Advisor/Communications Specialist. When Mike's not at the office he's in the pits spinning wrenches for the Enticknap brothers, #722 Adam (The Seven Deuce Deuce) and #723 Tyler.

Eric Ellis (EE): Chaparral Motorsports Marketing/Social Media. Eric is just a Harley guy who likes to watch Supercross.

The Outsider (TO): N/A. The outsider is not a Chaparral employee but he is an industry veteran with a good perspective on the inside.

Being that Chaparral Motorsport is part of the Monster Energy| Yamalube| Yamaha Financial Services| Yamaha Factory Racing team with two-time Supercross Champion Chad Reed and two-time 250SX West Region Champion Cooper Webb (making his debut in the 450 class this season) we focused a few questions on the their performance. Also, we had the opportunity to toss Reed and Webb a few questions in between their busy schedules so you could get some perspective on the races directly from the riders.

Let's start off with the questions we sent to Reed and Webb first:


Cooper Webb:

You had great starts all night and made an awesome pass on Canard in the heat race to secure a transfer spot (and probably would have taken over Millsaps too with a little more time on the clock). The track looked kind of tight in some spots, did the design present a lot of opportunities for passing?

CW: The track layout was kind of tight in a few areas, but I was able to make the passes that I wanted to. I just had to think about setting up my passes a little more than on some tracks.

Some people were struggling with the track conditions, what did you think?

CW: I felt good all day, and I felt really good for the night program. The conditions did not bother me at all. I felt like I was riding really well until that flat tire took me out of a chance for the win.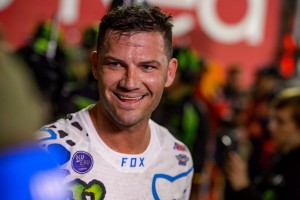 Chad Reed:

You had a great start in the semi and led the whole race. Obviously you want to be in the lead, but does your mindset or strategy change at all when you get the lead early like that?

CR: Finally, I got a good start in the semi! The only difference in mindset is that I can actually just ride the way I know best. With the way my starts are and the current way of racing, it's like a demolition derby nowadays, so starts are key.

What did you think of the track design and the conditions of the track as the day went on?

CR: Track conditions were awesome. We need more challenging conditions like this because it makes for exciting racing.

What We Saw

General questions:

Who had the best night?

[caption id="attachment_62214" align="alignright" width="200"]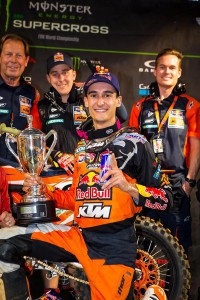 Image Courtesy: KTM[/caption]

DD: Marvin Musquin with his first win.

TS: Marvin Musquin #25!! His first ever SX win! He can finally throw away those horrible flashbacks from Atlanta SX 2016.

MM: The best night of the evening award goes to the Red Bull KTM rider Marvin Musquin. Marvin got his first 450 main event win in the house that Jerry Jones built. This is the first win in 15 years by a French rider since the "Cobra" David Vuillemin did it back in 2002. This will not be his last one this season ladies and gentlemen. Well done.

EE: The Gremlins. They were in the track and in the bikes all night. It was pretty nutty watching everyone either just go down for seemingly no reason or pull off the track with bike issues. A lot of riders were talking about how slick the track was and how the conditions broke down as the day went on making things tough. Some guys were having trouble cleanly making the triple. The gremlins were in full effect and got ahold of a lot of riders: Folkner, Tomac, Stewart, McElrath, Webb, Reed, and Brayton, just name a few. There were a couple guys that powered through though and had an exceptional night like Hill clinching his fourth straight win and increasing his point lead heading into the 250 west break. And you can't deny Factory KTM rider and Dungey teammate Marvin Musquin his great achievement of finally getting his first 450 SX win. The way Musquin has been riding this season it was only a matter of time before he got his win and that was awesome to see. I hope to see more to make this series really interesting.

TO: Marvin Musquin winning his first 450 main. And for the 250's, Justin Hill winning his fourth race in a row and taking a 21 point lead going in the west coast break.

Who had the toughest night?

DD: Shared between Shane McElrath leading the 250 main only to have mechanical problems and Cooper Webb was robbed of his hole shot the first start and then after the second start while running 2nd he had a flat rear tire.

TS: Damn, This question again!? Can I say everyone other than Musquin and Hill, ha? Uummmm... let's see...Webb getting a flat tire while in 2nd chasing down Musquin = bad night. Tomac leading, then crashing, then having to cut his front brake line = bad night. Did Chad Reed get a flat tire as well?? = bad night. The worst of all: Shane McElrath gets the hole shot in the 250 Main then has bike issues with two mins left on the clock = bad news. Not to mention he would have worked the red plate back onto his bike with a two point lead. Unfortunately, now he's 25 points back sitting 3rd place in points. #Heartbreaking

MM: The toughest night award goes to the multiple riders who had bone jarring crashes or mechanical failures throughout the night. A full moon in Big D was not giving anybody any luck on the track Saturday evening. The standouts will go to Justin Brayton who was knocked out unconscious for a minute in the first gate drop of the 450 main event which resulted in a red flag restart. And 450 rider Colton Aeck, who got landed on from a rider tripling a jump when he had to double it and ending up with punctured lungs and broken vertebrae in his back. Get well soon JB and CA.

EE: This week that's an extremely hard choice to make. On one hand I'd say McElrath had the toughest night, since he had the 250 main victory and regaining the points lead in his sights but then literally watched it all disappear with only a couple of minutes left as he got passed up with mechanical trouble while riding on the sidelines of the track by Hill, Forkner, Plessinger and a host of other riders. He was riding great all night, got the hole shot in his heat race and easily won with a 6 second lead Then hole-shotted again in the main and had a 3+ second lead with just over 2 minutes left and then experienced mechanical problems. He would have been two points up on Hill going into the break, but he ended up with a last place finish only earning one point and now he's 25 points down. That's going to be a hard deficit to overcome with only a handful of races left. That has got to be the worst feeling because it's not like he lost because he made a mistake or it was because of something he did, the bike just lost power. Really tough break. But then everyone's stomach knotted up when Colton Aeck was on the receiving end of one of the gnarliest crashes we've seen in a while. He got clobbered when Kyle White landed on him on the triple landing and ended up with two broken vertebrae, a few broken ribs, and a broken shoulder. Apparently things were really scary for the first hour after the crash as he couldn't feel anything from the waist down. It was good news to see that he posted on his Instagram that he expects to make a full recovery.

https://youtu.be/gnBiaMxDIpU

TO: In the 450 it was Tomac looking like he was going to make a race out of the championship to going 29 points down. For the 250's, McElrath. It was a heartbreak night for the title contender.

Which rider impressed you the most?

DD: Again it would have to be Cooper Webb

TS: Aaron Plessinger!! He blitzed through the whoops faster than anyone who touched the track. On another note, this guy needs to go home and practice starts this week up until Minneapolis! Don't even practice going around the track Aaron. Lol. According to the results, he started 12th and finished third in the 250 main; pretty impressive!

MM: Dean Wilson of the Rockstar Husqvarna impressed me the most with his top five finish in the 450 main event. Deano was actually riding 3/4 of the race in fourth place keeping Ryan Dungey at bay in 5th with the concentration, smoothness, and race smarts I have yet to see from the number 15 until now. Impressive ride for sure and he is taking full advantage of the opportunity he has been given by the Rockstar Husky team.

EE: Plessinger!!! The way he attacked the track in the 250 main was pretty rad. He was on his back wheel through the whoops and blowing right past people. He started back at in 12th and just blasted all the way to the front of the pack to take the third podium spot. He now sits in 2nd place 21 points behind Hill as they go into the break.

TO: Wilson. Top five on only his second ride on the Husky.

Who had the pass of the night.

DD: The TV coverage didn't show me any good passes.

TS: The Factory Yamaha Team. When the two mechanics passed each other the tools to change Cooper's rear wheel. #nicepass

MM: The best passes, yes I said passes as in more than one pass, plural if you will, goes to the Star Yamaha Racing #23 Aaron Plessinger. AP got another less than perfect start in the 250 main event, which is not news to anyone, which left him running 15th after the first turn. AP clawed his way through the field with some crazy speed and well executed rhythms to finish up on the podium with a 3rd place finish. It was a James Stewart kind of a comeback from way back in the day.

https://youtu.be/gbc1XHG8QVs

EE: Again it's gotta be Plessinger. The pass he made on Decotis in the whoops section with 4:57 left on the clock was awesome. It was like when you walk on one of those people movers at the airport while everyone else just stands there, you feel you're going at warp speed and I imagine that's how he felt. Dude was throttle snappin' and tail tappin' the whoops on that Yamaha YZ250F!

TO: Aaron Plessinger. He started almost last and made his way all the way to 3rd!

Musquin had a big night with his first 450 win. He's only 18 points behind Dungey, how big of a threat do you think he will be to Dungey's shot at another championship?

[caption id="attachment_62216" align="alignright" width="200"]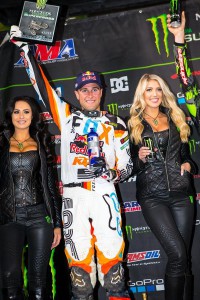 Image courtesy: KTM[/caption]

DD: The Diesel will have him covered for the full 17 weeks.

TS: Only time will tell. They are both conservative riders that look at the big picture (all 17 rounds). Being that they train together, it should make for good racing coming up!

MM: I expected Marvin Musquin to keep his teammate Ryan Dungey honest for the entire series and score a couple of wins here and there. Marvin is a smart, smooth, and a well-rounded motorcycle rider but he lacks the "chase someone down and make the pass" speed that is found in riders like a Ken Roczen, Jason Anderson, or Eli Tomac. Marvin does not live on the edge like some other riders. Even with the mechanical failure ET3 experienced, and the valuable points he lost to the leaders, he will still be in the mix by season's end with his raw talent and speed.

EE: Sure Musquin could have a shot but it's a really long shot. The way things sit now, Musquin would have to get at least 2nd from here on out to New Jersey and Dungey wouldn't be able to finish any higher than 3rd. If they were to finish the season out in that kind of scenario it would put Musquin at 331, two points up on Dungey heading into Las Vegas. So yeah anything is possible.

TO: Dungey has Musquin covered.

Reed/Webb questions

Thoughts on Reed's night?

DD: After 16 seasons he should know how to get a start. It's like Shaq not being able to make a free throw.

TS: Started 12th, finished 19th with a flat tire. Bad luck, bad night.

MM: Reedy had another mediocre start to his 450 main event and like his teammate Cooper Webb, got a rear flat tire. Reed and Coop were the only riders in the pits I know of who got flat tires on Saturday evening and I did not see Tom Brady around anywhere. The day did not start out well for Reed either with a crash in the whoop sections during the practice sessions. Of all guys to pick not to ever in history crash in the whoops, he did.

EE: Reed didn't have a very good heat race but he made up for it in the semi by getting the hole shot and the win. Again he had to come up from a bad start in the main but only made it as high as 9th before he too eventually pulled into the pits due to a flat tire. It ended up being a pretty ugly night for the Factory Yamaha 450 team all around.

TO: BAD LUCK!!!

Thoughts on Webb's night?

DD: Bad luck, it looked like he could have won his first one or at the worst he should have been second.......but those could-a- would-a should-a checks don't cash at my bank.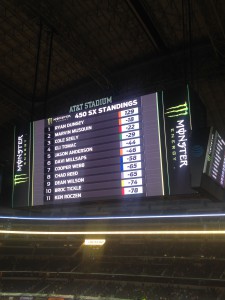 TS: Started 3rd, finished 14th with a flat tire. Bad luck, bad night. Overall, the Factory Yamaha boys had a rough night in Dallas. Eleven rounds to go!

MM: Coop could see his first 450 win within sight when he was tailing Marvin Musquin for the first half of the 450 main event, only to have it taken away by a rear flat tire like his team mate Chad Reed. After a quick tire change, Coop scored five points for the night which could be important down the road later. You best believe boys and girls, he is coming in HOT in Minneapolis, Minnesota, this coming weekend, even if Ryan Dungey has the home court advantage. Stay tuned.

EE: Seriously?! When was the last time two teammates pulled out of the same 450SX race because both of them got flat rear tires? That has to be a first I, isn't it? Coop was looking so good. He had a nice little battle with Tomac in his heat race and then Tomac took them both out in one of the turns after over jumping into the turn. Luckily Cooper was able to recover quickly and get a transfer spot for the main. He had the hole shot in the first start of the main and almost had the hole shot in the restart but got caught in some turbulence in the first turn. He was in 2nd chasing Musquin and then it all went to doo-doo. Until that point he looked poised to step up on the podium once again and might have even had a chance at the top spot. He's gotta be salivating for that first 450 win. Next week!

TO: BAD LUCK!! Webb did look awfully fast till the flat tire. He may have been able to challenge Musquin for the win.