ChapMoto Supercross Race Recap Week 5: What We Saw At Oakland
Chaparral Motorsports
|
February 7, 2017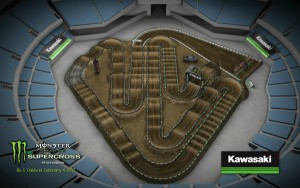 This is a new series in which we will look back at the past weekend's Supercross race and give you our thoughts and perspectives on what we saw. We've posed several questions based on the evening's events to a motley crew of Chaparral Motorsports staff (and one outsider) and provided you with their answers and insights.
A little background on the respondents in this series:

Dave Damron (DD): Chaparral Motorsports founder. Racer, team owner, manufacturer, retailer. Dave has seen it all and done it all on two wheels.

Travis Snyder (TS): Chaparral Motorsports Offroad Products and Apparel Manager. Travis is one of our in-house moto racers. A Honda guy, Travis is either at one of the local tracks or prepping his bike for his next event.

Mike Medina (MM): Chaparral Motorsports Technical Advisor/Communications Specialist. When Mike's not at the office he's in the pits spinning wrenches for the Enticknap brothers, #722 Adam (The Seven Deuce Deuce) and #723 Tyler.

Eric Ellis (EE): Chaparral Motorsports Marketing/Social Media. Eric is just a Harley guy who likes to watch Supercross.

The Outsider (TO): N/A. The outsider is not a Chaparral employee but he is an industry veteran with a good perspective on the inside.

Being that Chaparral Motorsport is part of the Monster Energy| Yamalube| Yamaha Financial Services| Yamaha Factory Racing team with two-time Supercross Champion Chad Reed and two-time 250SX West Region Champion Cooper Webb (making his debut in the 450 class this season) we focused a few questions on the their performance. Also, we had the opportunity to toss Reed and Webb a few questions in between their busy schedules so you could get some perspective on the races directly from the riders.

Let's start off with the questions we sent to Reed and Webb first:


Webb:
Congratulations on an incredible night with some great achievements. You've been having some good starts. What's been the key to getting out of the gate quickly and moving to the front of the pack?

CW:"Really, just my mindset, I am gaining more and more confidence every week, and it's showing in my starts and my riding."

Being from North Carolina, are you excited for the series to head east? Is there a city/track that you look forward to the most?

CW:"I am really excited. I have spent all three of my Supercross seasons on the West Coast, so this will be my first time racing Supercross on the East Coast. I would say that Atlanta should be really good. It's the closest to my hometown and there is always a big crowd there."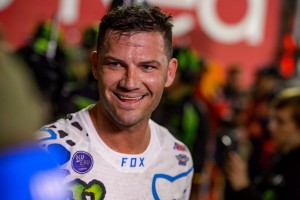 Reed:

You did a great job of maintaining your transfer spot into the main event. When the track breaks down and gets as tough as it did in Oakland, how do you keep your composure, stay relaxed, and not tense up?

CR: "Transferring out of the heat is ideal for best gate pick. The track was actually really awesome. I love those conditions but, unfortunately, I fought the setup a little up until the main events. Ruts are either your best friend or your worse enemy."

As the series heads east, does anything change for you or the bike? Is there a city/track that you look forward to the most?

CR: "With all the rain out west, we've basically been racing east coast track conditions already. I'm hopeful that the changes we've made will help me transition smoothly to the east coast rounds. I really enjoy Toronto because I love having to pack a passport and race out of the country. I also enjoy Daytona and Indy a lot."

What We Saw

General questions: ED Note: We won't see any responses from DD in this installment as he was off the grid this past weekend and didn't catch any of the racing.

Which rider impressed you most on Saturday?

TS: Cooper Webb, He finally stepped onto the podium in the big boy class. Go Coop!

MM: Our own Cooper Webb impressed me the most in Raider Nation. He was the top qualifier for the day being 1.5 seconds faster than Marvin Musquin, grabbed the holeshot in his heat race which he won, and finished on the podium for the first time in his 450 career. If not for some mud getting stuck in his rear brake lever for a half a lap, he may have contended for the win. He also posted the fastest lap time of the night in the main event. This young buck is finding his groove.

EE: There were a couple of riders that impressed me. Tomac's comeback from an 8th place start in the main to pass the Diesel for the win really made a statement. Cooper Webb had an awesome night. But man, Shane McElrath, that kid has grit! He led his heat race for three laps (had the fastest lap with a 59.171) and after getting passed was poised to transfer into the main but then he and Decotis got too close together and connected elbows at the end of the race and they both went down and lost their transfer spots. It looked like McElrath took a peg to the rib or arm and he pulled out and went back the pits. Then again like last week he won the LCQ to make the main. Although he took third in the main and lost his lead in the series by 1 point to Hill, he battled hard all night and is making that KTM team proud.

TO: Eli Tomac. Coming from 8th to catch Dungey and winning. Very impressive!

Who had the pass of the night?

TS: Tomac passed Dungey with 3 min to go for the lead on the most technical track they've experienced so far. Not to mention, it was through the whoops!

MM: The pass of the night award goes to Eli Tomac. He had carved his way through the 450 field and blitzed the whoop section passing the Diesel with 3 minutes to go in the main event like he was standing still. ET3 was skimming the whoops, the way God intended when he created whoop sections, but most like Dungey were taking the safe route by doubling and tripling through them, which was the slower line. ET3 wanted it more than everyone else.

EE: Pass of the night goes to Webb. Although he didn't maintain the position for too long afterward, that move he made airing it out and going triple-quad into the turn to retake second place from Tomac was pretty sweet.

TO: Eli Tomac on the 7 riders in front of him.

Who had the toughest day on Saturday?

TS: This question is always hard for me, especially when you factor how gnarly the track was this past weekend. Just to mention a few riders who had a TOUGH Saturday; Forkner got his head ran over by Hansen off the start of the 250 main. That wasn't it for Hansen as he later landed on AJ Catanzaro which ended the #100's night. McElrath qualified 19th which is unusual... He's lucky he wasn't involved in the 1st corner Forkner pile-up. Plessinger seems to have a curse for getting a good start. -Geez! That was only the lites class... Next question.

https://youtu.be/r5ZH5uT4cvk

MM: I think Austin Forkner of the Monster Energy Pro Circuit Kawasaki team had the toughest night. He cased a rhythm section ejecting himself over the handlebars and getting run over by the #100 of Josh Hansen in the process in the opening lap of the 250 main event. He logged a DNF for the evening netting 22nd place. Hopefully Austin is just really sore and no major injuries came of this accident.

EE: That's a toss-up between either Forkner or Hansen. Forkner was coming off his best rookie finish with a third in AZ, but that didn't last long. First he went down in his heat race with a pretty odd crash and although he was able to recover and get the fifth spot for a transfer into the main, that wouldn't be the only time he was in the dirt that day. He had a great start in the 250 and was at the front with Davalos, but then he came up short on the last landing in the opening rhythm section and took a hard digger. Then to cap it off he was immediately run over by Hansen who then dump over the tuff blocks in the turn. That was the end of Forkner's night. Hansen on the other hand was able to get back on his bike and was making some passes from 19th place only to then land on top of Cantanzaro in a pretty gnarly crash. So yeah both those guys had pretty rough nights.

https://youtu.be/d6rPi7oinyc

TO: 450's - Musquin. Going from a Podium finisher to 9th. 250's- Forkner, from showing promise to hitting the deck.

What did you think of Dean Wilson's debut on the Husky?

TS: In my opinion, He's a more talented rider than 10th. He needs to focus. He had plenty of time on a KTM, which means those settings should some-what transition to the Husky being that the bike is a white KTM with dinosaur shaped plastics.

MM: Deano had a good evening aboard his new Rockstar Husky ride netting a top ten finish. The important thing was to get in the main event, which he had to transfer through the LCQ for, but not bad for two days on a completely different bike from what he has been riding the first four rounds. Deano is in a happier place right now and is going to be enjoying his time on the Husky, if he can keep it on two wheels.

EE: Wilson looked great on the new ride. He almost made it into the main from his semi race but had a little bobble with two laps to go that cost him his transfer spot. He did blast out in the LCQ and led the whole race for the win though. He made his way up to 7th within the first few minutes of the main and ended with a 10th place finish, so I'm sure Husky is pretty happy with him right now-especially having less than a week to get prepared for this race on the new ride.

TO: Wilson looked good for no time to set the bike up. I think he will improve as he gets more seat time

How about the two 450 rookies Webb and Stewart going 1 and 2 in their heat race against the likes of Tomac and Dungey?

TS: They both got a good start in the heat race. Since the heat race is a quick sprint, they didn't have an issue holding those two champs back. It sounded link Dungey and Tomac utilized the additional time on the track since they mentioned they both made bike changes after the semi. *Side note: Mookie 47 has a qualifying average of 3rd since he's been back racing. He's placed 18th, 14th, & 17th in the main events.

MM: Coop looked fantastic all day and Mookie was not too far back with the way his day was shaping up. Mookie made a couple of mistakes in the main event which cost him a ton of positions finishing 17th for the night. Mookie will clean it up and get it figured out soon enough to stir the 450 field up.

EE: Webb was extremely impressive all night. He had a few hiccups here and there but he remained calm and pushed through. A lot of the fans are rooting for him and I think he's quickly proven to the more experienced 450 riders that he's not to be messed with. Mookie is looking pretty good as well, especially since the series started with uncertainty for when or if he was gonna ride. He's shown to be extremely fast on the 450, but maybe just trying too hard to and thus riding too close to the edge as we've seen with a couple of crashes.

TO: Webb and Stewart both looked fast in the heat race. Webb was able to carry the momentum into the main, unfortunately Malcolm is still searching for a top finish in the main.

What did you think of Dungey's night?

TS: He's a tough cookie to read. I know mentally and physically he's tough, but maybe Aldon Baker needs to switch the program around to keep these kids on their toes. Dungey seemed flat all night. He knows it's going to be a long season tho!

MM: Dungey had a very un-Dungey type night. Qualifying was a struggle and he needed to go through the semi race to earn his ticket to the main event after getting passed by his brand teammate Blake Baggett for the final transfer spot to the main event out of the heat race. Once ET3 passed him for the lead position in the main event, there was no fight to try and get it back. The track was a monster and there were quite a few riders in survival mode trying to get through it and get to the next round in Dallas, TX safely.

EE: He was still second on the podium but it probably wasn't the night he was hoping for. He missed a transfer spot directly into the main which is a rarity for him and there were a couple sections where he just wasn't as fast. He took that different line in the whoops section and Tomac stayed on the same path and was able to gain momentum to swoop right past him. With Tomac's performance tonight and with him now in second place, 17 points behind Dungey, the series could get really interesting.

TO: Not taking anything away from Tomac's great ride, but Dungey just doesn't look 100 %. Phoenix was the only race where Dungey looked like he was really pushing.

Reed/Webb questions

Cooper had the best night of his 450 career so far, what did you think of his races?

TS: Go Coop go! Keep the momentum going and climb to the top of that podium! His mental strength is back and like D. Damron mentioned last week, "he's finally racing the bike, rather than riding it." Both Factory Yamaha boys have been looking good lately.

MM: Coop is finding his niche in this 450 field and is looking like the Cooper Webb that dominated for two years in the 250 class. If not for the first three rounds of so-so finishes, he definitely would be in the title contender discussions at the water cooler on Monday mornings.

EE: Loved everything about his day. Great starts, a heat win, and his first 450 podium. It almost can't get any better, but I bet it will.

TO: Webb looked very confident and fast all night. I think he is getting comfortable in the 450 class.

Thoughts on Reed's night?

TS: Main Event - Bad Start.

MM: Reedy did not have the best of qualifying days, which he is not known for anyway, better racer than qualifier. What was troubling is Reed was a whole 2 seconds behind the leaders lap times which was not going to put him in a position to contend for the win, even with a better start than what he had in the main event. The track was challenging for everyone. He will have better results on the red Dallas clay this coming weekend for sure.

EE: I thought with the two whoops sections and the condition they were in he would do much better, but everyone seemed to be struggling with that track in some form or another. It's the same thing we all keep saying, if he can get starts he will get podiums.

TO: Chad is much better then 8th place rider, after last week I thought he would be in the top 5 thru out the rest of the series.

Webb and Reed now have only two points separating them and are sitting in 7th and 8th place respectively in the overall standings. Five weeks in did you think the rookie and veteran teammates would be so close in points?

TS: I had a good feeling they'd be close, but not a position apart. I think their relationship works well. They accommodate each other in a positive way since Chad knows so much, yet Cooper is the young Gun!

MM: I figured Coop and Reed would be where they are at right now. I just figured Coop would have come out blazing hot in the first few rounds and have a couple of rookie mishaps but it happened the other way around. Reed will have his flashes of brilliance when the stars align just right, but he is where I figured he would be in the points standing.

EE: No, by this time last season Reed had already scored two second place finishes and was sitting 4th in points with 90, so I kinda expected him to be more in line with those results. He's within the top ten so that's still really good. As for Webb, it was expected that he might be nervous and tense the first couple of rounds and he's really starting to fall into place and get comfortable. So while he's in 7th right now I expect he'll continue to climb. Actually I think both riders will finish ahead of where they are now.

TO: It's interesting to see them so close. One vet rider with so much experience to draw from and the rookie with raw speed.