Lane Splitting Is Trending
Chaparral Motorsports
|
January 27, 2017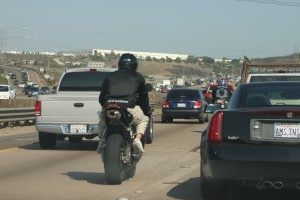 Following California's lead of formally legalizing lane splitting, three other states now have proposed bills to legalize the act of motorcycles filtering between other vehicles. Oregon, Washington, and Montana all have bills that were recently introduced to enable motorcyclists to legally lane split with Montana's S.B. 134 the only one of the three that currently has a hearing date (Jan. 26).

Lane splitting, lane sharing, lane filtering is a practice that is commonly used in many other countries especially over in Europe to help alleviate traffic and provide a safer riding environment for motorcyclists.

California Assembly member, Bill Quirk (D-Hayward), sponsored AB51, which proposed lane splitting be legal only when a motorcycle was moving no more than 15 miles per hour faster than the traffic around it, and prohibited the practice at speeds above 50 mph. The bill passed 69-0, and was signed off by California Governor Jerry Brown in August of last year. The passage of AB51 specifically defined lane splitting in the vehicle code, thus bringing it out the gray area it has resided in for years and making California the first state in the country to legalize lane splitting-prior to the bill's passage there were no laws against lane splitting, it was just an accepted practice. With the law now firmly in the books it allows the CHP to develop lane splitting safety guidelines with other state traffic agencies. With lane splitting now being legal it also opens the door for the state to spend money on education and resources to better inform all motorists about the practice in an effort to make everyone more aware and the streets and highways safer for all.

Over the years multiple states have tossed around the idea of allowing lane splitting, Oregon, Washington and Montana are the latest to seriously consider the idea with proposals currently in the works. Oregon's lane splitting bill S.B. 385 was brought about by State Senator Jeff Kruse (R-Roseburg). The bill proposes a lane splitting speed of no more than 20 mph if traffic is stopped or has slowed to a speed of 10 mph or less on certain roadways. Oregon has been pushing to be able to get a general vote on legalizing lane splitting for a few years. Most recently in May of 2015, the lane splitting proposal, SB 694, had been voted on and approved by the Senate Judiciary committee and Oregon Senate before it was nixed for a general vote by the Oregon House of Representatives.

In Washington state H.B. 157 was introduced by State Rep. Drew MacEwen (R-Belfair), with the proposal that riders be able to split lanes at a speed of no more than 10 mph faster than other vehicles if traffic is moving slower than 35 mph. State Bill 134 in Montana was brought about by State Sen. Russel Tempel (R-Chester) and would make it legal for riders to split lanes at a speed of no more than 20 mph if traffic is moving slower than 10 mph. This bill is currently scheduled for a hearing by the Senate Highways and Transportation Committee.

The American Motorcyclist Association (AMA) has encouraged motorcyclists who reside in those states to take action and support the proposed bills in their states. Even with lane splitting now being legal in California it is still a hotly debated topic amongst motorists and even some motorcyclists. There haven't been a lot of studies conducted in the U.S. in regards to motorcycle safety/accidents however, the most notable and most referenced motorcycle crash causation study is the Hurt Report which was published in 1981. In that report it found that moderate to heavy traffic was the situation at 59.2 percent of accidents that were studied.

Being caught between motorists fidgeting with their phones, radio, or distracted by their occupants while sitting in stop-and-go traffic leaves motorcyclists extremely vulnerable. The ability to ride between two vehicles helps reduce the chances of motorcyclists getting rear ended and gives them more opportunity to react and maneuver to a safer space when an incident does occur.

More recently, UC Berkeley's Safe Transportation Research and Education Center (SafeTREC) conducted a study between June 2012 and August 2013. Of the 5,969 collisions-involving motorcycle riders that occurred during that time they found 997 riders (17%) were splitting lanes at the time of the accident. The study also found, "compared with other motorcyclists, lane-splitting motorcyclists were more often riding on weekdays and during commute hours, were using better helmets, and were traveling at lower speeds. Lane-splitting riders were also less likely to have been using alcohol and less likely to have been carrying a passenger. Lane-splitting motorcyclists were also injured much less frequently during their collisions. Lane splitting riders were less likely to suffer head injury (9% vs 17%), torso injury (19% vs 29%), extremity injury (60% vs 66%), and fatal injury (1.2% vs 3.0%). Lane-splitting motorcyclists were equally likely to suffer neck injury, compared with non-lane-splitting motorcyclists."

So while many may argue that lane splitting is not safe, much of the available evidence indicates for the most part that it is safer than not lane splitting. The more states that get on board and legalize lane splitting and the more funds and effort that is put forth towards education of rider awareness and safety, the safer the streets, highways and practice of lane splitting will be for all. And for those motorcyclists who oppose lane splitting, just remember it's a choice and not a requirement, if you don't feel comfortable doing it you don't have to.