ChapMoto Supercross Race Recap Week 3: What We Saw At A2
Chaparral Motorsports
|
January 24, 2017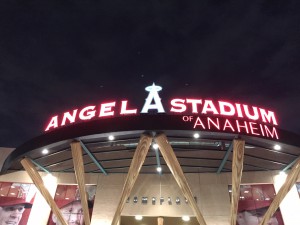 This is a new series in which we will look back at the past weekend's Supercross race and give you our thoughts and perspectives on what we saw. We've posed several questions based on the evening's events to a motley crew of Chaparral Motorsports staff (and one outsider) and provided you with their answers and insights.
A little background on the respondents in this series:

Dave Damron (DD): Chaparral Motorsports founder. Racer, team owner, manufacturer, retailer. Dave has seen it all and done it all on two wheels.

Travis Snyder (TS): Chaparral Motorsports Offroad Products and Apparel Manager. Travis is one of our in-house moto racers. A Honda guy, Travis is either at one of the local tracks or prepping his bike for his next event.

Mike Medina (MM): Chaparral Motorsports Technical Advisor/Communications Specialist. When Mike's not at the office he's in the pits spinning wrenches for the Enticknap brothers, #722 Adam (The Seven Deuce Deuce) and #723 Tyler.

Eric Ellis (EE): Chaparral Motorsports Marketing/Social Media. Eric is just a Harley guy who likes to watch Supercross.

The Outsider (TO): N/A. The outsider is not a Chaparral employee but he is an industry veteran with a good perspective on the inside.

Being that Chaparral Motorsport is part of the Monster Energy| Yamalube| Yamaha Financial Services| Yamaha Factory Racing team with two-time Supercross Champion Chad Reed and two-time 250SX West Region Champion Cooper Webb (making his debut in the 450 class this season) we focused a few questions on the their performance. Also, we had the opportunity to toss Reed and Webb a few questions in between their busy schedules so you could get some perspective on the races directly from the riders.

Let's start with the questions we sent to Reed and Webb first:

Reed



As you mentioned last week, you wanted to improve on your cornering, which definitely showed this week. What did you do to accomplish this? Did anything change?

For sure, my cornering issue is not a simple fix, but I was able to make some headway. For me, the direction is clear so, hopefully, we can continue to make progress.



One of the concerns with moving to a timed format was with lapped riders. The race went a record 24 laps at San Diego and 22 laps at A2. Would you say that dealing with lapped riders is more of an issue now or is it the same as with the 20-lap format?

Lappers are lappers. There's no difference, whether it's 20 or 22 or 24 laps. My main concern right now is my starts.

Webb



Congratulations on your best finish of the season so far. What's your plan to build on this momentum?

Thanks! I'm going to keep working hard. I feel like I went into the weekend much more relaxed, just more like myself, which made the difference. I think, going forward, I want to continue that mindset and build my confidence and speed.



What has been the most impactful tip or piece of advice that Chad has given you?

We've been friends for a while now, and he has always been there if I wanted to ask him some questions. I have texted him a bunch of times over the past year, especially, and he always lets me know what he thinks I should do, but he is not pushy about it. I don't know of one particular thing he has said that stands out, but I appreciate him always letting me know what he thinks anytime I ask.

What we saw
General questions:



Who had the best pass of the night?

DD
: The best pass was by Roczen when he passed Webb just after the coming out from under the tunnel (nobody was passing there).

TS: Malcolm Stewart - 450 Heat #1 : Stewart passes V.Friese AND M.Musquin in the same corner! Which then lead Friese to block pass J.Anderson in the following corner causing Musquin to run into Anderson forcing both of them into the ground! AWESOME!

MM: The best pass of the night honors goes to Vince Friese of the Motoconcepts Honda Team. In the 1st 450 heat of the night around lap 4, Vince saw enough daylight for a 2 for 1 pass on Jason Anderson and Marvin Musquin and made it stick. There was some contact with Anderson but nothing compared to an Arenacross blast into the cheap seats.

EE: I don't know if it was necessarily the best but it did have a ripple effect on the rest of the night. Stewart running high and pinching off Friese and Musquin in the turn before the rhythm section left a big gap for Anderson. Anderson took advantage of the opening and met up with Friese in the next turn. I don't think Friese's contact on Anderson was intentional (if anything Friese was probably looking to come back and put a block on Stewart) but we know where it went from there.

TO: Dungey, passing Cooper Webb for the lead in the main and setting the pace.



Roczen, was he pushing too hard or just an unfortunate situation?

https://youtu.be/VWvcU6iXbv4

DD: I don't think Roczen was pushing too hard when he crashed, I think just the opposite. I think when he caught up to Seely he backed it down some and wasn't still in attack mode and he lost a little concentration in that section and it bit him.

TS: It seemed like Roczen was trying to "settle in" behind Seely which made him back it down a notch, causing him to lose focus. Considering he passed Musquin AND Webb on the lap before, he should've had no issues passing Seely. Although when Roczen was trying to catch his teammate (Seely), they seemed to be reeling in Webb & Dungey like they were a couple of largemouth bass. Was Roczen saving some time to make last minute passes to be a superstar? Only KR94 will know the answer to that!

MM: Ken Roczen probably felt a little pressure to get back to the front of the lead pack after a 10th place start and was pushing the envelope a little, but his crash could have bit anyone out there. The transitions of the jumps were very soft from the weather and kickers and chopped out ruts leading up to the jumps were wreaking havoc on all riders, not just K-Roc. A few riders had crashed in the same area as well as my own rider Adam Enticknap during the practice qualifiers.

EE: Man, such as tough ending to a promising season for Roczen. I was really pulling for the guy. I wish him best of luck on his recovery. Before the start of the night I had a feeling Dungey would ride away with the win but I didn't imagine it would go down like that. Roczen was making some good passes and was extremely fast. He just got a bad hit off that lip and it tossed him.

TO: The crash looked the same as the one at the Monster Energy Cup. I don't know if it's Roczen or the suspension set up?



Is it now the Dungey show for the rest of the season or will someone be able to challenge him?

DD
: It will be hard to bet against Dungey but we have plenty of racing to go and as we saw Saturday things can happen.

TS: With Roczen out, it's too bad the AMA DQ'd Jason Anderson, because the championship points battle would have been more along the lines of an Aldon Baker Show (Dungey, Musquin, Anderson). Either way, it looks like The Baker Factory is going to have to make room for another #1 plate on the wall.

MM: I feel "The Diesel" can breathe a little easier knowing K-Roc's season is over but by no means can he put it in cruise control to the championship. His team mate Marvin Musquin will keep him honest throughout the series and may squeak a couple of wins here and there only down seven points. Cole Seely is now the number one guy under the Honda tent with K-Roc ending his season and is now licking his chops to get in the hunt. Even though Anderson lost some valuable points on Saturday for his altercation with Friese, which resulted in his disqualification for the remainder of the evening, he will still be a threat with his raw speed and aggressive style but it will be a tall order coming back from 33 points down from Dungey.

EE: Dungey will continue to be consistent and fast. But he is not unbeatable. Just like last season he won't be on top spot of the podium every race. Other than Roczen, Musquin has been giving Dungey some steady pressure through the first three races, so I bet we'll see Musquin win a race or two, but Dungey will still make the podium and will take the championship.

TO: Jason Anderson is the only rider who can match Dungey's pace week in, week out. If Kawasaki can get Eli Tomac going he could also challenge Dungey.



Thoughts on Vince Friese.

DD
: Vince Friese paid his entry fee just like everyone else and he doesn't give an inch. With that said, I think that as a racer on this level Jason should know who he was racing with and how that rider reacts when you're around him on the track. The crash could have been avoided by Jason not cutting down knowing who he had just passed but that's racing.

TS: If Vince started dead last every race and made his way through the pack with the way he passes, I think the fans would have more respect for him. Unfortunately, Vince manages to get great starts but then goes from 1st to 8th in a matter of a lap. With that being said, he's a very defensive rider which leads to regrettable race situations.

MM: I have known Vince for ten years now and he has not changed his style through all of these years. He is a hard nose racer that reminds me of the 1970's and 1980's where "rubbing is racing " was welcomed. Sure he may have pushed the envelope a little too hard at times, but if you crack the door open, he will kick it open, and everyone in the world knows that and other riders still get hurt feelings about it. Maybe this sport is not for the kind at heart racers. Nobody had a problem when "Bam Bam" Justin Barcia was putting riders on the ground during his 250 career.

EE: The dude's head is becoming a speed bag for other racers. I think he's probably happy they wear helmets.

TO: Friese is a road block, someday a rider is going say enough is enough and take him out.



Should Anderson have been DQ'd for his actions against Friese?

https://youtu.be/mT6pkahkmlk

DD: The rules are the rules and if you physically push or hit you will be DQ'd. After seeing the tape I would also think that Friese's mechanic should also been disqualified for kicking Jason away and ultimately falling into the barrier in the tunnel.

TS: Yes. A racer should always take their aggressions out on the track. Anderson should have contained himself so he could show Friese who's boss in the Semi Race.

MM: Jason Anderson's disqualification from the remainder of the night program was perfectly acceptable. If a rider lays hands on another rider, you're done. "El Hombre " lost his cool and may have seen his championship hopes go down the drain. He had been passed by Malcolm Stewart in the turn before and got passed again when he collided into Friese while trying to turn down in the lane. It was a racing incident, no more, no less.

EE: Anderson made a bad decision, so yeah he got the punishment he deserved by getting DQ'd. He also got shut down by a stiff arm from Friese's mechanic when they were going through the tunnel, so he actually got a double dose that night. Sometimes it's nice to see a little hockey justice get doled out, you just gotta remember the cameras are always on.

TO: Anderson threw the first punch. But Friese's mechanic pushed back. I think if Anderson is going to be DQ'd, Friese should have been too.

Reed/Webb questions



Webb had his best results so far, how can he build in that momentum?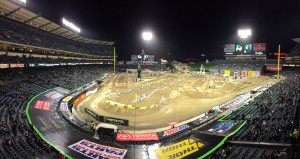 DD
: I think Cooper is starting to figure out how to race the 450. Up until Saturday he was riding the 450 but now he's starting to understand how to race it.

TS: It seems as if all the jitters are gone, which means Webb can build momentum based off his Main Event Holeshot. Watching practice, it seemed like he learned and applied what he needed to from last week and the results showed. Another good start in Phoenix and he should stay in the Top 5 again.

MM: Coop had an awesome night and if there is a complete turnaround award given from the previous round, he gets it. Coop qualified 3rd in the practice sessions, only behind by two tenths of a second from Eli Tomac who was awarded the top qualifier. His day looked promising and the old Cooper Webb we all know and love had arrived at A2. Coop qualified out of his heat race for the main event with a solid 4th place finish and netted a 4th place finish in the 450 main. Did I mention he grabbed the holeshot as well? With round four being in a dome atmosphere in Glendale, AZ, we will have a normal schedule with the max amount of time to get acclimated to the track since the elements will not be a factor and Coop should feel pretty good about himself and should be hungry to line up for some more.

EE: He was great in his heat race and did transferred right in to the main which I think was a big weight off his shoulders. He looked great in the main, had a great start, got the holeshot and everything was running smooth as he chased Dungey. He still looks a little bit off pace in the whoops, so I think he's still not quite comfortable with everything. But a fourth place finish in his third 450 race? I like where this is going!

TO: Webb looked great! I think he is putting the fun back in racing and will keep moving forward as long as he just concentrates on himself.



Thoughts on Reed's night?

DD
: Reed didn't look comfortable all night he wasn't loose and he seemed to be a little tight until about halfway through the main event and then he seemed to settle into a pace that was moving him forward but it was a little too late.

TS: Reed rode solid and safe. Considering that was CR22's 51st Anaheim SX, taking home a 7th on that brutal track against the toughest riders isn't bad at all.

MM: Reedy's night went better than his previous weekend in San Diego. His qualifying was a little rough being the 12th fastest rider but he turned it around in the main event logging a 7th place behind Josh Grant of the Monster Energy Kawasaki team. On a positive note, he is on an upward slope on the line graph with his results netting a 20th, 9th, and 7th place finish in the first three rounds of the 2017 season.

EE: Reed had speed in the whoops as usual and he looked faster in the corners, which he mentioned he needed to work in last week's report, but he still didn't get the start he needed in the main to be in the hunt.

TO: Reed looked fast. He even passed Tomac back at the end of the race. If Reed can get a start, watch out!



What's one thing Webb can learn from Reed to make him a better/faster competitor and vice versa?

DD
: I don't think at the level these two are on that there is much either can learn from the other, you can always learn something from your competitor but it will be little things that when they see it they will use it, but there won't be anything big.

TS: Get behind each other at the test track and learn from one another. I feel as if Reed needs better starts and Cooper can enter his corners faster.

MM: Reed has always believed in himself and his speed against long odds and age for that matter. Reed is mentally strong and his counterpart Coop is relatively the same. If they believe in themselves and realize who they are good things can and eventually will happen. You have to see yourself doing well. This is why you can never count out Chad Reed as a threat for a win on any given night.

EE: There's always something to learn. In dealing with this new bike and new competition Reed could probably teach Webb some tips on how to calm down, relax ,and ride with the flow and then dial up the pressure when the time is right. Webb and Reed have been right there amongst each other in their heat races and in the mains so I'm sure Webb's youthful energy has been rubbing off on Reed.

TO: I think Webb can learn from Chad to enjoy himself. When Chad was younger he didn't seem like the races were fun. Now that he's older he seems to appreciate everything a lot more and has become a fan favorite because of it.