ChapMoto Supercross Race Recap Week 2: What We Saw At San Diego
Chaparral Motorsports
|
January 17, 2017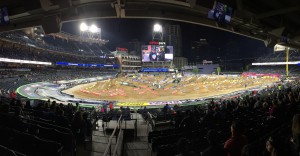 This is a new series in which we will look back at the past weekend's Supercross race and give you our thoughts and perspectives on what we saw. We've posed several questions based on the evening's events to a motley crew of Chaparral Motorsports staff (and one outsider) and provided you with their answers and insights.
A little background on the respondents in this series:

Dave Damron (DD): Chaparral Motorsports founder. Racer, team owner, manufacturer, retailer. Dave has seen it all and done it all on two wheels.

Travis Snyder (TS): Chaparral Motorsports Offroad Products and Apparel Manager. Travis is one of our in-house moto racers. A Honda guy, Travis is either at one of the local tracks or prepping his bike for his next event.

Mike Medina (MM): Chaparral Motorsports Technical Advisor/Communications Specialist. When Mike's not at the office he's in the pits spinning wrenches for the Enticknap brothers, #722 Adam (The Seven Deuce Deuce) and #723 Tyler.

Eric Ellis (EE): Chaparral Motorsports Marketing/Social Media. Eric is just a Harley guy who likes to watch Supercross.

The Outsider (TO): N/A. The outsider is not a Chaparral employee but he is an industry veteran with a good perspective on the inside.

Being that Chaparral Motorsport is part of the Monster Energy| Yamalube| Yamaha Financial Services| Yamaha Factory Racing team with two-time Supercross Champion Chad Reed and two-time 250SX West Region Champion Cooper Webb (making his debut in the 450 class this season) we focused a few questions on the their performance. Also, we had the opportunity to toss Reed and Webb a few questions in between their busy schedules so you could get some perspective on the races directly from the riders.

Let's start off with the questions we sent to Reed and Webb first: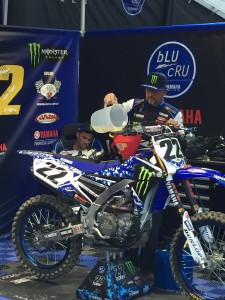 Reed



How were the track conditions? Was there any particular section where you found that you were able to make up time?

With the amount of rain prior to the race, I was impressed with how good the track crew was able to get the track. I'm struggling with a few areas of the track. Priority number one is corner entry to mid-turn. The whoops are always my strength.

2. What's the game plan for A2?

With the better weather early this week, we're trying to find a solution to my cornering issues

Webb



There was a little knuckle coming into the turn at home plate and it looked like it made for an awkward transition into that turn for some of the riders. Did that section bother you at all?

Not really. It was a little bit different and required focus setting up for the corner, but it didn't really bother me or stand out as one of the more difficult areas on the track.

2. What will you be working on this week in preparation for A2?

I am mostly working on myself, just looking at things a little differently from a mental standpoint and gaining confidence in the 450 Class. I learned a few things in San Diego that I feel can help me improve a lot in Anaheim.

What we Saw
General questions:



DD
: I did not attend the race and had to rely on TV so the 250 race seemed to have more races within the race than the 450 and therefore I enjoyed the 250.

TS: Both Main events had good racing, but the 250 class was a little more exciting.
MM: The 450 main event had the makings of a heavyweight fight that the world has been waiting to become realized. Ken Roczen and Ryan Dungey delivered with blazing speed keeping everyone out of their seats for the record breaking 24 lap main event. The two riders were never more than 1.5 seconds apart and a last lap pass was materializing for Dungey but a bobble in the start of the last major rhythm section derailed his chance for the top spot on the box. If this is a sign of things to come, we are in for a treat all season.

EE: Both races were extremely exciting. But the 250 was by far more fun. Watching Forkrner push McElrath off the track and then McElrath come right back and pin Forkner into the next corner at the beginning got the crowd all rowdy. There were three lead changes, which is always a thrill for the crowd. Martin making a huge push to finish 7th and that charge that Hill made to challenge McElrath for the win was everything we want to see in a race.

TO: Both were exciting races. The 250 main had pure excitement from start to finish. The 450 race was fun to watch Roczen/Dungey match each other's pace.

2. Who had the best night? Who had the toughest night?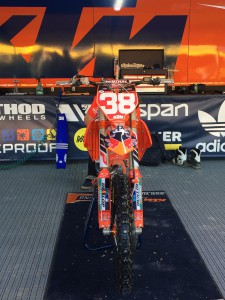 DD: I think that Shane McElrath had the best night coming from behind to win and I think Blake Baggett had a tough night with his loop out on the start of his heat.

TS: Being that he's won back-to-back weekends, I'd say McElrath. Don't take Plessinger off the radar though! AP23 went from 10th to 3rd in the main. Jeremy Martin- if anyone saw his practice crash, that's a tough start to the race day. Then he manages gets stuck in the gate in the main event! Surprisingly, Jeremy went from 22nd (dead last) to finishing 7th!

MM: I will go out on a limb here and pick my good friend Weston Peick for the best night in SD. He qualified 15th in practice and made major improvements as the night went on. He ended up netting a 7th place finish, one spot better than A1. Weston is going to be that guy flying below the radar all year and is very consistent. With a little luck, we may find him on the podium this year. The toughest night award goes to Blake Baggett. He qualified 14th in practice and had a major loop out off of the starting line in his heat race causing him to drop out of the race. His start was not there either and he netted a 20th place finish in the 450 main event.

EE: Roczen looked to have the best night. Once again he qualified first for the main, won his heat race (led all 7 laps) and even though Dungey took the holeshot and led the first seven laps, Roczen held his composure and waited for his time to make a move on the champion. Dungey wanted to slip away but Roczen had him on the line and reeled him in. Baggett had to have the toughest night out of everyone. First he looped it at the start of Heat race 1 and then he just disappeared after a mid-pack start in the main.

TO: Best night-McElrath, who would have bet before the season started that he would win the first two rounds? Toughest night-Oldenburg, breaking his collarbone after finishing 4th at the opener.



What's your impression of the new 450 Honda?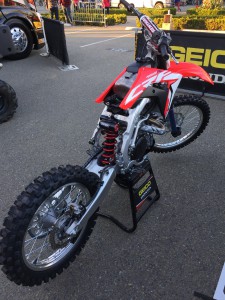 DD
: I'm impressed with the new Honda, they have done a good job with it and when you include Cole Seely who finished 5th it shows the bike is good and it's not just Ken.

TS: Drool.

MM: The new 2017 Honda CRF rocket ship...I mean 450R motocross bike is a breath of fresh air in my opinion. The engine package is phenomenal with the new downdraft intake, higher compression piston, and lighter clutch pack which makes this machine a holeshot monster. Its lighter weight and redesigned frame lowers the center of gravity making the CRF very comfortable and predictable to ride and track straighter than ever before.

EE: The bike is the real deal. Honda will be selling a lot of them.

TO: Roczen and Seely are making the new CRF450R look great! I'm sure Honda will be selling a lot of 450's this year.



Who had the best pass of the night?

DD
: Most of Plessinger's passes were good because he was on a mission to the front. I also liked McElrath's pass on a winded Davolos.

TS: Roczen passing Dungey. KR94 was very aggressive and executed that pass perfectly for the lead. On the other hand, did anyone see Musquin's save at the start down the rhythm in the main event!?? CRAZY!!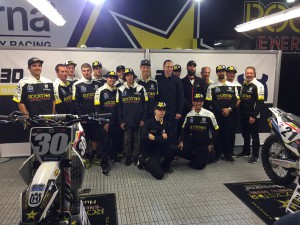 MM: And the winner for the Best Pass in San Diego is, Jason Anderson. El Hombre gave Eli Tomac a nice love tap forcing ET3 to fall back to 5th after the finish line jump around the 12 minute mark to take the 4th position. El Hombre was hauling the mail but a better than decent start made him have to charge through the pack ending his night netting 4th place.

EE: I'd say the pass of the night was when McElrath passed Davalos. McElrath cut inside and went wide enough in the turn (without hitting Davalos) that he caused Davalos to slow a bit and messed up his flow for the section out of the turn, which enabled Hill to pass Davalos as well.

TO: Roczen. Anytime you take the lead at a Monster Supercross it's a great pass.



No Stewarts at the line for the second week in a row, is this a big deal? Will we see one or both of them race this season?

DD
: For the second week in a row who really cares. Since they don't have a factory wanting them they could go out and put together a privateer deal like Dean Wilson (former lites Champion) has done and show up and race, or stay home.

TS: No. I don't think anyone cares anymore (well I don't). Neither one is eligible to compete for the championship.

MM: It is strange not to see the Stewarts lining up on Saturday nights, but I am not missing them much either. I do not understand how a 250 class champion in Malcolm Stewart, does not have a 450 class ride. Word around the pits is the Stewarts may be showing up on the starting lines at A2, we will see.

EE: It's only a big deal if you're a Stewart fan. They'll probably show up eventually, but for what/why?

TO: I would like to see Malcolm on a competitive m/c. I think it's time for James to call it a career before he ends up seriously hurt.

Reed/Webb questions



Thoughts on Cooper's night?

DD
: I haven't spoken to anyone at Yamaha so my observations are coming from my armchair only, he looks very tentative, not at all the guy who used to pull the trigger. But again he made it to the main event, he did get lapped, but otherwise road a steady race.

TS: Being that he's still the rookie, he should be showing up every weekend with a new list of things to work on from the previous race. Knowing that he's Cooper Webb, I thought he'd be able to execute what he's learned a lot quicker. Unfortunately, this doesn't seem to be the case.

MM: I feel Cooper is getting a harsh reality check these last two rounds. He was a big fish in a small pond last year and now he is a small fish in a large ocean. He finished his night in the 14th position and was about 2.5 seconds slower than the lead pack. Just to see what could happen, I would let Cooper ride his YZ250F in the 450 class. In 2016, he was logging some lap times that were rivaling the 450 leaders. Think about it.

EE: He looked good in the first few laps of Heat race 2. He was trailing behind Roczen, Dungey, and then Reed. But then he just started slipping backwards in position. He had to be pretty disappointed not to transfer into the main; he was looking like he had a shot. It looked like he was losing some time in the whoops. He did have some better starts though.

TO: Cooper seems off. His confidence isn't there for some reason?



Thoughts on Reed's night?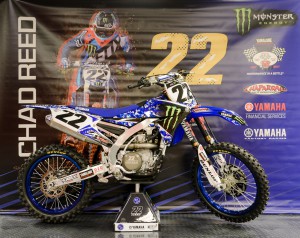 DD
: I don't know what happened to Reed in the Main. He made it directly into the Main from the heat race but I don't know what happened in the Main.

TS: A 7th place start is not going to cut it. CR22 is the type of guy that when he gets a good start (top 3) he's able to latch on to the lead rider and keep the pace.

MM: Chad had himself a better than decent start but not as good as we hoped. He ended his night in the 9th position which is better than the 20th he netted at A1. What is troubling is he is still 2 seconds a lap behind the leaders and he needs to find a way to put himself in a better spot to succeed.

EE: I so wanted to see Chad on the podium. He seemed to be the opposite of Webb in the whoops, really fast and making up a little bit of time. Again he didn't get the start he needed in the main, but he pulled his way up from a 14th/13th place start. A 9th place finish isn't the best but it's a top ten. Glad he finished healthy and has a few more point in the standings.

TO: Chad is much better than a 9th place rider. If he can get a start, he will be there.



Who will make it onto the podium first?

DD
: Based on the first two races I think it will be Reed who makes it to the podium first.

TS: Chad

MM: I feel the experience of Reed will get him to the podium sooner than his team mate Cooper Webb, but with the way things are looking after two rounds and the super talented field, this may not happen for a while.

EE: That's a really tough question. But I think if Cooper has a good heat race and can transfer into the main right at the beginning of the evening it'll be a big boost in confidence and then we'll see him unleash in the main and step on to the podium.

TO: Chad.