Keep It On Two Wheels: Five Tips To Improve Wet Weather Riding Skills
Chaparral Motorsports
|
January 13, 2017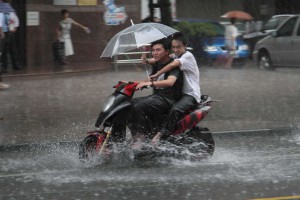 As everyone was excitedly waiting for an eventful and at times dreadful 2016 to end, we're only two weeks into the new year and southern Californians have already been treated to an exciting and promising 2017 with record rainfall.

Southern California residents are not built for the rain, just take a look at all the red cluttering up any traffic map at the slightest drizzle and you'll see what I mean. There's a reason we all live here, it's because we love the sun and hate the seasons! This is especially true for motorcyclists, we love our year-round riding weather.

As we roll into our third week of intermittent storms, we are met with a feeling of bittersweet emotions. On the positive, all this wet stuff has helped 40 percent of the state (mostly the northern part) move out of a drought that has lasted for years, pushed the sierra snowpack to more than 160 percent of normal, and brought record rainfall numbers to southern California. On the downside, most motorcycle riders have been pulling their hair out waiting for the weather to break in order get back on two wheels, while more die hard riders have been scrambling to the back of their closets looking for their motorcycle rain gear.

Riding a motorcycle in the rain isn't all that scary. Yeah it sucks to arrive at your destination looking like you just fell out of a mop bucket, but if you have some good water proof gear and pay attention you'll be just fine. Here are five simple tips that will help make your next rainy ride a safe one.

1. We all know that fresh rain brings nasty oils, grease, and other road grime to the surface, so you want to make sure your motorcycle tires have plenty of tread. The tread on your tires not only provides grip on the road but those grooves in the tread are there to help displace and direct water away. One thing many people don't think about however, is the tread on their [mageProductLink sku="03-8605-0105-40" title=""]motorcycle boots[/mageProductLink]. If your boots are extremely worn in and the soles have little or no tread left you're increasing the chances of your feet slipping out when you come to a stop. Trying to support a 500-plus pound motorcycle on wet/slippery surfaces with poor tread on your boots is a tip over just waiting to happen. Good traction on your boots is important for maintaining grip and control on your footpegs as well.

2. Painted lines, reflectors, rail road tracks, and steel grates can be extremely slippery in wet conditions so always proceed with caution when you have to cross or ride over them. If possible try to cross these surfaces as perpendicular to the road as possible.

3. Most people automatically end up riding right in the middle of the lane. The problem with that is that's where the majority of the oils and slippery junk can be found. Therefore, when it comes to choosing your line it's best to stay to the left side or right side of the lane (but away from the lines/stripes) rather than riding right down the center. Riding to the side of the lane will not only help you avoid some of the nasty stuff, but the tires on the vehicle in front of you will help clear water away. So tracking in the path of the left or right side tires of the vehicle in front of you will give you better contact with the road.

4. Just like when driving a car in the rain, when riding in the rain you want to slow your pace down a bit. The wet roads will increase your stopping distance so more room between you and the vehicle in front of you is absolutely necessary. Another benefit of slowing your pace is that it will reduce the amount of spray that gets kicked up onto your motorcycle helmet face shield from the vehicle in front of you. You can improve your vision when riding in the rain by spraying your face shield with something like National Cycle's RainZip Rain Repellent or Nik Wax Visor Proof. These products are specifically designed to help water quickly bead up and run off of the motorcycle face shield to provide clearer and safer vision. Rainy weather can also lead to your face shield fogging up. You can combat this by outfitting your motorcycle helmet with a pinlock face shield. These are inserts or replacement lenses with a dual shield design that eliminates fog build up. Most helmet manufacturers offer pinlock inserts or full replacement shields for their helmets.

5. Just as important as being able to see is for other motorists to be able to see you. Wearing Hi-Viz motorcycle gear or at least having some strips of reflective material on you will significantly increase your presence to those on the road. Besides the rain affecting motorist's vision, riding in these conditions often means low light situations, so anything you can do to get yourself noticed will only increase you safety.