ChapMoto Supercross Race Recap Week 1: What We Saw At A1
Chaparral Motorsports
|
January 11, 2017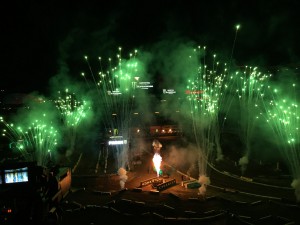 This is a new series in which we will look back at the past weekend's Supercross race and give you our thoughts and perspectives on what we saw. We've posed several questions based on the evening's events to a motley crew of Chaparral Motorsports staff (and one outsider) and provided you with their answers and insights.
A little background on the respondents in this series:

Dave Damron (DD): Chaparral Motorsports founder. Racer, team owner, manufacturer, retailer. Dave has seen it all and done it all on two wheels.

Travis Snyder (TS): Chaparral Motorsports Offroad Products and Apparel Manager. Travis is one of our in-house moto racers. A Honda guy, Travis is either at one of the local tracks or prepping his bike for his next event.

Mike Medina (MM): Chaparral Motorsports Technical Advisor/Communications Specialist. When Mike's not at the office he's in the pits spinning wrenches for the Enticknap brothers, #722 Adam (The Seven Deuce Deuce) and #723 Tyler.

Eric Ellis (EE): Chaparral Motorsports Marketing/Social Media. Eric is just a Harley guy who likes to watch Supercross.

The Outsider (TO): N/A. The outsider is not a Chaparral employee but he is an industry veteran with a good perspective on the inside.

Being that Chaparral Motorsport is part of the Monster Energy| Yamalube| Yamaha Financial Services| Yamaha Factory Racing team with two-time Supercross Champion Chad Reed and two-time 250SX West Region Champion Cooper Webb (making his debut in the 450 class this season) we focused a few questions on their performance. Also, we had the opportunity to toss Reed and Webb a few questions in between their busy schedules so you could get some perspective on the races directly from the riders.

Let's start off with the questions we sent to Reed and Webb first: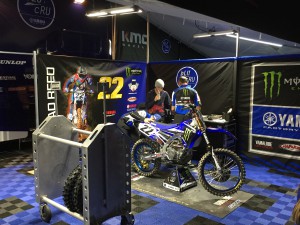 Reed



On the sight lap you stopped half way through the first set of whoops and kind of looked back. What were you looking at and what did you notice that helped you determine your line through there?

I always try to get a good look at the whoops to see how they're developing across the racing line. This past weekend, the whoops were filled with lime, so they were developing quite different than normal.



Up until you and Peick got together you were having a pretty good race. What are your thoughts? We're you happy with your performance up until that point?

I was disappointed in myself. I flinched right before the gate dropped, resulting in a terrible start and then, I had to try to make my way to the front. I believe I was a top-five guy, but I just put myself in a bad situation from the start.

Webb



I think the main thing is, I just need to settle in. With everything all-new, I just wasn't riding like myself, kind of out of whack. I went to the semi and got a good start and had a nice race. Before the main event, I made some bike changes and just kind of calmed down. I was happy with how I rode. Obviously, you want to do better, but it was a solid start. I was consistent and had a good race, and I know what I need to work on. Obviously, I have a lot to improve on, but it's a long season. I'm looking forward to getting better.



What kind of changes did you make to your training program to prepare for the new 20 min timed 450 main format as opposed to the 15 lap 250 main?

My trainer, Gareth Swanepoel and I work hard all year round, but we did make a few adjustments, really more for the 450 in general than just for Supercross. Knowing that we will consistently be racing for 20 minutes plus a lap makes training for Supercross a little easier, actually. I am used to racing 30 minutes plus two laps outdoors already, so the adjustment from 15 laps to 20 minutes in Supercross is not that hard.

What we Saw
General questions:



DD
: As it turned out, where I was sitting they had a countdown clock on the Start/finish line and it worked out well, you could watch it and know how much time was left and knowing what lap times were I had a good idea of how much time was left.

TS: Depending on the tracks, I think more lapped traffic incidents will take place due to the new format which always adds some strategy/excitement to the races!

MM: I personally like the new timed format since the event will be more structured and time slots for riders checking in to their preliminary races will be a constant. Another plus is that the races will not be too short like with the East coast rounds being in more of a dome atmosphere with smaller confines to build a good size track, the riders will be doing an average of 3-4 more laps per race over last year's numbers and times. The one drawback I see will be the lapped traffic happening earlier than normal in the main event races.

EE: Yeah I like the timed format. I mean we didn't really see much difference in race duration between 2017 A1 and 2016 A1. This year the 450 main went 21:08.409 and the guys did 20 laps. Last year they ran the allotted 20 laps in 20:57.823. So this year's race was only 11 seconds longer. There was a little bigger difference in the 250 main compared to last year. Last year they ran the 15 laps in 15:43.670. This year they completed the 15 minute plus one lap race in 16:11.289, so it was almost a half-minute longer. I think where it will make the bigger difference is later in the season when they guys are getting banged up and worn out. Last year the average 450 race was only 18-1/2 minutes and the shortest was just over 14. So yeah I think it will have an effect on them.

TO: With some of the shorter tracks on the circuit I believe the races won't be over quickly and it will make for better racing. Not just whoever gets a great start.





Who impressed you the most on Saturday night?

DD
: Roczen and the Honda impressed me the most

TS: Jason Anderson. He started out of the gate in 10th and finished 4th. El Hombre was on a mission!

MM: For me, I expected Ken Roczen to be at or near the front for the 450 main event. But what impressed me was in the fashion he won with a 16 second gap over Ryan Dungey. K-Roc rode flawless and is gelling nicely with his 2017 Honda CRF450R, this is scary news for the rest of the 450 field. He took the hole shot in the main event and never looked back leading the whole way to the checkers. K-Roc and Big Bad Honda mean business this year and they may get the premier class championship that has eluded them for the past 13 years.

EE: Definitely Roczen. He seemed to pick up right where he left off at the MEC where he nearly swept the event. On Saturday night he won his heat race and then nearly took the hole shot from Musquin in the main. Once he got around that second turn though he was gone! He just looked so smooth and collected. And to finish with a 16 seconds lead? That's pretty good seeing as how the average margin of victory for the previous ten A1 races was 7.1 seconds.

TO: Dungey, year after year he is super consistent and is always there in the top 3. He knows it is a long season.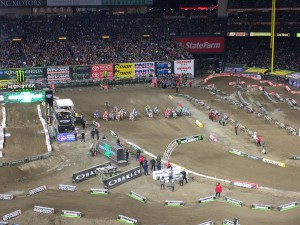 3. Was there a rider that you expected better results from?

DD: Chad Reed, but he at least he didn't get the fists of fury from Peick (from last year with the Peick/Friese boxing match)

TS: ET3.This was the rider we all thought might have something for Roczen. He faded quickly.

MM: For me, Eli Tomac, aboard the Monster Energy Kawasaki ride, is the rider I did not expect to finish 5th in the main event. He posted the second fastest qualifying time in the practice sessions only eclipsed by Marvin Musquin of the KTM Red Bull team by 1/10th of a second and had great starts all evening, which had plagued him all last year. He was my pick for the win or maybe a close second and that is the way the main event was shaping up to be at the start. Then half way through, he hit a wall and was moving backwards. It looked like he was struggling trying to hold on to the bike and as I suspected and confirmed with ET myself, his arms pumped up. I'm not looking too much into it, it is 1 of 17 rounds and I think ET will still be one of the front runners all year.

EE: The Stewart brothers. Neither of them were on the line, really?! James I can understand; the desire is there but he's had a tough couple of years. Malcolm however, he's coming off the 2016 250 SX East title win and wasn't at the gate? He should have been in there somewhere.

TO: Cooper Webb. He finished last year off so strong. 250's- Austin Forkner. The rumor mill was he is a better SX rider than outdoors. He killed it at the end of the outdoors.



DD
: No Dungey will ride his race, this is his first real race back from injury and he knows it's a 17 race series and you can't win the series in the first race but you could lose it.

TS: No. It fuels the Diesel to work harder in my opinion. Bring on 2017!

MM: I feel K-Roc has made a huge statement to the entire 450 field except for Ryan Dungey. RD knows this year will be the challenge of his life to defend his 450 crown but he is not nicknamed "The Diesel " for nothing. RD knows this is a long season and the championship cannot be won in the first round, but it can be lost. RD knows as long as he is up there on the box every weekend and in the mix, he has a chance to pounce on the moment K-Roc or any of the other contenders make a mistake. Nothing fazes RD. It did not matter whether K-Roc won by 2 seconds or 16 seconds, RD knows he is only down 3 points.

EE: No. He'll just continue to power on and focus as he always does. But I do wonder if he is slightly irked by the A1 event itself because he hasn't won the opening round of Supercross on a 450 yet (he has won at Anaheim a couple of times). The last time he did win the opening round was back in 2008 when he was racing in the 250 class. I doubt its nerves, but I'm not sure why he hasn't won A1 on a 450 yet? Obviously he doesn't need to win that event to win a championship (nor does anyone). But every race series has certain events that are a little more special than the others (Daytona 500, Kentucky Derby etc.) and A1 does have some mystique and prestige to it, so it'd be nice to see Dungey add it to his accolades.

TO: Dungey doesn't let riders get in his mind. He knows it is a long season and he has done his work.

Reed/Webb specific questions:



What do you think of Webb's first 450 SX race?

DD
: I think Webb seemed a bit timid for "Webb" but again this is his first 450SX and he finished in 10th place and has 11 points completed all the laps and didn't take any dirt samples. He didn't get a great start and end up fading like so many before him, he rode a solid race.

TS: Being the new kid on the block, he's got a lot of learning to do.

MM: Cooper Webb finished inside of the top ten for his first dive into the 450 shark tank as I expected. He definitely made improvements and adjustments from his practice sessions, which he qualified 13th overall once the night program came around. But this is A1 and he is a rookie in the big boy class. He is racing on average 5 more laps in the 450 main event over last year's 250 main events, he is on a heavier 450 machine, and racing a full 17 race season instead of a 8 race regional series. I feel some stage fright and the shock factor of racing against the best in the world was a factor in his results, but we did not have a normal schedule due to the wet weather. This will be a learning year for him and there is nobody else I would like to learn under than his team mate Chad Reed.

EE: Webb did good. I was a little nervous after watching heat 2 where he came in 10th. He looked really good in the semi. He did a good job of protecting his position and keeping Bogle at his back for the entire race but just left a little opening for him to sneak through at the last minute. Webb should have had that number two spot in the semi. In the main I wish he would have been a little more eager. He was right there in the middle of the pack amongst Grant and Reed (until he pulled out) for the entire race. Actually he was behind Grant most of the evening (a couple laps in the heat race) and the entire main, so I would have liked to have seen him try to be a little more aggressive and get around #33. Nothing against JG, I like him, it was just frustrating to watch Webb ride behind him all night. A top ten finish in his 450 debut, I'll take that. Definitely a good spot to build on.

TO: He let the pressure of the 450 debut get to him. He will be there soon!



Barring the mechanical issue, how do you think Reed did?

DD
: Reed did not get a good start, he was slow off the line and then got hung up in traffic. He was a 5th or 6th place guy tonight, but it didn't end that way.

TS: He looked great in the heat race, it was just an unfortunate racing situation in the main. Better starts will help prevent those situations from happening in the future.

MM: Chad Reed did pretty well in my opinion for the first round of 2017. He qualified 8th overall in practice and had decent race speed cutting through the 450 field from a mediocre start in the main event. He challenged Weston Peick of the JGR Suzuki team for the 8th spot but after a second attempt at a hard pass on Peick, his bike suffered a mechanical problem due to the 2 riders colliding and ended his night with a 20th place finish. Next week is the San Diego stop of the series and Chad Reed always brings it to San Diego, it's his favorite city to race in. I expect a complete 180 from Reed and a challenge to be on the podium in San Diego.

EE: I liked what I saw in his heat race, but I don't think he would have made the podium in the main. Could he have done better? Yeah. Will he do better? Absolutely!

TO: Reed looked great. He will have some podium finishes this year!





DD
: For Reed a better start will get him up front and he should be near the top for San Diego, which is one of his better tracks. For Webb he got through the first race with a respectable 10th place and now he should start building on his speed. He finished all 20 laps and now knows just how long a 450 Main is. The 20 lap average per lap for Roczen was 103.593, for Dungey it was 104.290, and for Webb it was 106.207. Which means Webb was 2.6 seconds off Roczen's winning pace. Now he has a base to work from and he knows what has to be done and he'll start narrowing that time from here on.

TS: Starts.

MM: For Cooper Webb, he needs to try to relax and settle in to his racing. Mentally CW is one of the strongest racers in the field, as he showed us in his 250 campaigns the last two years, and needs to take it one weekend at a time. He needs to accept the fact that he belongs with racing the best in the world and embrace the challenge that is ahead of him. For Chad Reed, the start is going to be the key if he is to have any success this year. He can race, but if the starts do not get him to or near the front of the pack, 5th to 10th place finishes is what he will be logging on Saturday nights.

EE: Reed just needs to get in good position off the line and he'll make his way to the podium. As for Webb, like I said earlier I'd like to see him get more aggressive. I don't think the transition to a longer race format was an issue for him, I just think maybe it was nerves that had him a little reserved. I think once he winds down the speed and more aggressive riding will wind up.

TO: Settling in and letting the pressure of the opener get behind them.