Motorcycle Technology Is Getting Creepy
Chaparral Motorsports
|
January 6, 2017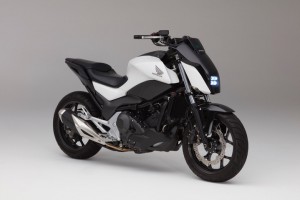 If you're worried about weirdos stalking you on social media because you won't acknowledge them, we've got bad news for you. Now you have to worry about your motorcycle stalking you for not giving it enough attention.

This week at the 2017 Consumer Electronics Show (CES) in Las Vegas, Honda introduced its Riding Assist technology that enables a motorcycle to balance on its own and cruise around without a rider. In one clip of the promo video, it shows a motorcycle autonomously following a Honda employee as she walks out of the building and the motorcycle looks both ways as it exits the doorway! Cool, but also very creepy.

One of the key features of the Riding Assist technology is that it eliminates the need for the rider to put their feet down thus reducing the possibility of an unexpected fall. For the demonstration the technology was shown incorporated into one of Honda's NC models which features an articulating front end that increases/decreases the rake and trail to better manage low speed maneuvers. According to Honda, instead of using gyroscopes, which would make the motorcycle heavier and awkward for the rider to operate the motorcycle, the technology utilized for the motorcycle to balance on its own was adapted from Honda's UNI CUB, a cute little single seat personal mobility device.

https://youtu.be/VH60-R8MOKo

Beyond the self-balancing aspect, the motorcycle's ability to autonomously drive itself from one place to another is part of Honda's larger future plans the Cooperative Mobility Ecosystem, which was also debuted. Honda says it sees the Cooperative Mobility Ecosystem as "a future where vehicles will communicate with each other and infrastructure to mitigate traffic congestion and eliminate traffic fatalities, while increasing the productivity of road users and delivering new types of in-vehicle entertainment experiences."

There are a lot of ways this amazing technology can be utilized for motorcycle riders. Basically with its self-balancing aspect and the fact that it can raise and lower the height of the bike it can allow those with limited mobility to get around on two wheels. It can also greatly reduce injury and damages from slow speed spills or tip overs at stops. And with Honda's Cooperative Mobility Ecosystem it's not too far-fetched to think that one day we will be able to have our motorcycle drop us off in front of the movie theater, go park itself, and then pick us back up. Maybe we'll even be able to send our motorcycles to the corner store for us--I've seen a penguin do it.

What I assume many riders will be looking forward to however, is the ability to sneak a motorcycle into the garage without having to explain to their significant other why both of them need to go to the motorcycle dealership.