Ultimate Motorcycle Enthusiast Bucket List: Part 1
Chaparral Motorsports
|
December 20, 2016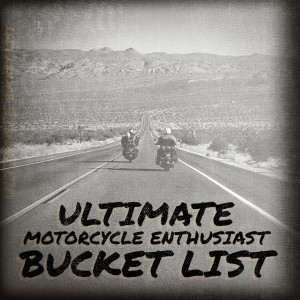 What does your bucket list look like? Is it long? Short? Pricey? Is it full of actually attainable achievements or a list of pipe dreams that keep you motivated? Is it a mish-mash of ideas or is it theme based?

If you're a motorcycle fan, chances are a good portion of your bucket list is heavily based around two-wheeled adventures. The interesting thing is, even though you might be a die-hard motorcycle person your bucket list probably looks significantly different than your favorite riding partner. From putting down a hot lap around an infamous track to distant jungle adventures or piloting a streamliner at triple-digit speeds across the salt flats, there are a million different motorcycle-related activities people can put down on their list.

Below we've laid out some ideas to help you fill out your Ultimate Motorcycle Enthusiast Bucket List, some are solo activities while others would be best enjoyed with another person or with a small group. Read through this list and let us know what you think, what we missed, and what's at the top of your list.

Riding a Speed Rocket at Bonneville Salt Flats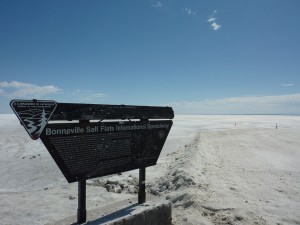 In the world of motorsports there's one particular place you go if you want to go straight and really really fast (we're talking record speed fast), and that place is the Bonneville Salt Flats. Located in northwestern Utah along Interstate 80, the Salt Flats as many people call them have their own mystique. A natural wonder and attraction for tourists, the compacted, salty, and flat terrain of the Bonneville Speedway has been a draw for speed freaks for more than a century. This is the place where world records are made and dreams are achieved. The Salt Flats are world renown as the place to go if you want to etch your name in to the annals of speed. Back in the '60s the Flats drew an unknown New Zealander by the name of Burt Monroe and his 1920 Indian Scout where he set three records, one of which was set when he was 67-years-old and still stands to this day. If you're determined to set a land speed record at Bonneville the good news is there are multiple events such as Bonneville Motorcycle Speed Trials and Speed Week. Even better news is that there are numerous categories and classes so you can take a strategic approach and go for a record that looks attainable to you (just make sure your motorcycle tires are up to snuff). The bad news is, since this an all-natural "drag strip" weather, track, and environmental conditions don't always work out and can result in the cancellation of events from year-to-year.

Live the American Dream on an American Icon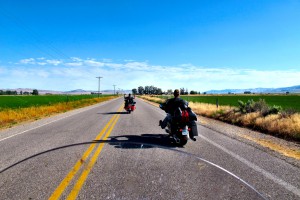 Riding a Harley is a lifelong dream for many people. Some people don't want to spend the money it takes to purchase one, they simply just want to toss a leg over the seat, fire up the 45-degree V-twin and hear the iconic "potato-potato-potato" sound rumble through the pipes as the motor down the road. The cool thing about a Harley is that it doesn't matter where you are or where you're headed, just point to some open road and go! Get lost, meet new people, explore the USA, or simply cruise to a bike night and chop it up with other Harley fans; for some simply just spending a day on a Harley is all it would take for them to leave this world a happy camper. Harley rentals are becoming more and more common across the country and abroad, so you don't have to take out a second mortgage on the house or dip into your retirement fund to get some H-D seat time.

Sturgis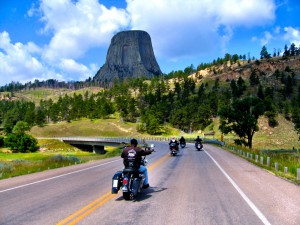 If your plan is to rent a Harley rather than buy one then you might as well take advantage of your limited time with the Hog and hit the mecca of all motorcycle rallies. If you own a Harley and haven't made the trek, what are you waiting for? The Sturgis Rally, the Black Hills Motor Classic, the Black Hills Rally, or simply Sturgis; whatever you call it, and no matter if you ride a Harley or not, this is THE rally that every motorcycle rider should attend at least once. Sturgis is the most popular motorcycle rally in the US if not the world and for plenty of good reasons: It's been going on for a long time; 2017 marks the 77th anniversary. There's miles and miles of great riding like the Peter Norbeck Scenic Byway, Needles Highway, Iron Mountain Road, Spearfish Canyon, the Badlands, and much more. The area is rich with history and significant landmarks such as Devils Tower, the city of Deadwood, Mount Rushmore, Crazy Horse Monument, Custer State Park, Wall Drug Store, etc. There's also the nightlife, live entertainment, people watching, and motorcycles, motorcycles, motorcycles!

Okay, so we said every motorcycle rider should attend the Sturgis Rally at least once, but in all actuality you should really go back to Sturgis in the off season (but not in the winter unless you have some heated riding gear and enjoy riding in snow) because the riding is so spectacular it's nearly impossible to enjoy it when hundreds of thousands of other bikers are out trying to do the same.

Riding the East Coast During the Changing of the Seasons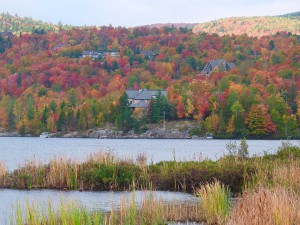 Spring and summer are typically when you see the most motorcycle riders on the road, but Fall is definitely where it's at. Not only are the temperatures cooler and more ideal for riding, but it's all about the colors man, the colors! We might not experience it much here in California (especially southern California), but a trip up through the east coast when the leaves begin to turn can be a life changing experience. A leisure motorcycle cruise down a desolate country road surrounded with various shades of red, brown, orange, and green can bring great inner peace and help you mentally prepare for the forthcoming winter hibernation.

Riding on the back of a MotoGP Racer's Motorcycle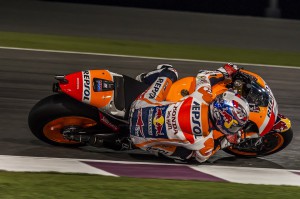 We all like to think we are great riders, but truth be told 99% of us couldn't sniff the exhaust fumes of a MotoGP racer in a head-to-head hot lap. In your head you might think you're nailing every turn and hammering the straights but until you actually take the passenger seat behind a true professional who can slice and dice a race track with the speed and precision of a master chef's knife skills you'll never realize how slow you really are. Aside from pushing your blood pressure through the roof, peeking over the shoulder of a professional racer as you blast around a corner with your motorcycle helmets mere inches from the ground, you just might pick up a tip or two on how to improve your riding skills from a high-speed, first-hand perspective.

Edelweiss Travel trip thru the Alps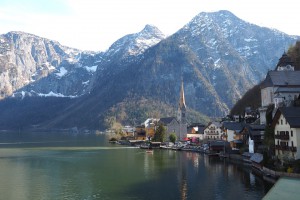 "The hills are alive with the sound of mo-tor-cycles..." Okay, so you might not be a fan of musicals, but nothing can be more pleasing to the ear than the hum of your motorcycle as you weave through the breathtaking Alps of Austria and Germany. Book a trip with Edelweiss Bike Travel and you'll be treated to 10,000 foot tall mountain ascents and descending into lush valleys surrounded by pristine lakes aboard the bike of your choice. Almost better than the riding itself is snacking on schnitzel and sipping the finest beers of the region as you reminisce about the day's highlights with your group.

Tail of the Dragon/Blue Ridge Parkway-- Appalachian Mountains
[caption id="attachment_61644" align="alignright" width="199"]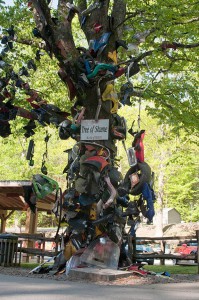 photographer: Kevin Stephenson from Florence, AL, USA[/caption]

Europe might have the Alps but we have the Apps-the Appalachian Mountains that is. So if staying stateside is your thing but want a winding mountain adventure with jaw-dropping views then head to the Appalachian Mountains and Smokey Mountains. These two regions are home to two of the most desirable roadways for motorcyclists, the Blue Ridge Parkway (BRP) and the Tail of the Dragon (TOTD).

Covering 470 miles, the Blue Ridge Parkway is a National Scenic Byway and All American Road that runs through North Carolina and Virginia. Distant valley views, dense tree-lined canopies, and meandering mountains are just a few if the sights that draw riders to the BRP, what you won't find are stop lights, billboards, or other obnoxious distractions. Leisure cruising isn't a suggestion it's the law, as the speed limit for the majority of the parkway is 45mph.

The Tail of the Dragon starts at Deals Gap at the North Carolina/Tennessee border and then zig-zags into Tennessee along the Great Smokey Mountains National Park. Why is this part of US 129 so popular amongst motorcyclists? Because it has 318 of motorcyclists' favorite things packed into an 11 mile stretch. We're talking about curves baby! That's right more than 300 zig-zags of varying bends in just over ten miles. If there was ever a way to put a motorcycle on a roller coaster this is it. Even though there are no intersecting roads to worry about incoming traffic, you do have to worry about oncoming traffic. This is not a road for sightseeing or picture taking (leave that to Killboy), The Dragon requires your undivided attention at all times, otherwise your bike could end up in the Tree of Shame and you could end up worse.

The cool thing is if you give yourself about three days you can cover 650 miles of the most picturesque scenery in the country making a big loop and hit both the BRP and TOTD. Actually if you're heavy handed with the camera you might need to add another day or two because you'll be making plenty of stops with all the photo ops.

Route 66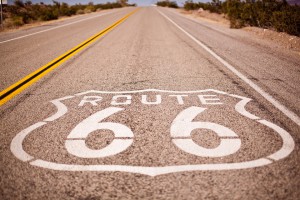 Route 66 has many names, The Mother Road, Will Rogers Highway, and Main Street of America. Established in 1926 as one of the main thoroughfares to lead Midwest motorists seeking sun and opportunity in the west coast, Route 66 has become an iconic piece of US history giving travelers a slice of Americana as it rolls through small town middle America. The original route covered nearly 2,500 miles crossing eight states, starting in Chicago, Illinois to the east and ending in Santa Monica, California to the west. Unfortunately many portions of the original highway have been realigned or the signage has been taken down when the highway was decommissioned. You can still make the trek from east to west of vice-versa but it may take a little rerouting and map studying to actually cover the original route. Even though there has been mass construction and infrastructure added since it was created, you can still see plenty of great sites, cruise through small towns, and get a good glimpse of what middle America is all about.

Great River Road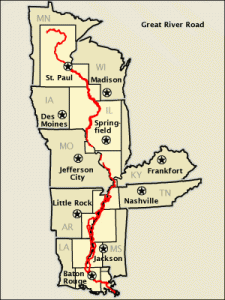 Where Route 66 cuts through America east to west, The Great River Road (GRR) traverses the mighty Mississippi from the north to south giving travelers another cross section of middle America. The GRR runs just over 2,000 miles from near the US/Canada border in Minnesota to the Gulf of Mexico in Louisiana. Comprised of a series of state and local roadways, a large portion of the GRR running from Minnesota to Arkansas has been designated as a National Scenic Byway. You can meander your way up or down Old Man River by following the green and white pilots wheel road signs. You could make the trip in about 36 hours but why push it? Give yourself like four days and take your time to dip a toe in the water, do some riverboat gambling, and enjoy the multitude of small towns and BBQ you'll encounter along the way.

Pan-American Highway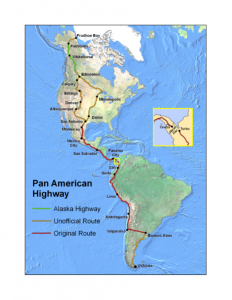 If you're a glutton for punishment then a stroll up or down the 30,000-mile long Pan-American Highway (PAH) is the trip for you. Before you start packing your motorcycle luggage however, there are a couple things you may want to do. First of all, you might want to make sure you have plenty of vacation time-we're talking like more than a month's worth-as the record for the fastest trip along the route on a motorcycle is 34 days. The other thing you'll want to do is make sure you brush up on your French and Spanish; besides Alaska and the lower 48 you'll be traveling through Canada, Mexico, Central America, and South America. The PAH is comprised of a mix of official and unofficial roadways leaving you varied options for travel in certain sections. The north end starts at Prudhoe Bay, Alaska, and the southern end finishes up at Ushuaia, Argentina. Packing for this trip will be a feat in itself as you'll need all weather gear to handle every climate and terrain imaginable from iced over roads, lush forests, and 10,000-foot mountains peaks, to scorching deserts, and dense jungles. Fuel management will also be an issue as there are a few stretches with no services for more than 200 miles-so you'll want to outfit you motorcycle with an oversize gas tank and bring along a couple [mageProductLink sku="049-451-2101" title=""]Rotopax[/mageProductLink] Fuel Packs. It's also important to familiarize yourself with the Darien Gap. While it's only 60 miles wide, it's a treacherous and sluggish stretch of travel that's a mix of marshes, swamps, and rivers and definitely isn't for the weak willed-it's highly suggested you opt out and rely on a fairy for a quicker and more relaxed, less stressful crossing.

This is the first ten on our Ultimate Motorcycle Bucket List. Be sure to check out part two and let us know what you think of this list and what's on your list.