Supercross Moves To Timed Races For 2017 Season
Chaparral Motorsports
|
December 19, 2016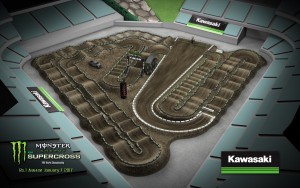 The 2017 Supercross season is already off to a fresh start and we haven't even seen the 30 second count down girl scramble across the track in her thick heeled boots at A1 yet. Feld Motorsports has announced that racers will now be competing in a timed event as opposed to the lap based-style format that that was previously in place. Starting with the season opener at Anaheim on January 7th, the 450 Main event will be a 20 minute plus one lap race and the 250 class will compete in a 15 minute plus one lap Main. This is the first major format chance since the 1985 season, which featured two 12-lap main events. "We believe this change will bring the fitness element more into play and provide more excitement for our fans," said Dave Prater, Senior Director of Operations - Two Wheel, Feld Entertainment.

Timed events won't solely be used for the mains, as the heat races, semis and LCQ will be time instead of lap-based races as well. On the positive side, the new format will guarantee that race fans will get to watch at a minimum, 20 minutes of racing in the premier class. The average 20-lap 450 main came in just shy of 18-1/2 minutes last season, while eight races were finished in less than 18 minutes. So right out of the gate fans will be getting about three-four more minutes of racing than last year's average. And with the +1 lap kicker tacked onto the end of the 20 minute race, that means that if the race leader crosses the finish line with 1 second left on the clock, they'll still to get to watch two more laps of racing (one to finish out the 20 minute timer and then the +1 lap).

On the flip side, while it's being promoted as a benefit for the fans to get more racing, what it really does is make it much easier for the TV network to more accurately predict the end of the race and butt programming right up against it and fit more comfortably into the traditional top of the hour/half hour scheduling. This is important because last year's races ranged anywhere from 14:38 minutes (Santa Clara) on the short end to 22:09 (Daytona) on the long end. With such a varying gap it leaves the network in the lurch to either add filler at the end of a short race or have them pulling their hair out over a longer race that runs into the following scheduled program.

[caption id="attachment_61625" align="alignright" width="300"]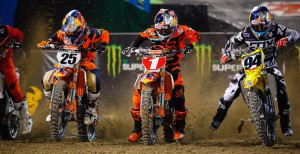 Image source: Supercross archives.[/caption]

This new timed race format is a move in the right direction and shows that the execs behind Supercross curtain are trying to give the fans more of what they want. What it won't do though is solve what some people see as a bigger problem, the fact that there is often little drama left at the end of the season with a series championship rarely being determined by the results of the final race. If the series leader is dominating the field week in and week out, repetitively winning, they can wrap up the title with several races still yet to take place. For example, last season KTM 450 SX-F rider Ryan Dungey locked up his second title with one race left, and won the 2015 championship with three races left. In 2012 Kawasaki 450 rider Ryan Villopoto had the championship locked up at the 13th round of the 17 race series. He missed the last three races of that series due to injury and still ended the season 57 points ahead of the next closest competitor, Davi Millsaps.

Of course you can't dog a rider for being successful and consistently wining, but with few championships actually coming down to the wire, it leaves very little drama for the end of the season. Clinching early often leaves only the die-hard fans returning the remaining week(s)

to watch and root for their favorite rider, which is fine, but for the sport to continue to grow it needs to keep the interest of the casual fan who wants to see great racing and watch the drama of the championship coming down to a final race. There were rumblings around the internet of a possible NASCAR style chase format but it was met with a lot of disgust and negativity from many commenters on various forums. A lot of people don't want to see anything change, but without change it will be difficult for the sport to evolve and continue to grow its fan base. At least we are seeing something new for the 2017 season with the implementation of timed races. Do you think there are other things that can/should be done to the Supercross series?