Don't Know Anything About Dirt Bikes? 10 Gift Ideas For People Who Do
Chaparral Motorsports
|
December 13, 2016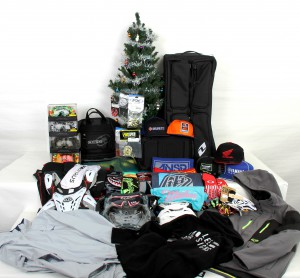 It seems to happen every year, you're cruising through your Christmas shopping list, crossing off names as you find the perfect gift for each one, and then you get to that one person you just don't know what to get them. You know one thing for sure, they're really into their dirt bike and dirt bike racing (or moto as you may have heard them mutter in conversation)-the only problem is, you don't know the first thing about dirt bikes.

You want to surprise them and show that you really care and know the person, but if you don't know what year, make, or model dirt bike they own, trying to purchase a part or get something really specific for the bike can be nearly impossible. Heck, even if you are able to do some sleuthing and find out what kind of bike they ride, identifying what parts they want or need can still be difficult. And let's be honest, if you don't know about dirt bikes most the parts can sound like gibberish anyways, I mean, a Rekluse Adjustable Slave Cylinder Upgrade Kit? Huh?

Don't fret. We are here to help. We've put together a list of 10 items that pretty much any dirt biker would greatly appreciate, and make it look like you really know your stuff.

Dunkin' Run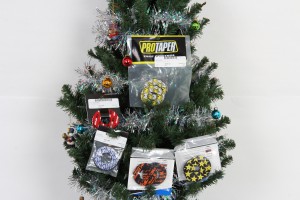 Donuts! Everyone likes donuts, right? These donuts aren't for eating though. They slip over the end of the grips and slide against the inside lip. They made from soft neoprene and help prevent the rider from getting blisters between the thumbs and forefinger. They only cost a couple bucks and come in packs of two (one for each grip). Pro Taper is a pretty popular brand in the dirt bike community so the company's [mageProductLink sku="302-4787" title=""]Blister Busters[/mageProductLink] are a great choice, but there are other options. For instance, if you know the person on your list is into energy drinks then grab a set of the Rockstar Energy Grip Donuts.

Peeper Keepers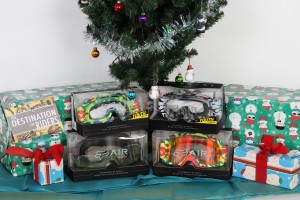 There's a lot of dirt, rocks, and debris that gets tossed around on the motocross track and therefore eye protection is of the utmost of importance. Most riders will have a favorite pair of goggles that they always wear. However, there may be that one time when they leave their goggle at home or maybe they take spill and their goggles break. That's when a backup pair comes in handy. Right now Chaparral is having an incredible in-store sale on Fox Air Space goggles. Available in a variety of colors and lens options in adult and youth sizes, these make a great spare pair of goggles without having to dish out a ton of money.

Factory Fresh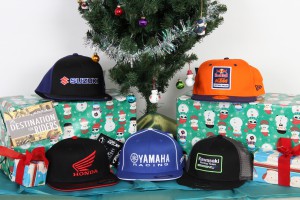 Next time you're around the person on your list, eavesdrop on their conversation to find out what they are into (don't worry, like a vegan or a crossfitter, it'll come up eventually in the conversation). Listen for one of the following words: Suzuki, Yamaha, Honda, KTM, or Kawasaki. More than likely if you hear one of those words it will be followed by either "sucks" or "is awesome". If they say the latter then you know what bike brand they prefer and you can then go on to purchase them a factory hat. If that proves too difficult then asking them what their favorite color is can usually help lead you down the right path. If they say red, they're mostly likely a Honda person, yellow=Suzuki, blue=Yamaha, orange=[mageProductLink sku="urb1578400" title=""]KTM[/mageProductLink], and green=Kawasaki.

Sock 'n' Roll
Unless they are some kind of animal, all dirt bike riders wear socks with their motocross boots. While there's a plethora to choose from, the nice thing about moto socks is you can't really go wrong with your color or design choice because they're going to be covered up by the boots anyway. Most moto socks are a little bit longer than your standard tube sock and some are thicker or wider so that they can slip over knee or shin protection. As you feel the different socks you may notice the [mageProductLink sku="tl0855-0202" title=""]Troy Lee Designs' GP[/mageProductLink] socks are little thicker, this can help provide a bit more padding in the footbed of the boot or help someone who purchased their boots a little bit bigger in size so that they can grow into them, fit a little better.

Show 'Em Some Glove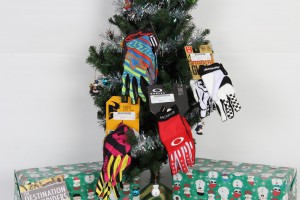 Picking out a pair of dirt bike gloves is a rather painless process. Riders can always use another pair of gloves because they are some of the first items to wear down (usually developing holes in the palm area) after repetitive use. Even if you don't know what color their favorite gear set is you can always pick out a pair of black or all white dirt bike gloves that will pretty much go with anything.



Undergarments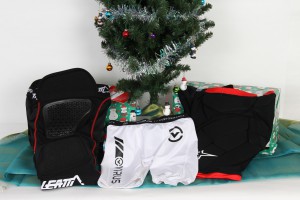 Dirt bike riders wear a lot of protection, from the helmet on their heads to the boots on their feet. What you may not notice is that many of them also wear protective gear under their pants as well. Riding shorts are basically underwear with padding built into them to protect the rider from impact and the constant bumping and jumping associated with riding on a motocross track. Made from stretchy, spandex-like material the [mageProductLink sku="3007-5016000201" title=""]Leatt AirFlex GPX 5.5 Impact Shorts[/mageProductLink] and Alpinestars Compression Shorts provide padding in key areas like the upper thigh, hips and buttocks. The AirFlex Shorts feature MoistureCool and AirMesh fabrics for moisture wicking, ventilation, and anti-microbial properties. For those that want to ride light and free without extra padding or protection the Virus Stay Cool Fitted Performance Boxers are comprised of COOL JADE infused fabric to keep the rider cool. They also have quick dry technology to help keep the rider dry and comfortable while anti-odor technology helps enhance breathability for overall freshness.

Tee Time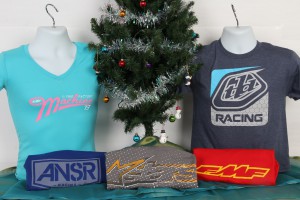 You can never go wrong with a Tee shirt, everyone loves a fresh new Tee to wear around the house or while running errands. Off the track riders like to support the brands that support their sport so when shopping for a Tee shirt for a motocross rider look for shirts with names like Troy Lee Designs, FMF, Alpinestars, or Answer Racing just to name a few. The nice thing is that pretty much all these brands offer shirts in men's, women's, and children's sizes.



Hard Core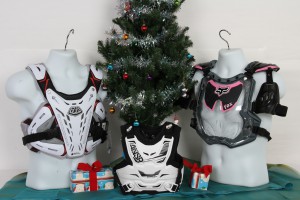 Roost is the dirt that flies off the rear tire as a rider accelerates off the starting line or when coming out of a turn. The one doing the roosting is in the clear, those behind them end up with a pelting. To protect themselves from dirt clods and high speed pebbles peppering their core area riders will wear roost or chest protectors. Besides shielding from flying debris, roost deflectors act like a turtle shell, protecting the rider from impact against handle bars, other rider's, and the ground. Some offer simple stomach and chest protection like the Troy Lee Designs CP 5900 Roost Deflector while the [mageProductLink sku="06055-014-235" title=""]Fox Racing R3 Women's Roost Deflector [/mageProductLink]also adds the benefit of some upper arm protection-this one is also anatomically shaped to fit a woman's body.

Warm up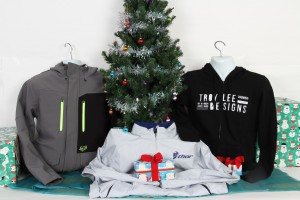 In between motos it's important for a rider to keep their muscles loose. The best way to do that is to stay warm. Jacket's and hoodies come in extremely handy off the track. Depending on the weather conditions a rider might need something light weight like the Troy Lee Designs women's hoody. With Fox Racing's Bionic LCQ Jacket you get the comfort, softness, and warmth of fleece with the protection of a Durable Water Repellent exterior coating. Not quite sure what the weather is going to do, but don't want to get caught getting washed out? The [mageProductLink sku="037-2920-0433" title=""]Thor Pack Jacket[/mageProductLink] compresses down into a small pouch that can be attached to a rider's waist with the included belt. With its portability, waterproof membrane shell, taped seams, and water resistant zippers this jacket can be the difference between a fun ride and a miserable one.

Bag It Up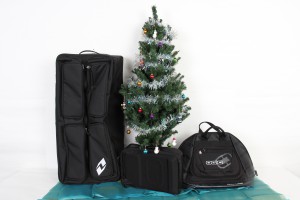 Just like a bowler has a bag for their bowling ball or a baseball player has a bag for their bats, motocrossers have specific bags for their gear too. The Head Case Helmet Bag from Ogio features a heavy duty construction and its oversize design will fit any helmet brand or size. Besides the main helmet compartment the bag offers a few pockets to store smaller items like goggles and gloves. Speaking of goggles, to keep the spare pair of Fox Main Air Space Goggles we mentioned above safe and clean, you may want to consider getting your rider an Ogio Goggle Case. This case holds up to five pairs of goggles and protects them from scratches with its dividers and fleece-lined interior. The case has an organizer pocket as well as pockets for spare lenses, tear offs/rolls offs and more. Maybe you want to forgo the individual bags and just go big. If so, then check out the [mageProductLink sku="028-93024-001-001" title=""]One Industries Supra Roller Gear Bag[/mageProductLink]. Large enough to carry everything a racer will need for a day at the track or a weekend event, this bag can help keep all their gear neatly organized in one place. The Supra bag has plenty of space for a helmet, boots, several pairs of riding pants, jerseys, and knee braces. It also has individual smaller compartments for things like gloves, goggles, keys, and phones. Best of all, this bag makes traveling from the truck to trackside a breeze with its extended handle and sturdy wheels.