Socking Stuffers: Socks To Stuff Your Christmas Stockings
Chaparral Motorsports
|
December 12, 2016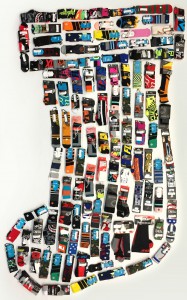 Funny thing, when you're a kid, there's nothing exciting about getting socks as a Christmas gift. At eight-years-old, socks are boring. You can't play with them, you can't stack them or build a millennium falcon out of them. All you do is slip on your feet and go. Big deal!

If you're like me, as an adult, you realize that one of the things at the top of your Christmas wish list is a fresh package of socks. Nothing quite beats the feeling of slipping on a brand new pair of socks. They glide right onto your feet, soft and supple on the inside, and don't sag or slide down to the ankles like those old worn and holey socks you keep wearing week in and out.

From everyday casual wear to cuts and designs specifically tailored for motorcycle dirt bike enthusiasts, socks have become big business, especially for a company like Stance-they've locked in deals and licensing agreements with just about everyone from professional sports leagues to movie franchises, musicians, and Harley-Davidson.

Socks make great stocking stuffers. So we put together this quick list of a few dirt bike socks that might fit snugly into the Christmas stocking of someone on your list.

Long Johns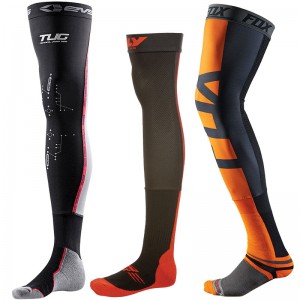 For those that wear knee braces when they ride, there can be some chaffing that occur. To help solve that issue there are a couple options like the [mageProductLink sku="110-724040" title=""]EVS Sports TUG Fusion Sock[/mageProductLink], the Fly Racing Moto Knee Brace Socks, and the Fox Racing Proforma Knee Brace Socks. All three are extra long, fitting all the way up to the upper thigh area, and provide a barrier between the knee brace and skin. With a lycra upper for a thin, tight, lightweight fit, and a traditional sock material bottom for comfort, padding, and moisture absorption, these socks are a must for hardcore riders.

Wee Ones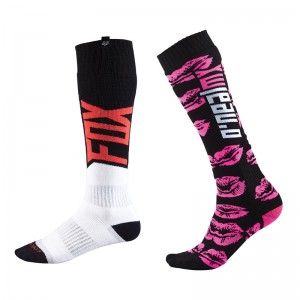 For the little ones on your list who like to moto you have plenty of choices such as the Fri Given Youth socks from Fox Racing or the Pro MX XOXO socks from O'Neal. These socks have thick construction, moisture wicking materials, and the O'neal socks also offer a ribbed arch and ankle for a secure fit.









Hot or Cold
Your feet help regulate your body temperature kind of act like a thermostat. If they get too hot and can't breathe they can cause the rest of your body to heat up. In cold weather they can be a source of heat loss if not properly covered. You can fine tune your feet for the weather conditions with specific socks. For warm weather riding Fox offers its MX Tech socks and Coolmax Savant Thick Socks. Both are constructed with a Coolmax fabric that helps keep feet cool and dry. When the cold sets in there are options like the[mageProductLink sku="1406.0201.1.3" title=""] Alpinestars Thermal Tech Socks[/mageProductLink] and the Fly Racing's Cold Weather Moto Socks. The Alpinestars socks feature a heat retaining yarn to keep your toes toasty while also wicking away moisture.

Just Your Average Moto Sock
If you just want a standard moto sock that will offer good padding, a comfortable fit, and breathability your choices in sizes and colors are plentiful with options from[mageProductLink sku="tl0855-0902" title=""] Troy Lee Designs' GP Socks[/mageProductLink], Stance's Moto socks, and O'neal's Pro MX Socks, to Thor's MX Socks, and Leatte's GPX Offroad Socks.







Just act Casual
For off the bike wear, Stance has the casual sock game locked up. Take your pick from Star Wars, Harley-Davidson, Christmas, Skulls, or just about anything else.