Kawasaki Introduces A Entry-Level ADV Touring Motorcycle With The Versys-X 300
Chaparral Motorsports
|
November 18, 2016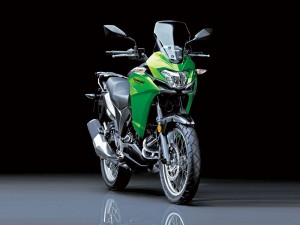 The setting sun and crashing waves paint a picture of bliss as you sit roadside enjoying the view. Your motorcycle is the key to adventure and adventure knows no bounds. It has no limitations or deadline, no cubical or conference calls. Where you're going now, well that's yet to be determined. Just man and machine, enjoying the limitless world. The Kawasaki Versys® motorcycle family is designed for adventure-style touring. Introducing the new, nimble, easy to maneuver and lowinvestment, the 2017 Kawasaki Versys-X 300 ABS. Versatile, capable and comfortable, the Versys-X 300 motorcycle is the new entry-level model in the award-winning lineup and Kawasaki is excited to encourage a new generation of motorcyclists set on making their own adventures.

Versys-X 300 Key Features
-A unique combination of long-travel suspension capability and Ninja® sportbike power
-Upright riding comfort, versatile suspension, agile handling and plenty of power to tackle freeways.
-Lightweight
-Low seat height

Small Size=Big Fun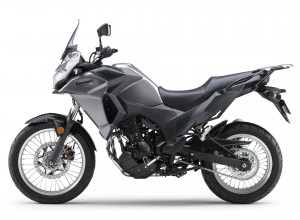 At 296cc, the Versys-X 300 is the smallest-displacement model in the adventure-touring category. It offers the best comfort and convenience of any sub-300cc model, as you'd expect from a bike designed to be the ideal travel partner. Not only is it light and nimble, but with the narrow chassis and low seat height, it's an ideal motorcycle for new riders-The Versys-X 300 offers easy access to motorcycle adventuring. With a relaxed upright seating position, front fairing and windscreen, sporty and nimble handling, it's also an ideal motorcycle for a variety of riding conditions. From the rough paved roads, to the morning commute, the Versys-X 300 is an easy-to-ride motorcycle that makes adventure-style motorcycling more accessible than ever before. A unique package, the adventure-style Versys-X 300 motorcycle offers convenience and comfort as the first touring capable machine in its displacement category. The Versys-X 300 is categorized as a "Multi Purpose Adventure Touring on Road" bike and is the entry model to the Versys family.

STYLE
The Versys-X 300, while the youngest in the family of Versys motorcycles, sets itself apart from the rest in many ways. It's not only a lightweight, capable machine, but it also features a rough-road adventure style and rugged look. The front cowling is long and tall with a chin spoiler in the bottom section. This design is meant to be equal parts functional and stylish, aiding in the adventure look, while maintaining ample wind protection.

Air ducts positioned under headlights also reduce hot air buildup inside the cowl, a simple engineering design that increases comfort and helps reduce riding temperature. Large side openings in the side panels offer an efficient place for hot air to be released from the radiator. The 4.5-gallon fuel tank contributes to the adventure-style image and function while maintaining a slim design.

The Versys-X 300 features a 19-inch front aluminum rim and a 17-inch rear aluminum rim, both with steel spokes. The large two-up seat features excellent comfort and load-bearing qualities with a seat cover carefully stitched from multiple pieces, creating a premium feel on par with more expensive models. It wouldn't be a Versys without a rear carrier with easy to use grips and strap hooks for adding luggage. A wide variety of Kawasaki Genuine Accessories will be offered to take the Versys-X 300 even further, and to help riders create a personalized motorcycle that meets their needs.

ENGINE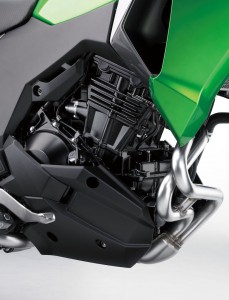 The 296cc parallel-twin engine offers strong low-to mid-range acceleration and high rpm power The Versys-X 300 motorcycle utilizes the proven performance of its liquid-cooled 296cc parallel-twin engine, which is tuned to deliver strong low- and mid-range torque for crisp throttle response, as well as excellent power on the open road. Much of its prowess can be attributed to its advanced digital fuel injection, which helps manage cold starting while providing excellent throttle response. The Versys-X 300 features a unique slim exhaust design that keeps the header pipes close to the engine, for added protection against the elements. The exhaust piping is also unique to the Versys-X 300 motorcycle, helping to produce low and mid-range torque characteristics best suited for an adventure-style touring model. It also means easy-to-manage power delivery and added ground clearance. Further aiding in the adventure styling and capability is a right-side mounted muffler that helps keep heat away from the passenger.

The radiator features a unique fan cover that helps direct hot air out and under the motorcycle, reducing heat to the rider and passenger. An optimal air cleaner box shape and intake duct layout are designed based on Kawasaki engineers' airflow analysis. This produces great low- to mid-range power and reduces noise.

CLUTCH AND TRANSMISSION
The six-speed sequential transmission features a positive neutral finder, making it a cinch to select neutral when stopped. A premium FCC clutch with assist and slipper functions reduces lever effort. The Versys-X 300 motorcycle features revised friction area for the assist and slipper clutch spring rate and lever ratio. This expands clutch control range, and facilitates moving off from a start, resulting in a clutch with a light pull and easy feel. The Versys-X 300 features gear ratios ideal for adventure-style riding with a shorter final reduction ratio. This produces optimized balance between fuel consumption and power feeling and improved low-mid range feel and response.

CHASSIS AND SUSPENSION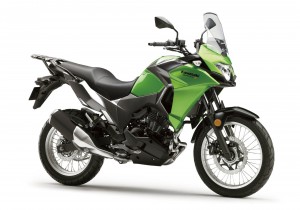 The high-tensile, highly rigid backbone pipe frame, with great capability to handle rough paved roads, was built to handle high stress, but the construction plays an important role in simultaneously producing a lightweight motorcycle. The frame features a simplified construction with thin brackets and lightening holes. Another major engineering target was a capable front-end feeling, which contributes to rider confidence.The engine is used as a stress member of the frame further increasing the strength while keeping it low weight.

Out back is a long-stroke, bottom-linkage Uni-Trak® suspension with gas-charged mono-shock and adjustable preload. This helps ensure handling stability and allows riders to touch down with ease, increasing comfort. The rear shock mount and rear section of the frame were built with increased amounts of bracketing and surface area, in order to increase the rigidity. This allows for more durability and increased suspension action.

Up front you'll find long-travel 41mm Showa forks. The forks aid in great front-end feel and provide comfort on various roads. A major bonus for the Versys-X 300 is its wide steering angle which assists in low speed maneuverability and overall usability. When designing the Versys-X 300, the front suspension was an important part in terms of form and function, with great care taken into making the front suspension fit the adventure look from handlebar to axle.

The 2017 Kawasaki Versys-X 300 motorcycle is available with and without ABS.

Colors:
Candy Lime Green/Metallic Graphite Gray
Metallic Graphite Gray/Flat Ebony Metallic Graphite Gray/Flat Ebony

MSRP:
2017 Kawasaki Versys-X 300: $5,399 2017
Kawasaki Versys-X 300 ABS: $5,699