HJC To Introduce Smarton Blind Spot Detection Helmet At EICMA Show
Chaparral Motorsports
|
November 1, 2016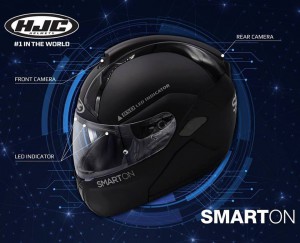 We are at that time of year when we get inundated with new motorcycles, products, and gear from all the top manufacturers as we get ready to head into the new year. It typically starts off with some new model releases and concept vehicles that get introduced overseas at shows like INTERMOT in Germany and EICMA in Italy, with domestic releases taking place at the American International Motorcycle Show in Florida, and the Progressive International Motorcycle Shows which travel to several major US cities.

It's an extremely exciting time for motorsports fans and they get to dream about their next motorcycle or create a wish list of the latest riding gear or motorcycle parts and accessories they want to get. Heck some people even get excited over the announcement of new motorcycle tires to hit the market.

As EICMA, one of the largest and longest running of these motorcycle-related trade shows draws near, we were treated to a teaser about a new motorcycle helmet from HJC. While it has an odd name, the HJC Smarton Helmet does look to have some cool features.

Information is scarce but what we can see from the graphic is that this new full-face helmet is outfitted with two cameras, one front and one rear. The cameras are integrated with LED indicators that are built into the brow as part of a Blind Spot Detection system. More than likely the field of view between the two cameras provides a nearly 360 degree perimeter. And if the BSD system is anything like that sold by Crime Stopper Safety and Security, then there is probably an audible alarm to go along with the blinking LEDs to alert you that a vehicle has fallen within a specified range or is in one of your blind spots.

Based on the image in the graphic we are guessing that the HJC Smarton helmet is a modular helmet as well, as it has the same sectioned body line along the ears and jaw line as the [mageProductLink sku="035-578-601" title=""]HJC SY-MAX III[/mageProductLink] Solid Modular Helmet. EICMA show is a week away, so we are eager to learn about this new helmet and all its capabilities.